If you feel like you're not keeping up with the fashion weeks, don't worry, neither do we! But guess what, London Fashion Week is a wrap and as we did with NYFW, we'll try to give a summary on all things you don't (sort of) need to know. Here's our summary of London Fashion Week: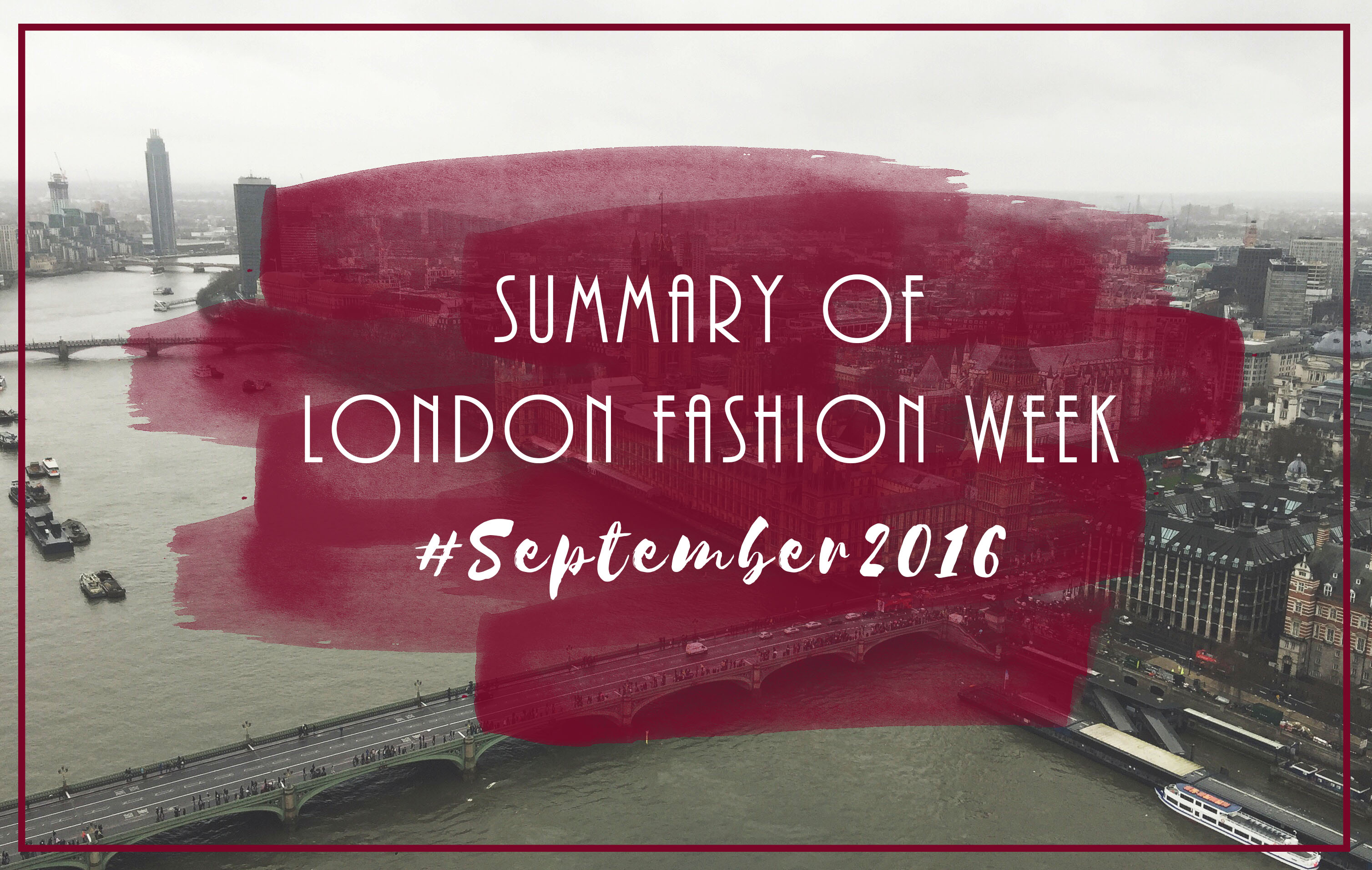 Notable Shows
Mulberry
Mulberry summed up the core of British fashion by doing dove colors, dusty floral patterns and some classy coats. Nothing special perhaps, but nevertheless a lovely collection that featured a lot of wearable looks. Like the dresses with the ruffles, the jumpsuits and the lovely jackets! See the collection here.
Christopher Kane
Even though we don't keep up with shoes as much as we do with clothes, we adore them for most parts! One pair of shoes that we're not too keen on are the Crocs (they might be comfy, but ugh). Believe it or not though, British fashion designer Christopher Kane brought them back in fashion in his Spring 2017 collection. Yup, he styled high fashion with Crocs. See the collection here.
Charlotte Olympia
Charlotte Olympia (below) took it vintage and back to the 1940s in her collection! With defined midi dresses, glamorous hair and statement accessories it looked like a luxurious day at the beach in the 1940s. And oh, the fashion brand also had their models walking down the runway dressed as fruits, having the chic shoes in spotlight. See the collection here.
Fashion Trends
Asymmetrical skirts
Remember how we dissed the asymmetrical skirts yesterday? Well, guess what, they're kind of in style the upcoming season. With both Mulberry and J.W. Anderson doing them, they are sort of a deal. We'd love to see this trend develop and be something more than just pieces of fabric hanging randomly.
Vintage Vibe
Charlotte Olympia took it vintage, and so did Roksanda (below) with some subtle references to both 1930s and 1940s fashion. As we adore both decades, we love the classic dresses and defined silhouette in a context of refinement. And we wouldn't say no to the makeup either!
Clothes x Sporty
Now we know that fashionable sportswear has been big the last year. But how about clothes with a sportswear touch? Anya Hindmarch showed classic pieces with a touch of sportswear feeling (we'll review it below). With material looking similar to neoprene (not sure what it was exactly), it's a statement of activewear indeed! Even though this is about clothes going sporty and not sport going fashion, we loved it!
Makeup Trends
Bushy Brows
Simone Rocha showed bushy brows with a dark red lip. The makeup look has been popular for a few seasons now, but we don't complain, it's gorgeous! Mary Katrantzou (below) also worked this look for the runway!
Glowy Skin
We love when our skin is glowing and so does Eudon Choi! With some natural glow on both cheeks and eyelids, it caught the light in a flattering way. It was, of course, done with a no makeup makeup look.
Spotlight: Anya Hindmarch Spring 2017
Already having stated that the collection worked classic pieces with a sporty vibe, we should also add that it used vibrant color and embellishments. Doing many looks with a marked waist, both in versions of dresses, tops and jackets, we adore the classic silhouette! The swimsuits were chic as well, but the true star of the show was the combo of color and awkward placement of embellishment. We love the clean feeling of the fabric in contrast with the messy impression of the details.
Not to forget, the pieces are wearable. Even though they are pushing some fashion boundaries, they do so within a reasonable amount. Paired with neutral pieces such as black jeans, or accessories kept simple, this collection is definitely something for the everyday fashionista. And frankly speaking, we love this collection. We wouldn't mind all the coats, or the tops, or the swimsuits, or just anything! Were we nuanced in this review? Nah, but who cares, just look at the goodies! 
Folks! That's our wrap on London Fashion Week, what do you think?