And I'm back with the summaries of the fashion week, and first out is New York Fashion Week Fall 2017. From the fashion trends of fall 2017, to the notable shows and some street style spotlight. Folks? Here is a summary of New York Fashion Week Fall 2017.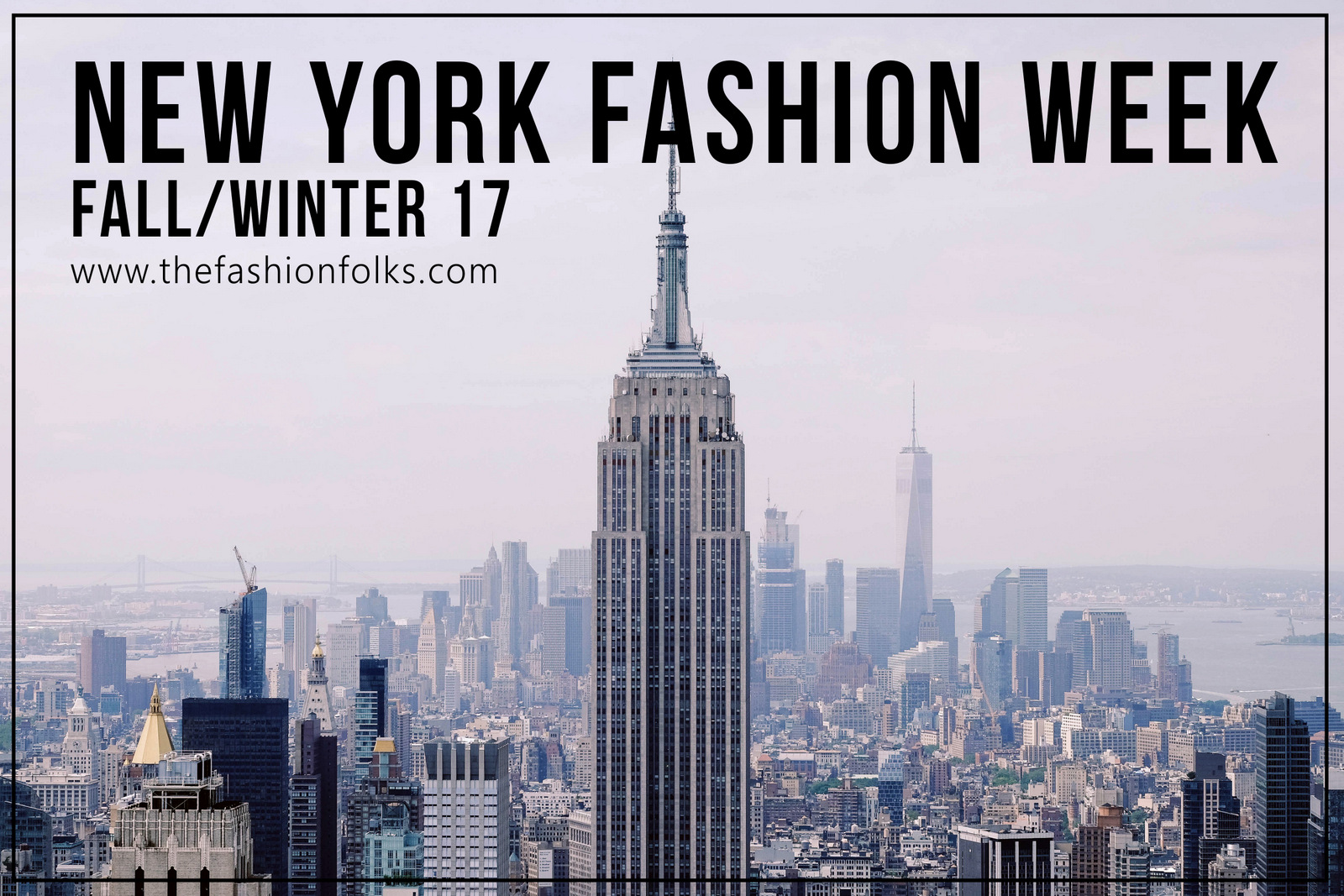 Notable Shows
Calvin Klein Fall 2017 RTW
Ever since it was announced that Raf Simons (previously at Dior) would take over the minimalistic brand that Calvin Klein is, this quickly became one of the most anticipated shows of the season. Simons stayed true to American fashion and its ideal with a mix of functionalism and minimalism. He did turtleneck, he did pantsuits and he did denim on denim. One of the most talked about looks is this one. For several looks Simons added transparent plastic over the fashion looks. Does this mean that plastic is the next move of fabric? Perhaps, perhaps not. See full collection here.
Delpozo Fall 2017 RTW
If a lot of designers and shows of NYFW feels like a giant melting marshmallow with everyone embracing urban street style going on minimalism – you know that Delpozo will always save you. I have yet to recover from this look from last year, and Delpozo almost reached the same heights again. With retro color choices of blue, orange, brown and dark aqua green – Delpozo made the most of their oversized silhouettes, their odd combinations of fabric and color and their pushing of minimalistic boundaries. Wearable? Only a handful of looks perhaps, but I wouldn't mind going fashion crazy in this orange jacket. I didn't know I needed it until now (whoops). See full collection here.
Trends Fall 2017
Folks, you know how I always go on and on and on about colors? Well guess what, the fashion odds are in my favor (yaaay) and we can expect a major color explosion for fall and next winter. And yes, I mean that both for fashion and beauty. Monochrome, colorblocking, colorful prints, colorful makeup. We'll also see some more 80s, more 90s and more retro going on contemporary. Also, some more Renaissance and puffy blouses!
Fashion Trends Fall 2017
Yellow – I don't care if you love it or not but the fashion world is inevitably going yellow this coming fall. Altuzarra did yellow, Maryam Nassir Zadeh did yellow and Eckhaus Latta did yellow. As I stated in this post, pink and yellow in combination was a major hit last year, and this year the colors works best separately (and yellow  on its own works even better). All shades of yellow are welcome, but preferably lemon yellow!
Renaissance – Jonathan Simkhai did Renaissance going contemporary for fall 2017. My fashion history heart couldn't be happier. The best use of fashion history in a modern context is when the past and present is blended to a new and modern look  (with hints of both worlds). Renaissance for fall 2017 is going sheer fabrics, dark colors, gold embellishment and high collars. See full collection here (and perhaps ignore the looks of denim, not. quite. sure.).

Calf-length – Perhaps the new found love for calf-length lengths is a reflection of the transparent and more naked fashion we've seen lately. But the calf-length lengths are here to stay. Tory Burch did it, Elizabeth and James did it and Proenza Schouler did it – only to mention a few. So keep your culottes, your pleated midi skirts and your long statement coats – covering up the legs have never been more in (kind of!)
Beauty Trends Fall 2017
Colorful Eyes – I would like to give a hug to the makeup people at Oscar de la Renta for creating the stunning eye makeup looks they've created. One colorful color over the entire eyelid and a contrasting colorful eyeliner? So simple but so genius. From peach to hot pink in combination to lavender and magenta? Can't possibly choose a shade. See the beauty looks here. And oh, Anna Sui went full on blue smokey eyes. And not a subtle blue, but a dark, pigmented and statement one. See Anna Sui's makeup looks here.

Mid Part Hair – Brush your hair folks and create a mid part look. Tory Burch worked the look, so did Calvin Klein and Michael Kors. Easily done when you're running out of time and if I'm going to be completely honest, I think many of the fashion people are already working the hair like this. Lol! But, mid part it is!
Designer Spotlight: Oscar de la Renta
So Oscar de la Renta went classic, feminine and elegant all at once (as they often do). This often leads to looks that are on a constant fine balance of going lady and staying wearable. A lot of the looks were lady and probably more attractive to someone going 50+. Nothing wrong with that, we need more age diversity in the fashion world (they could use older models though – like, hello). But de la Renta often goes for a defined waist, floral embellishment and typical feminine colors such as pink, red and purple – which is not always favorable.

However, for this collection, the brand dared to mix colors such as red and orange in one look and green and blue in another. And this is where the brand feels modern and contemporary. The evening looks are where the lady core is the strongest (aka they feel a bit outdated), but the daywear in this collection feels  more upbeat, a bit sporty and something many would wear. They manage to find a balance between feminine and modernism.  I'd love this pink and red combination, and this black jacket is simple but genius! See full collection here.
Personal Thoughts
It took me ages to decide what  collections I should talk about for NYFW as so many shows and designers looks the same. It's urban minimalism going street style. Which means a lot of black, a lot of grey, a lot of denim, a lot of basic and a lot of looking same same. I know NYFW in specific has tendency to go more urban (hello it's NYC), but this year had me just going: ugh. It's a first world problem, of course, but it's problematic when fashion becomes homogenous from a creative and artsy perspective. Perhaps in favor of capitalism/commercialism and the age of social media and the pressure or being appealing to everyone ( so I'm not even going to get started on Tommy Hilfiger x Gigi Hadid).
But hey, I don't wanna leave it on a bad note either – it was a lovely fashion week and the shows had overall a high standard! A lot of the looks were overall wearable and I couldn't be happier about all the colors we'll be working in fall/winter!
What are you thoughts on New York Fashion Week Fall 2017? Favorite shows, designer, moments? Leave a comment below!
Did you like this post? Hit the share buttons below!