How much I may adore the edgier approach of the fashion weeks of London and New York, Milan fashion week is a sweet breeze of classic, sensual and fashion with a touch of history. We're talking classic Italian fashion houses like Valentino, Dolce & Gabbana, Armani, Bottega Veneta and Versace. So here's to the embracement of the different artistic styles fashion embraces, and here's to the summary of Milan Fashion Week: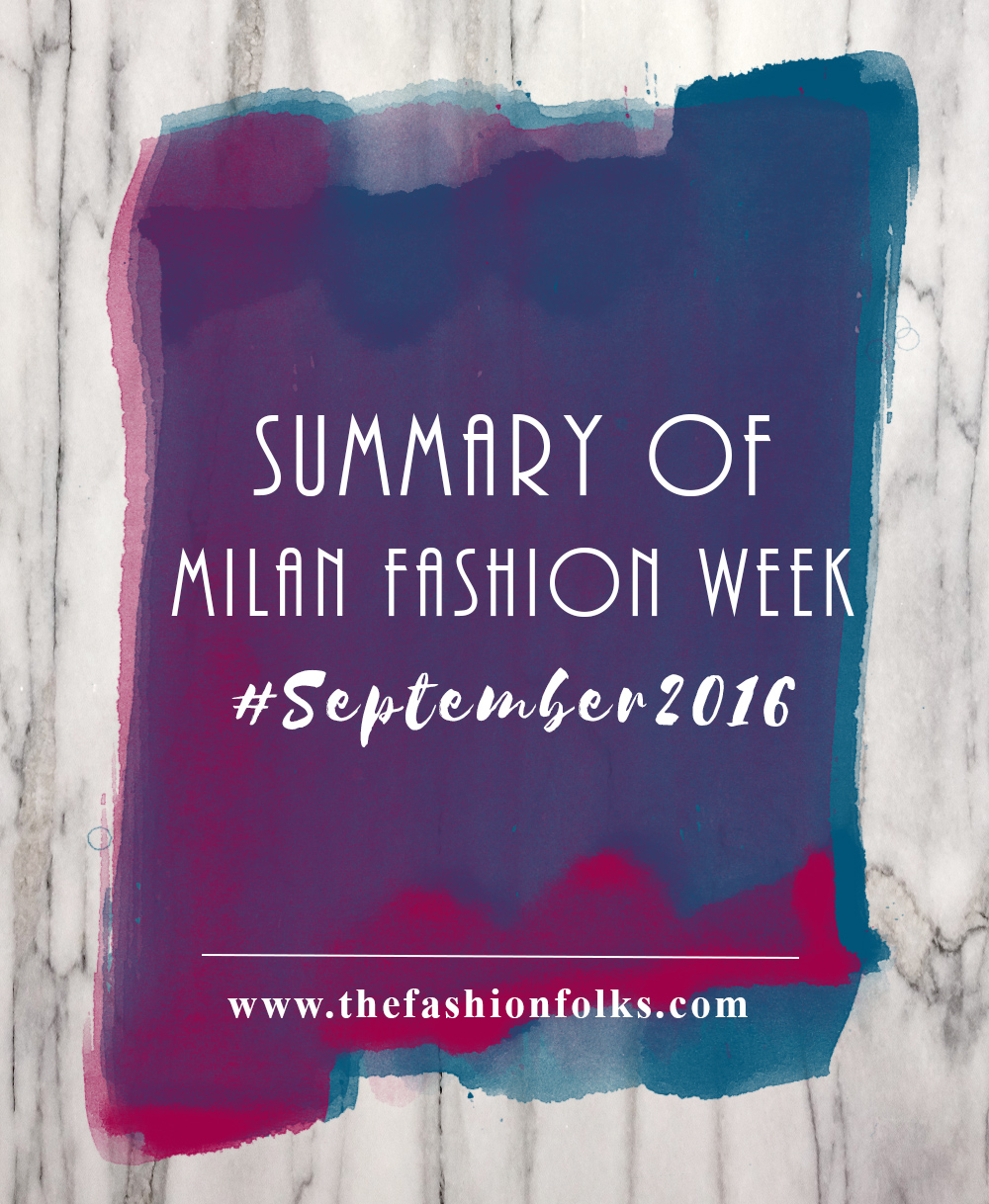 Milan Fashion Week: Notable Shows
Prada
Miuccia Prada presented a collection for women of today, and skipped her regular flirting with past fashion decades. The collection embraced office wear with knee-long skirts, buttoned up shirts and wearable dresses with a twist. Perhaps the defining point of the collection was however, the simple placement of bags, as the models held them close by the chest (see below). Definitely a fierceful and easy way of embracing a determined person on a mission. See full collection here. 
Moschino
Leave it to Moschino to mix the most random things in the world with fashion. We all remember the McDonald's collection as well as the Barbie one. For Spring 2017 it was time to explore paper dolls and the world of 2-D prints on clothes. As Moschino states by the clothes, the social media evolution gives us more fashion in 2-D rather than a physical product in reality. See full collection here.
Dolce & Gabbana
D&G have found a style within the areas of Italian heritage, patterns and a more is more love for embellishment. In recent years, the designers have explored both the preppy fashion as well as the dark romaance, all within their characteristic aesthetic. This season though, they took it to the jungle and a sweet breeze of sea, cocktails, nature and all things spaghetti. What remains notable is how they constantly find new areas to explore within their defined style.  See full collection here.
Fashion Trends
Pyjama Party For Life
So the pyjama party trend is still going strong, with a more clear direction towards the everyday style. Armani explored the fine lines between luxurious nightwear at home and sophisticated wear for a night out and about. Fendi also embraced the pyjama trend with silky fabrics and pyjama jackets. AND so did Ports 1961 too with a lot of silky and oversized pieces bringing the pyjama life forever!
Color Blocking
From the blending life, ombre style and fade effects, the color blocking is slowly making its way back. Both Missoni and Emilio Pucci (see below) played with the sharp contrast of colors paired together. Missoni went for a bohemian minimalism whilst Pucci took it retro with awkward colors and simple silhouettes. We love this trend and I'm definitely welcoming it!
Functional Life
We talked about it yesterday in our review of Marni Spring 2017 collection, but yes folks, the funky fashion is to be embraced. With drawstring pockets and functional fabrics, Sportmax embraced the trend. So did also Max Mara with a balance of sportswear and daily wear with a sporty touch. Folks? Make the activewear work for the everyday life!
Beauty Trends
Thin liner
Forget all the talk about heavy eyeliners! This season, the thin -almost invisible- eyeliner is back. Prada worked the very subtle makeup look with low-key eyebrows, a simple eyeliner and some -almost invisible again – bronzer/blush. We love this though, the simple liner enhances the eyes and the lashes and doesn't need much makeup to go with it. Blumarine worked a similar look but with some subtle eyeshadow to create an intensity.
Match the vibe
Max Mara matched the sporty vibe of their clothes with some sporty and energetic lines by the eyes. As if the strokes had been applied in speed. Why? We don't know. Would we wear it? No. Do we like it? We do! Catching vibes and translating them to makeup is a great way of mixing fashion and beauty.
Spotlight: Dolce & Gabbana Spring 2017
So we stated yesterday that we'd embrace the Italian fashion and its touch of history today, so here we are highlighting Dolce & Gabbana and their collection's touch of Italy. I'm also writing this review in honour of the food clothes, because why not combining Italian food with Italian fashion? However, hence the food, D&G showed a collection of heavy embellishment, unexpected patterns, but also a lot of feminine styles in  a floral take. I'm not even going to try to sum this collection up, as it went to all places imaginable, stretching from Italian costume history to a touchdown in the 1980s and back to food patterns in a tropical vibe.
As you can tell, it's all over the place. But it's a fun collection, it's exciting. No one knew if it would be more pasta popping up in the next look or if it would be a sweet touch of the 19th century. Some looks were more wearable than others, but as with a lot of the maxi fashion that is presented by D&G, it's more about the vibe of the look rather than the specific pieces. You know what folks? Perhaps this one is just for embracing and not to be analyzed. As in eat your food and keep quiet, I wouldn't mind working the Pomodori dress (see slideshow below) and just not question it. Lol.
Folks, that's our summary of Milan Fashion Week! For the summary of London fashion week, click here. For the summary of New York fashion week, read here!