Another fashion week is done and 3 out of 4 cities have had their spotlight so far! Milan fashion week is always a mix of Italian women, art history, romance, passion and some fashion madness á la Moschino, Gucci and Marni! Here's Milan Fashion Week Fall 2017: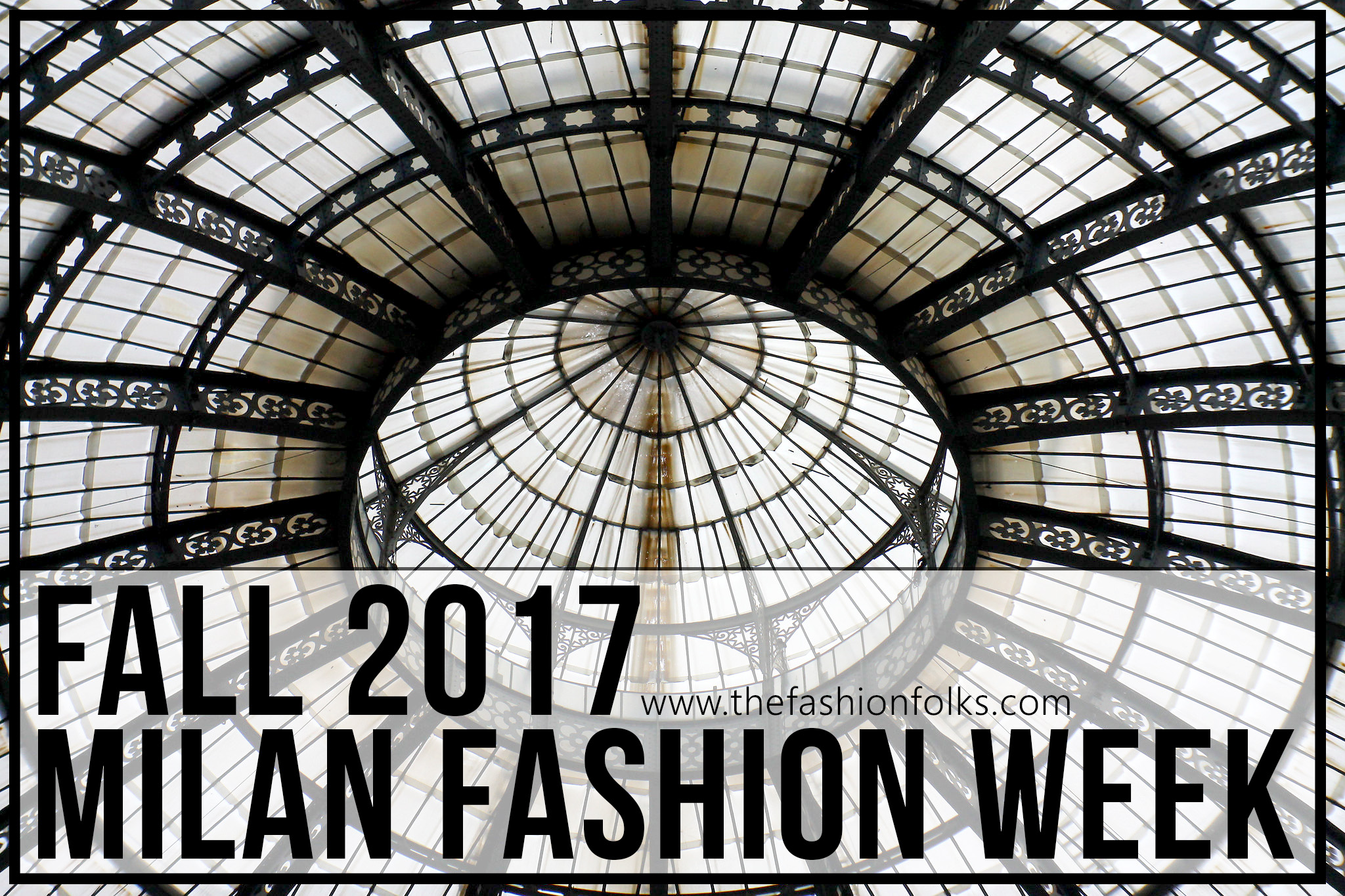 Notable Shows
Dolce & Gabbana Fall 2017
It feels like I'm always talking about Dolce & Gabbana, which I do tbh. But their design aesthetic is easy to like and something many can relate too. This year the Italian designer duo went full on show during their fashion presentation last week. Over 124 looks were presented (!!) and somewhere along the idea of the show and the idea of a fashion collection, I'm not sure how a summary is manageable. Instead of only using models D&G went pop culture ,fashion bloggers and youtubers. Beloved Aimee Song was one of many to walk the runway. As for the clothes, they were what you'd expect. Lace, red, black, gold, some leo, quite royal, embellishment for sure and also some pop  of magenta, yellow and red. All very feminine and classy with a touch of crazy. See the full collection here, cause there's no way I'm able to sum it up properly.
Jil Sander Fall 2017
If I'm having a hard time finding the words for D&G, I definitely know what to say of Jil Sander. PERFECT color scale for fall. Quite traditional with mustard yellow, camel, burgundy, nature white and blue green – but ever so lovely. The colors are pretty dove and easy for the eye to register, which is perfect for fall and the moderate intensity of fall fashion. I also love the looks of bronze, a great way of adding metallic to fall in a wearable context. And the clothes? They're oversized, minimalistic and sophisticated – all you can expect from Jil Sander. See full collection here.
Trends Fall 2017
The trends for this upcoming fall season is pretty much a reflection of what you normally get. Layers, cozy pieces and a focus on the whole look rather than the specific pieces. How about turtleneck, monochrome and blazers? As for beauty, keep your hair loose and go for peachy lips!
Fashion Trends Fall 2017
Turtleneck – Keep the turtleneck this year folks as the piece is still going strong. Jil Sander, Diesel Black Gold and Sportmax are only some of the brands that worked the clothing piece. Preferably should it be done in a layered look as the statement of the neck is favorable. The designers mostly worked tight turtleneck tops, but we all know that oversized knitted sweaters are too cozy to ignore as well! This trend was also seen with one of the biggest trends for fall, oversized jackets!
Monochrome – If I don't talk about D&G enough, it do feel like I mention monochrome in every other post I write here. But the fashion gods have obviously (not) read my request about more monochrome, cause that's what we'll be seeing a lot (like a lot) of the coming season. Pucci was bold enough to embrace a monochrome look in green and Moschino & Salvatore Ferragamo also worked one shade top to toe.
Blazer – Believe it or not but a blazer is not one of my favorite pieces. I know many of you adore them and consider them as a fashion essential, but I'm not there – yet. Cause for fall 2017 the blazers are pretty much everywhere (or will be). Armani worked the piece, MSGM as well and also Jil Sander, not to forget Salvatore Ferragamo! Some designs are perfectly fitted and others embrace the 1980s in shape of oversized shoulders. I'm more for the tailored ones in a fun cut and preferably with a statement blouse or a turtleneck.
Beauty Trends Fall 2017
Peachy lips – I don't care if this is a trend or not but Philosophy di Lorenzo Serafini worked the prettiest shade of lips I've seen in awhile. And even more genius to do it for fall! Or how about peachy lips with a touch of gloss? Just see how gorgeous. Feels a bit 60s and I'll surely work them with a heavy liner!
Lazy hair – I don't know who's the most lazy regarding this. Am I the most lazy for choosing lazy hair as a trend, or are the designers lazy for going lazy hair on the catwalk or are we all the laziest for always working lazy hair? Well well, one of the trends for fall 2017 is to do nothing about the hair. Just let it loose and let it be. Perhaps keep it a bit wavy, perhaps do a side part, perhaps keep the morning hair. You get me! Max Mara, Missoni and Marni (and so many more) kept it simple!
Designer Spotlight: Gucci
The thing with Gucci is that you never know what you'll get, except a show of fashion crazy. There is a theme  in the collection, as in Gucci's own theme (song), but it's quite specific and is more or less the same each season. Or how about retro going glam going Alice in Wonderland going maximalism? Cause that's where you somewhere have Gucci. And same as for D&G is true for Gucci, it's hard to summarize a collection with no cohesiveness but only an overall theme. There are however some gems of looks that are to be highlighted and praised. This look is in true Gucci spirit and so fierce with the set and floral pattern. Another look of Gucci is this one, that is too cute with the collars. This one looks like something from last year, but comes with the perfect amount of crazy!
So why spotlight? Well Gucci should get an applause for keeping their touch of individuality and creativity – no matter the season or current trends. Even though they do change their way of style after the creative director, they always keep a core of fashion madness. Here's the full collection!
Personal Thoughts
Milan fashion week is definitely second to best of the fashion weeks according to me! The Italians do know their food, beverages, cars and fashion! 

Max Mara brought the coat game to a new level this season. So many simple, classic and fierce coats. I wouldn't mind them all tbh.
Leave it to Bottega Veneta to keep the glam life of fashion alive. The Italian brand went 1940s and did it so well. So many gorgeous looks with the elegance of the 40s – so pretty!
And that's a wrap on Milan Fashion Week Fall 2017! Hope you enjoyed the touch of Italy folks,  leave a thought or two in the comment section below and let me know what you think!
Did you like this post? Hit the share buttons below!