So London is calling (I wish) and it's time to wrap up its fashion week. London has always felt more urban than New York and more rough. But to my surprise, it felt pretty refined this time around! Here's the summary of London fashion week fall 2017: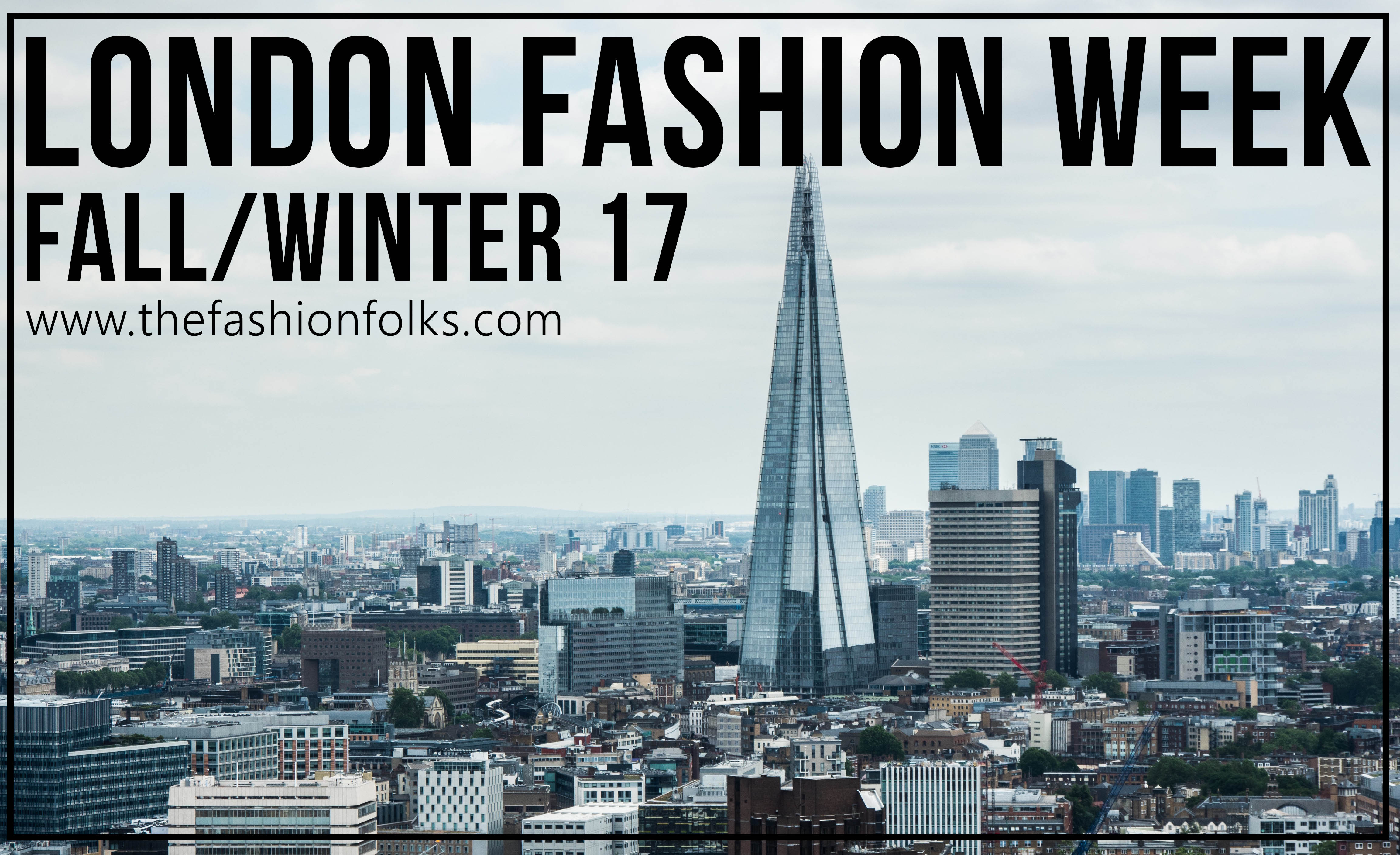 Notable Shows
Mary Katrantzou Fall 2017
London has perhaps never had the same star quality designers as Milan or Paris, but they surely got Mary Katrantzou. After years in the industry, she's steadied her position as an interesting designer to count on. She always brings a nice mix of art and wearability into designs of likeability – which we all love. Fall 2017 might not have been her best collection (I'm still having my fashion heart in pieces since her spring 2014 collection that had me dying for about everything). She did however bring a nice fashion game with a gorgeous color scale of blue and classic combo of black and white. The last looks featured some illustration, which felt like a tribute to fairy tales and perhaps Disney in particular. Random but cute, but cute and random. See full collection here.
House Of Holland Fall 2017
If I called London refined this season, a lot of the cred is to be given to House of Holland. I think the capital got themselves a new Prada – to put it simply. Pastel colors, a vintage vibe, one or two elements two much in each look and all topped with a sophisticated nonchalance. It's mainly the first parts of the collection that comes with this refinement, even though there are gems of Prada in later looks too. For instance, I'm pretty sure that the baby blue fringe skirt (last pic in this post) in the first look is a hit on social media. Remember where you read it first, lol! See full collection here.
Trends Fall 2017
To be honest, it feels like the fashion world is torn whether to head into the dark direction of the world or to keep the sanity by going bright and optimistic. Yellow, pink and green might be some of the top colors this year, but there are more edgy combinations that are going high too. How about red and black in one mix or oversized coats for colder days? The beauty side is playing the same notes by dark metallic lips from Sibling and heavy eyes from Versus Versace. London is keeping some edge!
Fashion Trends Fall 2017
Oversized coats – Well, the climate changes might make the temperatures around the globe go up, but the designers of LFW still have our back for colder fall and winter days. Oversized coats with a blazer cut, that hits calf-length are pretty much everywhere. Erdem, Roksanda, Simone Rocha and Mary Katrantzou all worked the style, or similar to it. A lot in black, some in blue, a few in military green and one in yellow velvet from Erdem that I need. Go coats, go oversized and go winter life!
Prints – Prints might never be out of season, but it feels like a further embracement this year. Mary Katrantzou of course, but also Katie Early, Sibling, House of Holland and Simone Rocha. A lot with stripes but also dots, camo, squares, flowers, random shapes and who knows what. What I do know though is that prints and colors in combination predicts a fun fashion fall. And I'm here for it!
Red & Black – If you've ever wanted to star in a musical, now is the time to join Les Misérables and the boys of Les Amis. When is a better times to sing Red & Black if not this fashion fall? Agi & Sam, Roksanda and Sibling all worked the red and black combination. Not seldom in the context of print, but also regular contrasting. Red and black is a common symbol for passion and dark romance, so let's turn Valentine's day to a matter of fall too!
Beauty Trends Fall 2017
Metallic Lips – Feels like I'm only talking about Sibling but they went for a dark metallic lip for fall, and what's to highlight if not that? Matte lips might have been the go-to trend for awhile now, but it's time to put that shine on and sparkle a bit extra this fall. If the makeup brands haven't already, I'm sure we'll see lots and lots of metallic lip products in the months ahead. Preferably dark, but the shades of the 90s are lasting too!
Heavy eyes – Easy though, if you're not sure about metallic lips, you can always head for heavy eyes with a metallic touch. Versus Versace went dark blue for most part, with a slight hint of metallic. Pretty dramatic as the shade reached from the bone structure of the nose to the outer corner of the brows. If you want to keep it more wearable, go for a simple liner or a subtle shadow I say!
Designer Spotlight: Erdem
If you've always dreamt about melancholic dresses for fall, look no further than Erdem. The London based fashion label kept it fairy tale dark this fall. Erdem Fall 2017 is a mix of wearability, dreams and a romanticizing images of fall. Some looks are a direct reflection of the modern Renaissance while others feels more like a fashionable fairy tale. The latter reflecting the opening looks with an A-silhouette, but also this look with the black bow and this one of stripes (genius btw).
The looks of modern Renaissance, as in this one and this one, might not completely be a hit of target but have a good intention. Who ever says no to a black and white drama? Perhaps why these looks of white lace are dreamy and enchanting. Not to forget the looks of yellow/golden velvet. The heroes of the collection are the maxi dresses in dove colors with floral decorations. Perhaps looks that are simplified Valentinos, but they're too gorgeous to be ignored. Melancholic fall it is! See full collection here.
Personal Thoughts
I like when I'm served the unexpected and going sophisticated and refined during London Fashion Week is the unexpected. I think LFW outdid NYFW in terms of creativity and new looks. I'm sure the Instagram blogger generation will be uncomfortable with the play of prints, colors and drama though. Perhaps the oversized coats will hit the streets with full success as they already are a natural feature to many. Other than that, I'm having a hard time seeing a fashion blogger of social media working heavy dark eyes. If that happens though, let me know and I'll dedicate an entire post to the looks of the unexpected!
Folks! Let me know your thoughts on London Fashion Week Fall 2017. Are we talking yay, nay, whatever? Are we all just waiting for the grand shows of Milan and Paris? Perhaps, but London was definitely a darling this season. So, favorite shows, designer, moments? Leave a comment below! Xx
https://www.instagram.com/p/BQsCNxEh7A6/?taken-by=houseofholland
Did you like this post? Hit the share buttons below!