I know, the midi dresses are all over the place and I'm totally here for it. Never have I've been more specific about making the most out of a clothing piece as I am with this one. I don't know if it's because it feels like the midi dress is the dress version of a jumpsuit? It's wearable, goes with everything and isn't too specific about the styling? Well anyways, here's five ways you can style your midi dress fall 2017. Adding the extra trendy touch and all!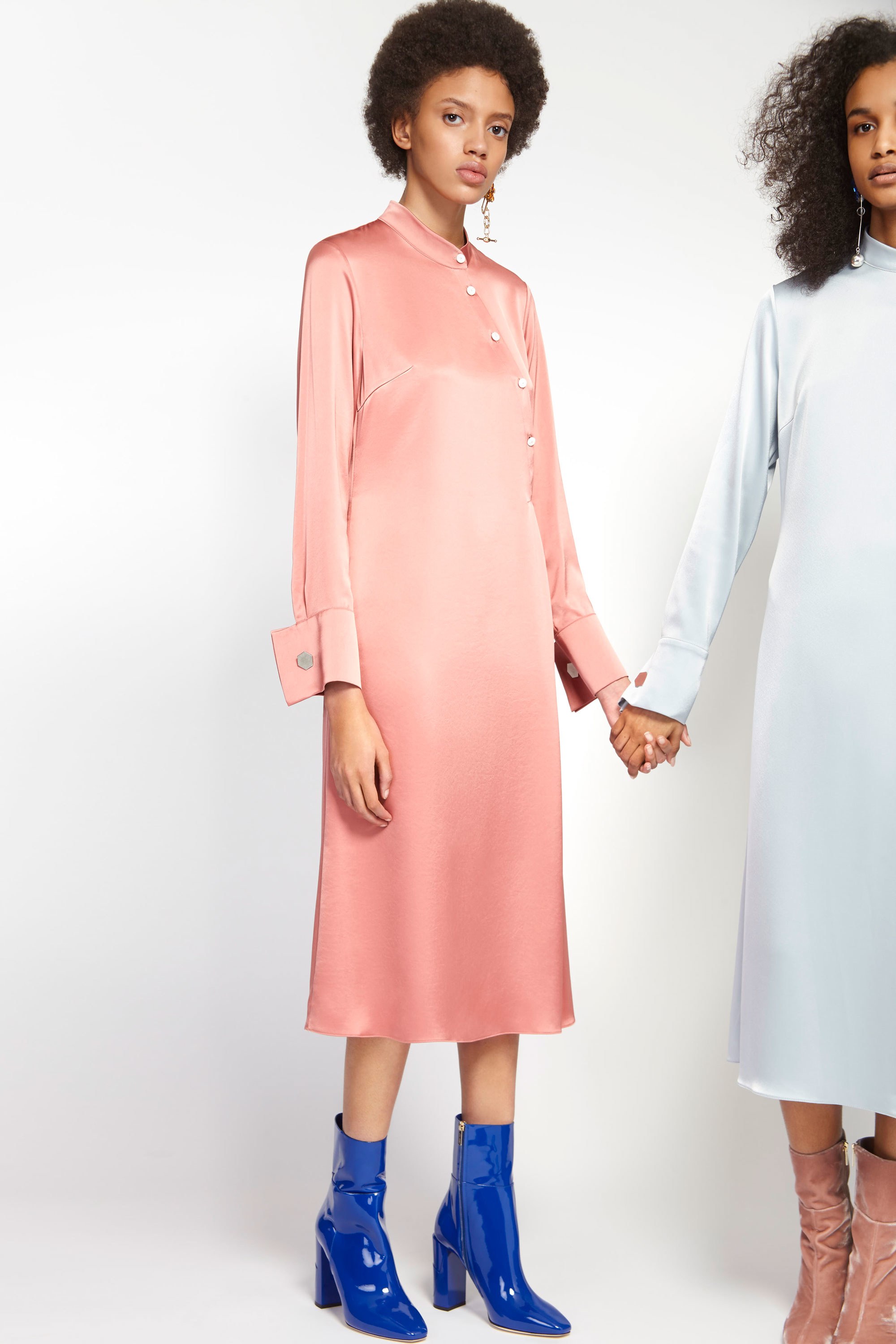 Courtsey of Osman | Pre-Fall 2017
Style Your Midi Dress Fall 2017
Go For It In A Trendy Style
Pick your midi dress for fall 2017 in a trendy style. A midi dress in a dark floral print is a trendy one but so is also an all red or orange. I think that choosing a midi dress you know will last through the years regarding print and color is key. The midi length is that classic so if I were you, I'd make sure to keep it around in the long run. A red one is great from that perspective, but also a white or all black. Keeping it classic you know? When you have a midi dress that's easy to style, you can use it over and over again without getting tired of it. 
Layer It With Long Lengths
Don't be afraid to play with the silhouette and making it even more awkward. Match the long length with a long midi coat to make it even. Or why don't you go for a knee long sweater to create that "slightly" awkward but sophisticated blogger look? Pair it with subtle sneakers or clumsy heels to make the look complete. Don't forget to color match or add some print if you need to make the look more dynamic. If you're not sure about going for the longer lengths, a cropped sweater or making a knot with your shirt by the waist will do the job for you with the layers. Just keep it balanced or not at all…cause' that makes sense and everything (eh).
Balance The Volume
To balance the volume of  the midi dress, in its often flowy style, is quite important to make it more wearable. One way to do it is to secure the look with a belt. A belt by the waist creates a more even balance with the flowy fabric and you'll create some curves or show the ones you already got! Another way to balance the volume, and as mentioned above, is to add a cropped layer. Perhaps a cropped leather jacket to balance the preppy style but also add some structure to the flow?
Layer It With Tights/Pants
I know this combo of pants is the ultimate cringe for many as it was trendy in the early 00s last time and that is cringeworthy x 100 as we all know (or now you do). But it's quite trendy and boho chic to layer your midi dress with a pair of jeans. Especially fun if you go for a flare style or even a statement of the 70s. Go for the heels and you'll have a balanced look of the elements. A subtle way of staying warm and going for the midi style is to add a neutral pair of tights. That ought to do the job too!
Go For Boots
I've proposed the idea of pairing your playsuit with OTK boots for quite some time now and I definitely believe in this idea regarding the midi dress too. So much fun, unconventional and interesting to let your boots work as "pants/tights". Add a pair in (faux) leather or even patent leather to make a fun contrast. (Faux) suede will also do the work. If you want to go trendy, go for the red sock boots to make the statement complete. I have to say that this is a rather subtle statement as it not on eye-level and the dramatic style of your midi dress will balance the it-color. 
Folks! How do you style your midi dress fall 2017? Do you go trendy or do you keep it classic? Let's chat in the comments!