Here's an article on the street style January 2021 looks. Just some fashionable outfits to inspire us this winter and keep that winter mood stylish and comfy! You can find more street style inspiration in this article.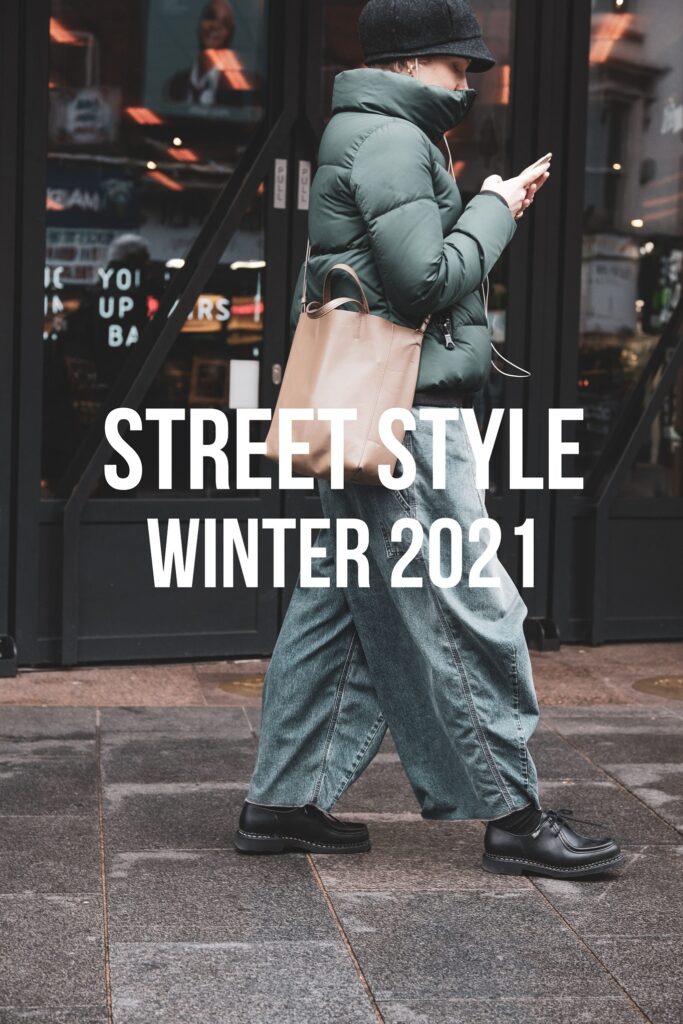 Street Style January 2021
Colorful Winter
Awww, I'm crushing big time on this look. It's not always that easy to dress colorfully for winter, but this outfit shows that it doesn't have to be that complicated either. I love the voluminous puffer jacket and how the color is intensified with the pink bag, beanie and socks. All this pink would've been great with a simple pair of blue jeans, but that's why it's even more interesting with the green pants. I love this type of bold color combination! 
Leo Vibe
A classic way of working leo this winter is to work it with black. Black is such a wearable "color" and probably everyone's go-to shade for winter. This makes black perfect to work with more statement details, as it's like a blank canvas. Leopard in particular, is a great pattern with black as it's timeless and intense. Love the idea of going for an all black look and letting the leopard pattern be in the spotlight. Perfect to try with boots, a bag or anything else really! 
Modern Twist
Love love love the idea of pairing a knitted dress with a pair of chunky boots. That alone makes up for a fashionable outfit. What makes this outfit even better is the layering with the blazer and the beige bag. I love the timelessness the collar adds, as well as the black sunglasses. This outfit really shows how great a blazer is when it comes to functioning as an outer layer. Perfect if it's not too cold one day!
Casual Times
I love this casual look! So chic with the plaid schacket and how it's matching with the beanie. I think the statement boots and the matching black bag are stylish with the flowy pants, as it all contributes to a more casual vibe. What's to learn from this outfit is how chic it is to go for a patterned top and match it with a beanie. Love it!
Matchy Matchy
Finally, this look is such a gem! I love how well the jacket and the dress are matching. They truly show what a simple styling hack it is to go for a matching jacket/coat and top/dress. Love that the boots are adding a neutrality to the outfit with the OTK style. Whatever color your jacket/coat is, try and match it with your dress/a top next time, and you'll see what a powerful combination that is. Keep the rest of the outfit more neutral. You can also throw in a mathing beanie or matching shoes for a more cohesive outfit. 
Folks! What are your thoughts on the street style January 2021? Let me know in the comments below! Xx