Folks! How about getting this week going with some street style inspiration summer 2019? I've picked out five looks I find stylish and I've written a bit about what it is that makes them so good! Nothing like getting as much inspiration as possible! Here's some fashionable inspiration summer 2019: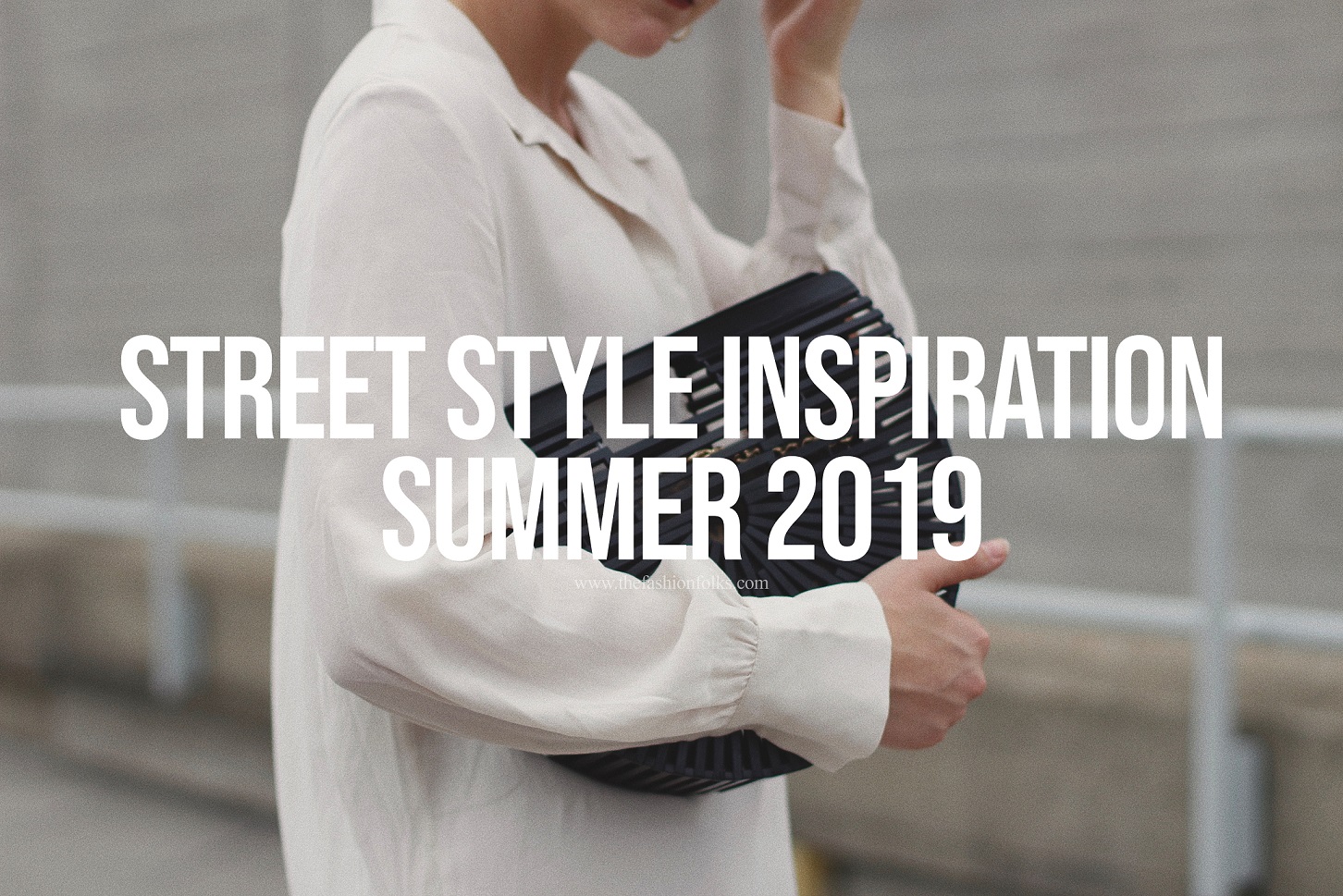 Inspiration Summer 2019
White Set
I love this white set in a denim (?) material! I know sets can be quite dull, but they can also be magnificent when they come with a fun twist. In this case, the crispy white color with the durable material makes a nice pop. I also love that it's a skirt and not some jeans, as the skirt feels more easy and wearable with the jacket. When it comes to sets, there's not much one can do about the styling but to focus on simple accessories. Adding a pair of sunglasses in a contrasting color, with a statement shape, works so well with the outfit. It adds a trendy touch and some structure to the look! Other accessories you can focus on could be a scarf, some shoes or a bag. A pair of white dad sneakers could be really fun to this look! 

Layered Dress
So both of these looks are really chic, but my heart skips a beat for the right one! I think it's really adorable to layer sleeveless dresses with sleeves blouses/tops. This combination in particular feels really luxurious with the more baroque style of the yellow dress. The structured bust, the subtle pattern and the ruffled hemline are all contributing to the more elegant look of the dress. What takes the look to the next level though is that white, spacious, blouse that also underlines the historical vibe. The white pumps pulls the outfit together nicely, the pearl earrings adds an elegance and the beige colored bag works well with the dress. Just love how detailed everything is! 
Denim Skirt
This look is a simple, stylish, example of the classic combination of a blouse/shirt and a denim skirt. I think this is extra well done here, with the blue shirt and the blue denim skirt as it gives a more monochromatic look. I love the wrapped style of the shirt too as it makes the outfit more structured. The idea of contrasting the look with a bag in an opposing pattern, makes the outfit more energetic. If you want to make your denim skirt more preppy, definitely add a blouse!
Orange Boots
How to make the most out of your floral dress? Well, how about pairing the dress with matching boots? The orange color of the boots enhances the colors of the dress, which gives a more intensified look. This outfit could be great if you think your dress is a bit too elegant and you want to make it more street style chic. Love the bag to this dress as well. The flowy style is balanced with the more clean look of the bag. Perhaps I would've gone for a bag in a more orange hue or a black one, to make the look even more matched – but this off-white works too! 
Edgy Leather
To end this article with some edge, what about this look? I know I talk a lot about details, layers, mixing prints and who knows – but sometimes it's quite refreshing just to go back to the basics. A monochromatic look consisting of black jeans and a black top is simplified perfection right there. Even better is that this look is paired with yellow, which adds energy to the look and makes it more interesting. I love that the bag and the shoes are matching too, it makes the contrast more intense. This look is fairly easy to recreate home with a monochromatic base and some colorful shoes/bag!

Folks! Which one of these looks from this article of inspiration summer 2019 is your favorite? Let's chat in the comments below! Xx