With winter coming to an end and spring slowly approaching, the season of transitional fashion has begun! The transitional fashion is nothing less than a fashion mixing winter fashion and spring fashion. This can be demonstrated in an outfit with a pastel midi dress (spring) with a faux fur coat (winter). I love how playful and creative the transitional period can be, so of course it's reflected in the street style February 2021 inspiration!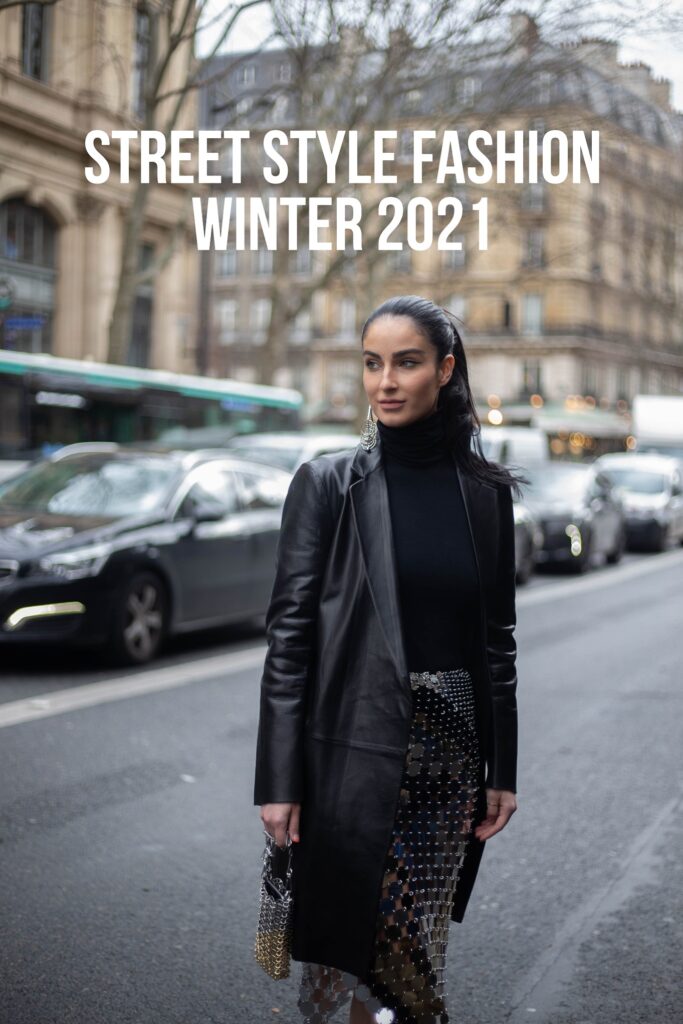 Street Style February 2021
Paris Vibe
First out is this Parisian outfit! I mean, don't we all need more Paris in our lives? I love the dramatic maxi dress, and I love how wearable it is with the chunky black boots. The leather beret adds the perfect amount of edge, and it's well-matched with the bag. The statement earrings are contributing with a good level of glam too. If you want to recreate this look, grab your glam maxi dress and pair it with more casual elements. Maybe a pair of sneakers if you don't want to go for boots. A beanie could also do instead of a beret, and don't be afraid to choose a statement bag.
Mixing Prints
As many of you know by now, I'm a big fan of mixing prints. It's such an easy way of styling and making your outfits more dynamic. I think this blouse and skirt combo is actually a dress, but the print mixing is superb nonetheless as the face mask is matching it. How cute isn't that detail? And what's even better is how the pink boots are matching the pink details of the dress. Seriously folks, it doesn't have to be more complicated than that. Pick a print you have and match your accessories with it! 
Playful Retro
This 70s knitted (?) maxi dress is another gem. Be sure that we'll see more of these in the near future. What I love about this look is how retro it's kept with the matching sunnies and the statement bob. I love how the dress works for winter with the neutral boots and pants combination. It's such an easy way of wearing dresses when you match your pants/tights with the shoes. It creates a more cohesive look. Lovely for winter indeed!
Pink Life
If you want to wear more colors but unsure how, start with a black and white print. It might sound weird, but bw prints are often quite neutral (especially stripes and gingham). They'll therefore be a superb match with your colorful pieces as they'll balance them favourably. You can also make this work by sticking to one color, or different shades of the same color. This will create a more neat and tidy look, and it'll be easier to pull off.
Back To the Basics
Lastly, let's not forget about the basics. I love how neutral the beige leather pants are, and how timeless they become with the black turtleneck! The beige trench is also adding to the timeless vibe,  and I love the peachy crossbody bag. What's making this look more interesting though are the earrings. Simply because they make the outfit more refined and glam. Adding some jewellery to your outfits will always make them more luxe and glam.
Folks! Do you have a favorite of these street style February 2021? Let's chat in the comments! Xx