As fall is progressing, it's getting colder and colder — which means more layers of sweaters, knitted pieces and jackets. And what's a better way of embracing the fall life, than to be inspired by some street style fashion October 2020? Find September's street style article here for some more inspiration!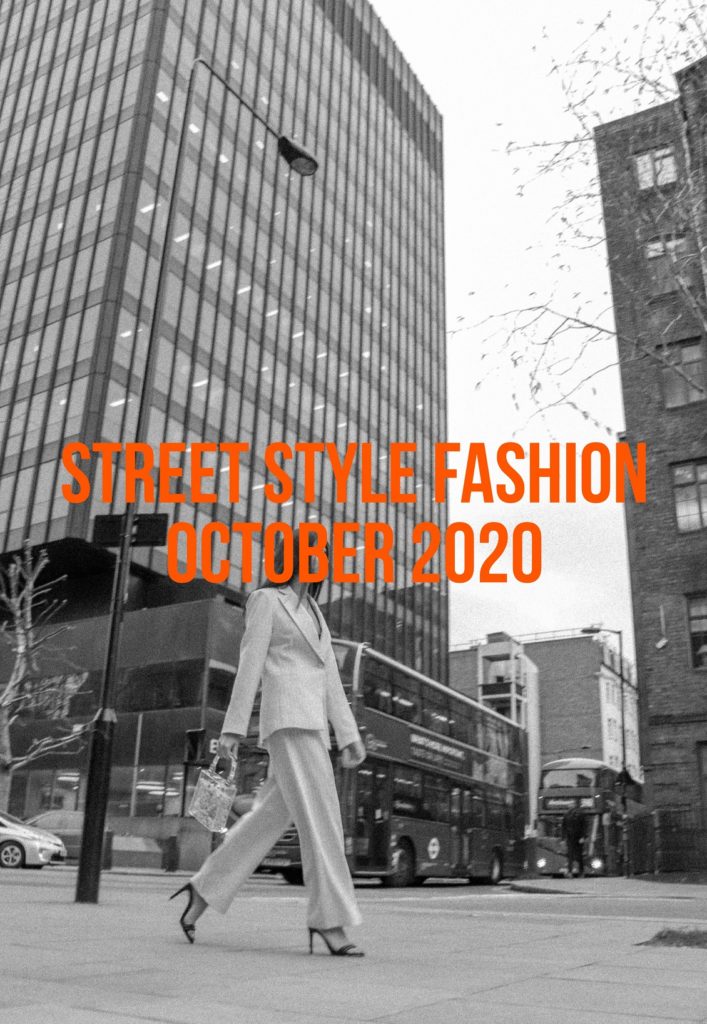 Street Style October 2020
Oversized Coat
Okey, but how chic with an oversized coat? So cozy with the jeans and the chunky black boots. Such a way to go when you want to stay comfy and fashionable at the same time. I also like the cross body bags which frames the oversized coat and adds some geometry to the look. The black sunglasses also creates a nice coherency with the black bag and boots.
Colorblocking
One of my favorite color combinations is red and orange. There's just something fierce and energetic about it. With Halloween coming up, what's a better idea than to work the colorful duo? One way of making it more wearable, as shown in the picture below, is to neutralize it with some brown shades. Perhaps I would've skipped the white shoes and gone for wine red or orange shoes, but overall I'm crushing big time on this outfit!
Popping Colors
It's simply a must to wear your cropped cardigan with a pair of jeans. The duo makes up for a great material mix and the high-waisted jeans makes the cropped cardigan more wearable. I love how the yellow neon bag contrasts the pink cardigan. The choice of jewellery is also gorgeous with the matching earrings and necklace. Love this!
Chunky Boots
Semi-fitted maxi dresses are increasing in popularity and I think the outfit below shows how the item can be worn favorably. Love how the blazer interacts with the collar and the buttons of the dress. Also, really chic with a matching bag. However, a patterned one, such as zebra, could also have been doable. What really makes the look however, are the chunky black boots. They add an unexpected twist to the outfit, but also picks up the black hues from the buttons and the sunglasses.
70s Vibe
But how good isn't this matching set? I love the 70s vibe, but also how contemporary the look is with the chunky shoes. I think yellow is a great retro choice for brown, and cozy with the turtleneck style for fall. The yellow turtleneck also picks up some yellow hues from the pattern, which creates a more cohesive outfit. I think the bag works quite well, but would've been fun to see some leopard or a touch of orange for an even more dynamic, interesting, look!
Folks! What are your thoughts on these street style October 2020 looks? Which one is your favorite? Xx