So here's a relatable fashionista problem for you (if you're living in colder areas): how do you stay warm and fashionable at the same time? The problem that is, is that our fashion game is mostly on point when the weather is bearable. Like, spring, summer and the first part of fall. After that, fashion is kind of a constant battle between what one should be wearing and what one wants to wear. That chic jumpsuit that everyone is working, seems to be a good idea in theory, but when you're standing there and you can't feel your legs, you're trying to remember how cold one can get before ending up with a cold or a urine infection (yikes). 
So, is it possible? Can it be done? Can you dress warm and manage to look chic at the same time? Well, of course you can! With some smart tricks of layering, planning ahead and some embracing of sweater weather, you'll be more than fine. Here's how to stay warm and fashionable: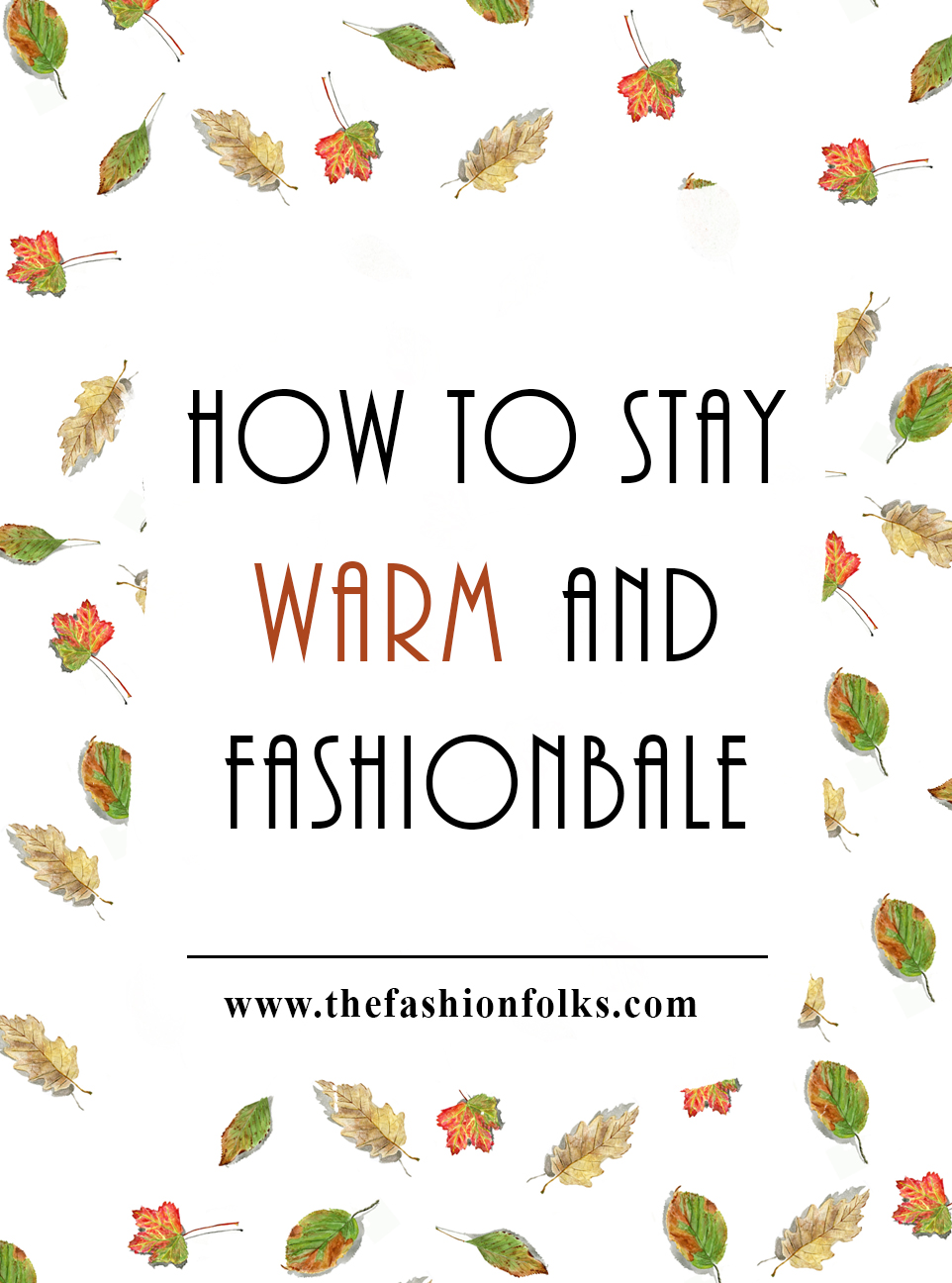 7 Ways To Warm And Fashionable:
Warm Materials
Invest in pieces that are warm as they are. Knitted clothes of course, but also wool. Investing in sweaters or jackets with at least 40% wool is a great way of staying warm with just one clothing item. Instead of doing 3 layers of clothes to gain the same effect, do one piece that does it for you. Another obvious, but important item that is life-changing, is wool socks. Will save your feet for colder days and also look stylish with boots. For a vegan alternative, fleece is also a warming material. Even though it's not a material for fall weather, invest in a jacket that's lined with fleece.
High Boots
Wearing high boots is another great example. High boots is perfect for rainy and windy days, as well as keeping the legs a bit warmer. They're also fashionable, adding that extra detail to a look. We listed OTK (Over The Knee Boots) to be one of the must-have items this fall. Of course because they're chic, but also because they're warming.
Accessories
Well this is a brainy one! Accessories, belive it or not, will definitely keep you warmer. A hat, a scarf and a pair of gloves and you're good to go for the day. The accessories also adds a great fashion level to your look, as their color and style contributes to the fashionable touch. We don't say that they all should be matchy matchy, but if you're unsure: stick to matching gloves and hat, do the scarf in a contrasting color. Read more about hats here!
Layering: Quick Tips
So layers are to some equal to a chic look, others a painful outfit that limits the mobility. And it can be both, truly. Too many layers are hard to work with as they often are uncomfortable. The solution to the problem is knowing what clothing items to pick for a layered look. I'll get back to this in a post later, as for now though: 1. Begin with a tight long sleeved top, this item should be invisible. 2. Add a shirt 3. Put on a cardigan, preferably in a flowy style, or a sweater. 4. Put on the jacket, pick one that's more defined but with enough room for the sleeves 5. Finally, add a vest if you want too.
That are five layers that won't outdo each other. The different styles of the layered look will also add some chicness, and be bold when you go for different textures and colors! A layered look is also perfect for dressing in color scale!
Tights Underneath
So this is cringe-worthy to some, and I partly agree. But if you want to be able to wear certain pieces for colder days too, you're gonna have to compromise. Jumpsuits, midi skirts and maxi dresses are all clothes that are more suitable for warmer temperatures. They can be worn during fall and winter too though, all with the magic of tights underneath. They'll keep you warm and still not interfere with the look of your outfit. Give it a go before you go all judgemental (and yes, you can thank me later)!
Invisible cardigan
Okey there's no such a thing as an invisible cardigan (lol, in Harry Potter perhaps), but when it comes to fall/winter there is. An invisible cardigan is a cardigan that fits perfectly under your jacket, but without hinting below. The proportions of the jacket is larger than the cardigan, therefor you have a hidden layer of clothes that won't disturb the cool contrast of the jacket and your outfit. When you're inside, you just take off  the cardigan too, as if it would be a part of the jacket.
Protect Yourself
And lastly, use your brain, aka protect your body parts where you usually freeze. The feet, hands and the head are usually the first parts people think about. But wind blowing in the neck is not to mess with, and cold arms is just terrible. So be brainy here and use long sleeves under your jacket, socks in your shoes and a pair of gloves wherever you go.  And a  scarf, turtleneck or a high collar jacket to protect the neck. (Fun fact: In the 19th century people realized that high collars were terrific when it came to protection from harsh weather, that's why many men's jackets have insanely overdimensioned collars. See here).
Folks, that were 7 ideas on how to dress warm and fashionable! How do you survive colder days? Leave a comment below, I'd love to know!