So it's obviously November and this time of the year, it's not always easy with the outfit and fashion inspiration. It's freezing cold, it's dark and the holidays are too far away! So for today's post, I thought I'd share some ideas on how to stay inspired! Which is more or less correlated to how to come up with new outfits.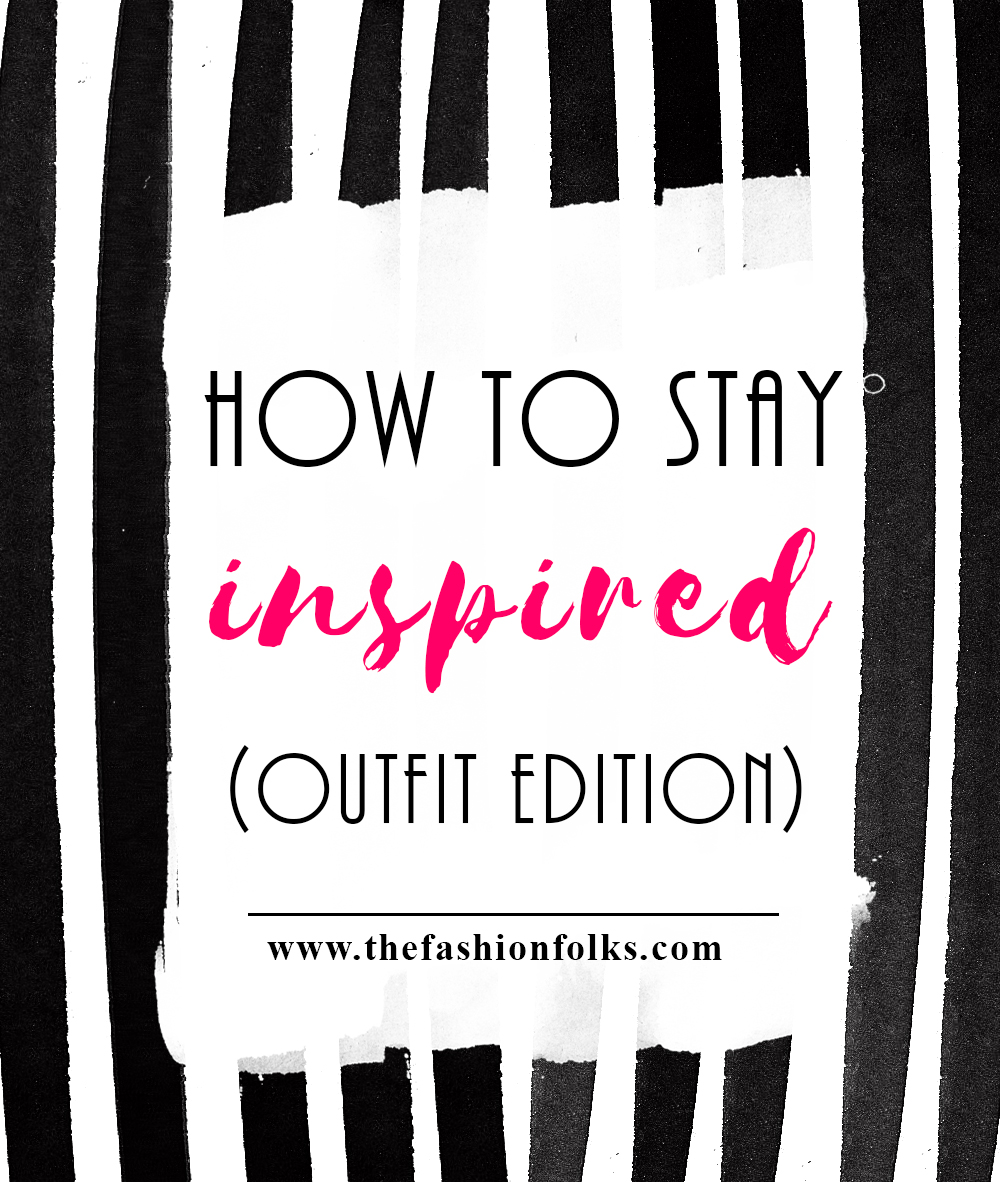 Social Media: Instagram & Pinterest
The obvious way to inspiration these days it to take it to social media. And I couldn't agree more, social media provides with endless of inspiration. From whatever style you prefer, you can easily find stylish people/accounts and boards that will give you that. The key to always develop the source of inspiration is to keep finding new people and accounts to follow. See what accounts your favorite is following, follow them too and get even more inspired! And pssst, don't forget to scan the explore page. It's the magnifying glass on Instagram and the Pinterest icon in the left corner! The explore page is calculated to show you pictures and accounts that are related to accounts you follow and like.
Style Icons
As talked about in How To Track Down A Style, the importance of style icons can't be stressed enough. I've talked about both Olivia Palermo and Miroslava Duma as great sources of fashion inspiration, but a style icon can also be the blogger next door! You can either follow your style icon on social media or their blogs. If you want a proper dose of inspiration, sit down and scroll through their outfit category. Get inspired and see what looks you can make work for you. Read more here.
You
Yup, that's right. You are also your biggest style inspiration. You've obviously dressed yourself for years and years and I'm more than sure that you've already have had some genius style hits? This is not about destroying those moments for you, but to make the most of them. Whenever I'm out of good outfit options, I usually go back and see what some of my best outfits have been. Then I take the elements in the outfit, but change them to something similar. For instance, if it's a grey sweater with a pink midi skirt. I pick a similiar sweater and a similiar midi skirt. So I get the same idea of the outfit, but still with different clothes. Pretty brainy if I may say so!
Ask a friend
Now this will sound crazy but we all have that stylish friend that always is flawlessly dressed. Why not, for a fun change, let this person create an outfit for you? The stylish friend hopefully has a fine feeling for style and can come up with something new, but true, for you. Perhaps you'll discover new ways of styling a piece or that you actually look really cute in that color. You might also discover that you look terrible in something, but hey, you've discovered something new at least. Next time you buy a new piece, ask your stylish friend to style it for you!
Use the 1 x 5  principle
Naaah, I just made that up because I have no proper name for it. But 1 x 5 is my best attempt at describing this style hack. It's common to jump from piece to piece when writing down outfit ideas. Here's another one though: Focus on one piece at the time! As you're already having the clothing piece in mind when styling, believe me when I say that it's a lot easier to take it from there. So pick a specific piece from your wardrobe, sit down with it and come up with at least 5 different outfits with it. 1 piece x 5 outfits = 1 x 5! Like black high waisted jeans, pick a tunic, a sweater, a vest, a blazer and a t-shirt. Five different outfits and you're done! Of course I want you to be more stylish than that though, like add a statement necklace, a hat or more clothes. Just reach for the fashion sky, truly.
Folks, I hope I made sense, if I didn't, sorry about that! Now, what are your best ideas on how to stay inspired? Leave a comment below! Xx