I'm pretty sure I'm not the only one going through the whole alphabet quickly in my mind when I try to figure out the order of some letters (cause that happens you know). So why not go full on repetition for the alphabet as well as chatting about some spring fashion (C what I did there? #sorrynotsorry)? Here's Spring Fashion A-Z Ideas 2017: (and folks, use the slideshows for more inspiration!)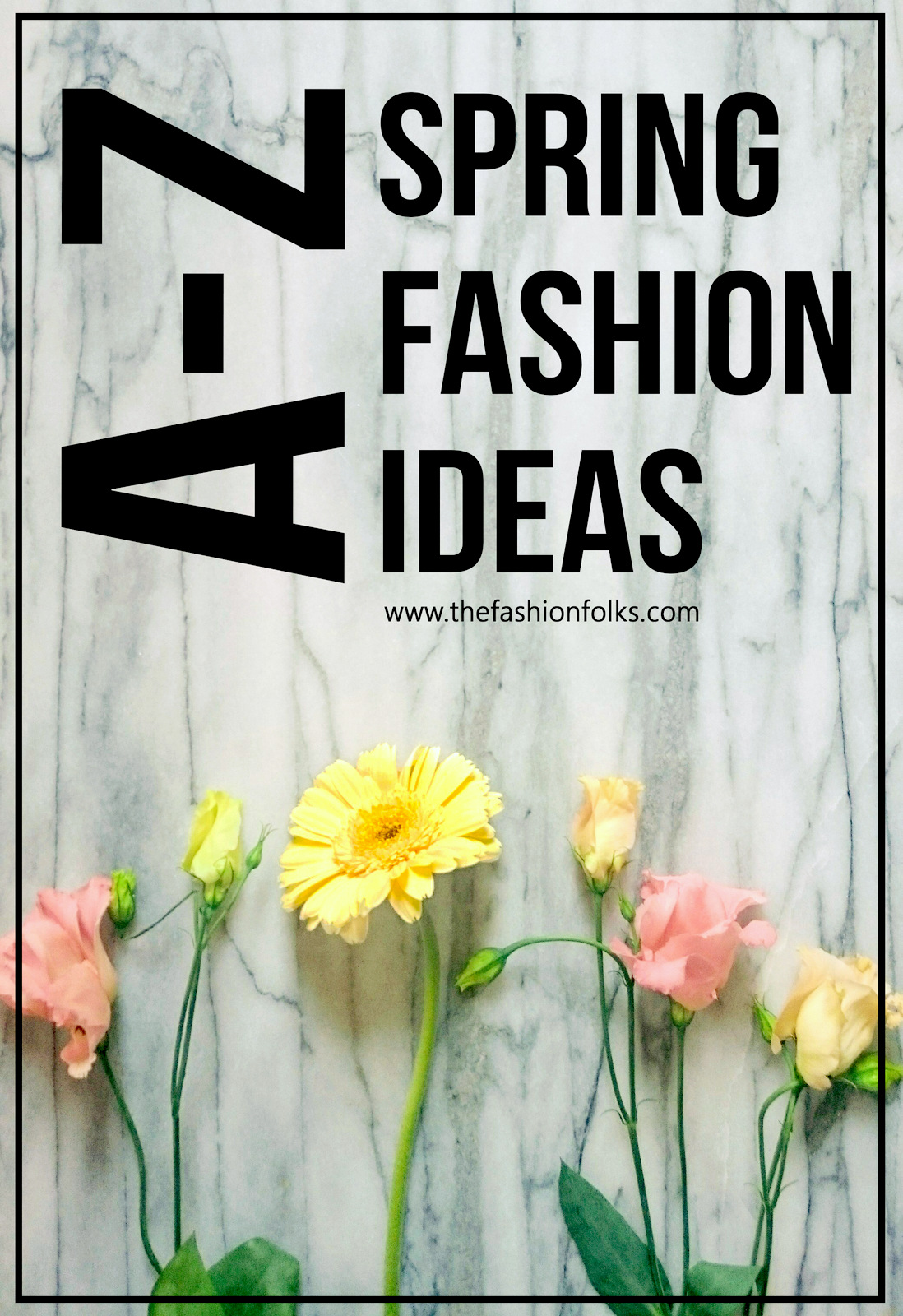 Fashion A-Z Ideas 2017
A – Adapt your style after the spring colors. Go for pastels and popping shades such as pink, baby blue, sun yellow etc. It will definitely brighten up the mood. Try white or light grey if you're an all black outfit person at heart.
B – Bandanas going for the neck or hair is a chic detail for spring. I also say, level up and go for a refined scarf in a fun color or print. Mixing and matching at its best.
C – Culottes might not have the same it-factor this year but no one cares. They're still stylish, wearable and a perfect item for the transition period that spring is.
D – Denim is one of the most beloved fabrics for spring, and with all right. Go for a chic denim jacket, a statement pair of jeans or a classic denim skirt. And oh, denim on denim is a thing.
E – Eco fashion for spring gets more and more popular. See if your favorite brand does a special eco line this year. Sustainable life and fashion at its best!
F – Flower power is real folks and it's kind of mandatory to work the floral prints for spring. Try to go subtle, go for floral accessories or try a new print of flowers if you want to keep it interesting.
G – Glasses as in sunglasses are ofc a spring must. Classic, statement or subtle is your choice. But do remember that sunnies have the power to take an outfit to another level, so ofc you should head statement if you ask me. 
H – Heels are often not only stylish (and painful) but an extra help this year when working the wide pants, the midi skirts or statement jeans. They'll add some height to the outfit which will balance out the "heavy" fabric.
I – Instagram is inevitably a great source for fashion inspiration. But be sure to think outside the box (app) and also find the unique style icons. Insta has a tendency to go a bit homogenous. Dare to dress after your own wish to express yourself through the creativity and individuality fashion comes with.
J – Jeans are also major for spring. Go for distressed jeans, jeans with an uneven hem or mom jeans if you want to be extra trendy.
K – Klein blue is a color if often comes back to and there are several reasons behind. But for spring though, the rich shade is perfect to highlight, contrast and intensify other colors of spring; as pastels and popping ones (hot pink, orange etc). Go bold, go for it!
L – Leather as in leather skirts are a chic contrast to all the preppy vibes and pretty colors spring comes with. You can also show some skin and let your legs see the sun again etc etc.
M – Monochromatic outfits. No. Need. To. Say. Anything. More. (just read this)
N – Nautical fashion is a fashion classic that's always a bit extra popular each spring. Go for the navy blue, the stripes, the trench and the white pants. Better being safe than sorry!
O – Ornament or perhaps embroidery is still trending and trending high. Embroidery for your jeans, blouse or jacket? Yes please.
P – Prints in general are also popular (and easy) to do for spring. Don't forget the colorful stripes or animal prints. Way to go when adding life to the outfit!
Q – Quiet is the last thing fashion is these days. T-shirts with texts of statement or prints are also popular for spring. Read the post here.
R – Ruffles (full post here) are another way of adding life and movement to any outfit. Go for the blouse, skirt, shoes or more subtle as in hem. Match the preppy vibes with contrasting fabrics such as fake leather, vinyl or fake suede.
S – Shoes for spring this year are the mules, sporty sneakers, shoes with a ruffle detail or OTK boots. Trendy but also stylish as fudge.
T – Trench coats never gets as much love as they do every spring. Embrace the nautical vibes or go classic in beige. Try a colorful one to keep it popping!
U – Underneath your clothes is not the corset or crop top. Nope, they're placed on the clothes this year. As corset top over your tee or a crop top over your shirt. Trend alert here.
V – Vinyl is one of the biggest spring trends 2017. Go for vinyl skirt or pants and contrast it with the nautical style or pretty blouses of statement.
W – Waists and hips should be marked with a belt this spring. Perhaps not the Gucci belt everyone is rocking, but a belt with a fun and stylish statement. Add a belt to your jeans, enhance the silhouette of your dress or go for the belt with a skirt.
X – Xtra (lol, made it easy for me) stylish will you surely be if you add a chic bag to your outfit. Go for a colorful one or one in a fun shape and size. Bags are a perfect way to add stylish details and elevate your outfit. 
Y – Yoga fashion or activewear in general have definitely grown in popularity the past years. For spring, dare to go for the colorful clothes in fun prints. It's an extra dose of energy, inevitably.
Z – Zebra stripes (what else) are perhaps making a comeback. They've been popping up here and there as a part of the revival of the 1980s fashion. So you might want to take my word for it and be a step ahead? (just saying).
Folks! Drop a letter of your choice and what you'll embrace from the spring fashion A-Z ideas! Xx
Did you like this post? Hit the share buttons below!