Ironically enough, for this fashion month, I've reviewed two collections that have been an exception to the style of their respective week. Marc Jacobs' spring 2018 collection was anything but the typical NYFW look, neither was Mary Katrantzou's spring collection similar to the edgy, urban vibe of London. And now, once we're at Milan fashion week where every other collection is a statement; I choose to review a more subtle and wearable collection. Hahah well, never has the logic of me been more representative. Anyways, I'll leave you to it tomorrow with more crazy fashion shows when MFW will be summarized. As for today, here's the gem Sportmax spring 2018 collection is!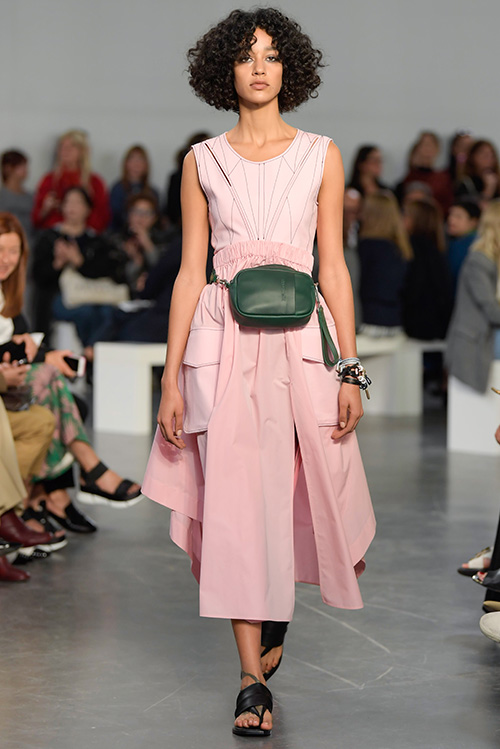 Courtsey of Sportmax | Spring 2018
Sportmax
If you know the fashion industry, you already know that Sportmax is a part of Max Mara. Sportmax was introduced in 1969 and has pretty much had its defined spot in the fashion world since. As the name reveals, the design core includes a sporty and functional fashion, always mixed with the refined and feminine style presented in Max Mara's collections. The fashion brand sums up themselves pretty well on this page, don't forget to see all the lovely vintage photos of past collections!
Sportmax Spring 2018
Sportmax spring 2018 collection is true to the theme of the brand. It's functional clothes meeting a refined style with elements of the 1940s. Moreover, it's athleticism and a subtle elegance all in one. It's kind of basic from a color perspective, including typical sporty colors of white, black, navy blue and tan. Green and light blue were done as accentuating shades accompanied with stripes and a floral print. Skirts, dresses, jackets and tops were in center of attention when talking specific clothing pieces. Some silky materials were done but also leather and another material I can't identify, but something with a lot of structure-ish?
The silhouette is quite the 1940s with a subtle inverted triangle being present in every other look. The waists are slightly accentuated, often with a striped belt or a same colored one. Except the belts used as details, placement of pockets, flow of fabric, marked hemlines  and stripes were used to create the look. The belts, pockets, stripes, materials and marked hemlines all contributed to the functional and sporty look whilst the silhouette, flowy fabrics and style of clothes were slightly reminiscent of the 1940s fashion.
Review
I'm head over heels for this collection, or close to it. I often promote statement fashion, but I do appreciate minimalism as long as it's presented with a clear idea as well as executed favorably. Now I don't state that Sportmax spring 2018 is a collection of minimalism, but it's simple. It sticks to its basic colors with a few highlights. The prints are centered to mainly stripes and a few looks of floral. It should and could be just another collection embracing the urban, functional, minimalism – but it isn't. The mix of sportswear and 1940s elegance is not new, but geniusly done here. Where a look lacks interesting colors or prints, it's compensated by nicely placed pockets or details of stripes. The clothes are designed with wearability in mind, yet with the twist of Sportmax. It's fashion with the designer's style.
I'm always specific with my colors and focus a lot on them, the colors in Sportmax spring 2018 collection is no exception. The mix of basics, green, blush and light blue is well done where all the colors balances one another. The m.v.p. of the collection are the stripes though. The randomly placement of the stripes, sometimes done on the clothing piece but other times as an accessory, is what makes the collection different from other collections within the same genre. The stripes breaks off the colors, the flow of the clothing piece and adds the structure. Well done I say!
Highs and Lows
Does the very subjective text above indicates that Sportmax spring 2018 is near perfect? Perhaps, but so is never the case when I review. I always, of course, have looks that I prefer and others that I would re-do. To state though is that this collection has a really high lowest bar, which means that barely any look (still, according to me), is specifically cringeworthy or poorly done. This is mainly secured by the fact that every look relates to the design core, which creates a consistency in the collection.
However, a look I was specifically in awe by is this fun mix of colors, stripes and texture. Might even be the best one, I love the blocking of the elements that all complements each other. Or this look might be a favorite, I'd wear it without changing the styling. Another look, the majority of you will probably love, is this wearable version of sports meeting subtle elegance. Love the pink skirt and the matching stripes, it's wearable and chic. This green dress might belong to any fashion label, but how fierce isn't it styled with the bag and the shoes? Love it! Also love this sweater and striped skirt combo, perfected color combination. And the shoes ahh, don't forget the shoes!
This look is really chic when done in the right context, but not a favorite on the runway. These shorts (probably an overall styled as shorts) are to be forgotten, not even justified by the genius shoes. I loved the jacket in this look, but not the styling. This monochromatic, baby yellow, look is also perhaps to be forgotten. I'm having a hard time seeing people pulling off that shade effortlessly. This dress looks quite DIY but it's mainly due to the tricky fabric rather than idea behind, but still.
Folks! What are you thoughts on Sportmax spring 2018 collection? Are you in love as I am or are you dismissing it as another urban chic runway show? Let's chat! Xx