London fashion week wrapped up earlier this week, and although nothing is normal these days, some new collections were presented. Maybe it's because of the year, the lack of runway shows or just LFW itself, but the collections of LFW weren't too exciting. Wearable, likeable and reachable indeed, but definitely lacked that magic of the fashion week. One collection that stood out however, was Simone Rocha Spring 2021. With voluminous dresses, details and colors of beige, gold, white and black; she captured the fashion history. See the full collection here. And oh, don't miss last week's review of Ulla Johnson. And another oh, have a look at Simone Rocha's Instagram for more detailed, up-close looks!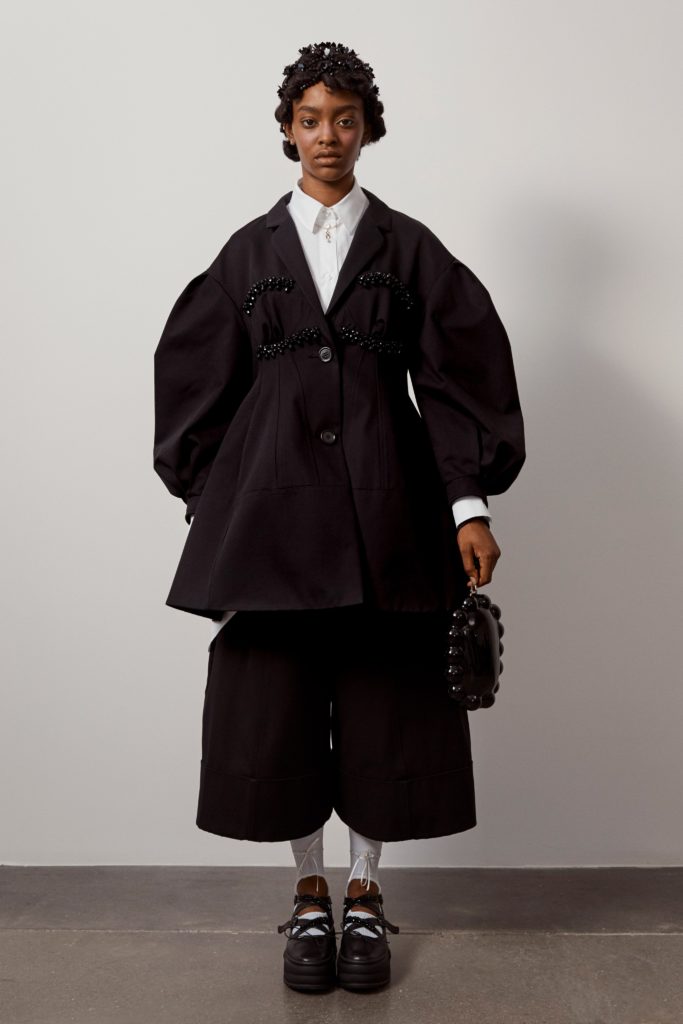 Simone Rocha Spring 2021
Rocha's spring 2021 collection is full of intriguing and captivating details. With a mix of volume, details, deconstructions and combinations of elements that were common in the 16th- and 17th century, Rocha modernized a part of the fashion history. The clothes were commonly structured with a fitted body and a wider skirt, or draped with the fabric moving towards the centre. Some layering of crop tops were done, but also undergarments and shirts. Ribbons made up for many details, but also pearls and other kind of jewellery. The luxury of the collection was also present in the choice of colors with gold, red wine, pearly white and a warm beige making up for many of the clothes. Some dresses were done with a defined, rounded, hourglass silhouette, creating associations to a more doll-like, fictive fashion.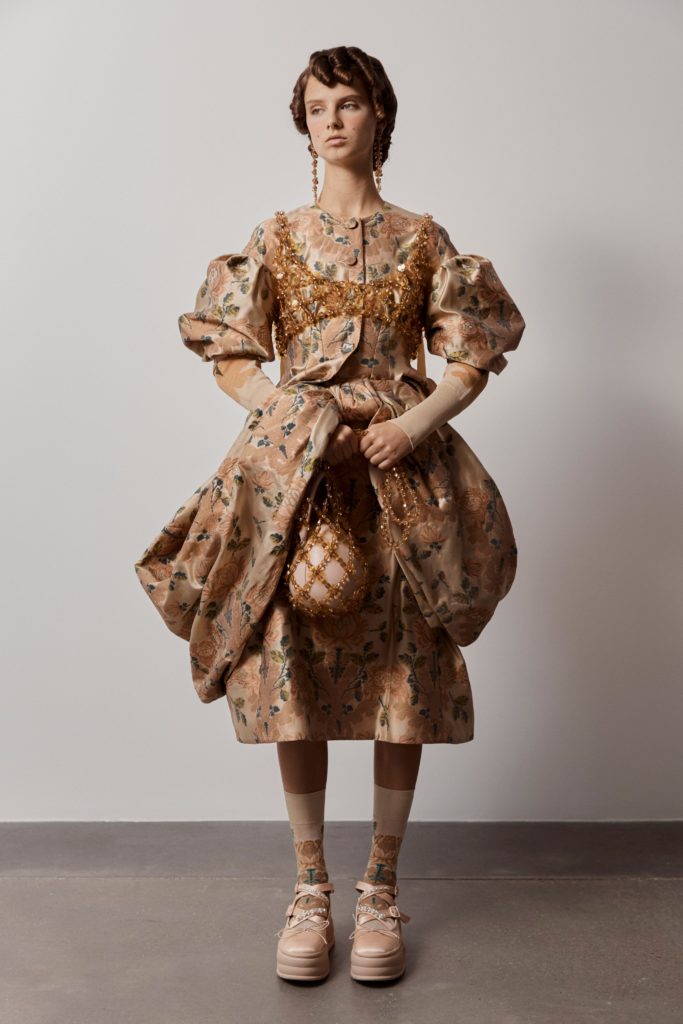 Thoughts on the Collection
Avid readers of The Fashion Folks knows about my interest in fashion history, and how much I love when designers explore trends dating before the 20th century. I mean, the past 20 year of fashion has more or less been different interpretations and updates of trends of the previous century. It makes sense, as fashion, as we know it today, was shaped during the 20th century. But although fashion before that feels less wearable in many ways, there's still a lot of inspiration to be found in colors, prints, details and even silhouettes. It's just about finding ways to translate it to the modern time.
With this said, it's understandable that I'm crushing big time on Simone Rocha spring 2021. It's full of history references, and although it's not as wearable that it can be worn by the average person for an everyday outfit: it's still on its way. I love the Dutch 17th century vibe in this one. The combination of exaggerated sleeves and a white collar with a black coat is a great touch of history. This creation is also just pure perfection, with the dress done like a modern robe à la polonaise. I love that it's not maxi, because the midi length and the displaying of the legs (and the gorgeous socks/shoes) gives it a lighter touch. The pearl cropped top reconnects nicely with the color of the dress, as well as the matching bag. I'm also crushing big time on this beige, well-structured, midi dress. It has some vague 17th century references with the off-shoulder style, and the wide skirt balancing the silhouette. Love the rich beige hue, with the pearl embellishment. Fun and unexpected to go for platform shoes, it works in a good, weird, way! Other looks that are done really well, is this black dress layered over the white shirt. This monochromatic look is magical, so luxurious. Another gem is this layered, ruffle, look – love it! One of the most realistic outfits of the collection is this one, love the contrast of the blue shirt and the embellished crop top. Gorgeous to go for a more preppy, basic, outfit, but make it more interesting with a layered top!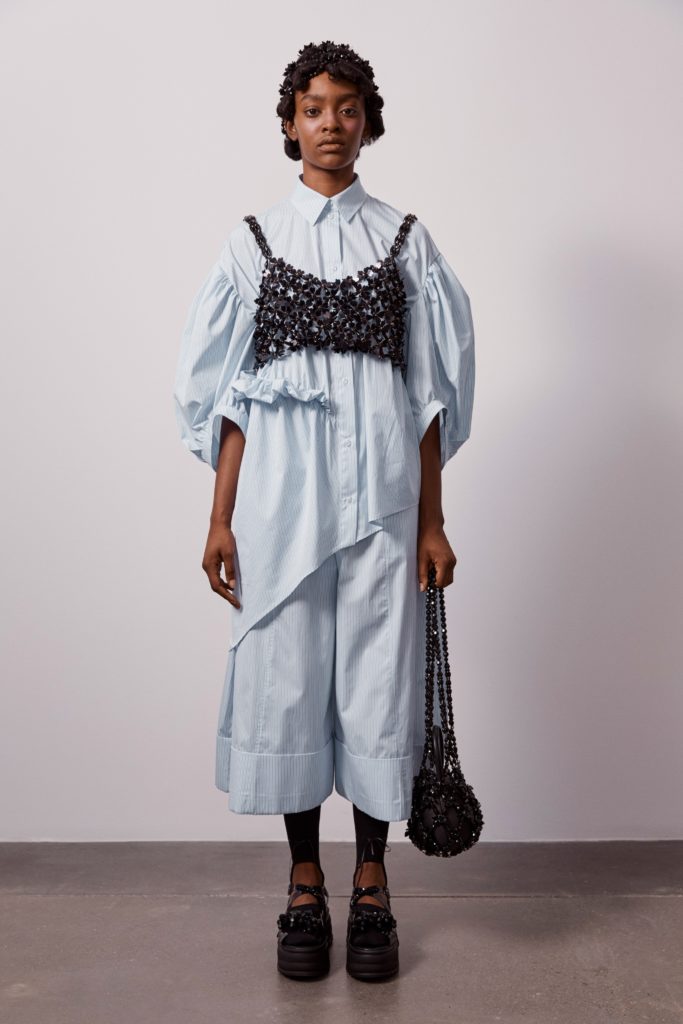 As stated earlier, this collection isn't that wearable. Somewhere between deconstructed dresses, pearl crop tops, heavy draping and voluminous pieces, it's difficult to see when this is going to be worn and by whom. Surely some clothes can be restyled to work in a more daily, wearable, context, but a lot of the clothing pieces' genius relies on the matching elements. This look wouldn't be as interesting if you swapped the matching pants for a pair of jeans. And this dress is difficult to style in any other way, and still make it interesting. However, the intention is probably not to make a wearable collection for everyone. It's to explore the fashion history and make it more modern, although it's not done to its full potential. Regardless though, the collection is full of gorgeous looks and dreamy details. It's a good reminder of how fashion is more embodying escapism rather than realism at the moment.
Folks! What are your thoughts on Simone Rocha Spring 2021? Let's chat in the comments below! And hey, have a good weekend! Xx