If you're shocked about reading 2019 instead of 2018, don't you fret. I had to double-check to make sure that it's really time for the resort collections 2019 to be released. I'll come back to these collections in a year or so, but nothing like a little preview of the new looks and more specifically, Valentino Resort 2019. Believe me, it's a good teaser! Catch the full collection here.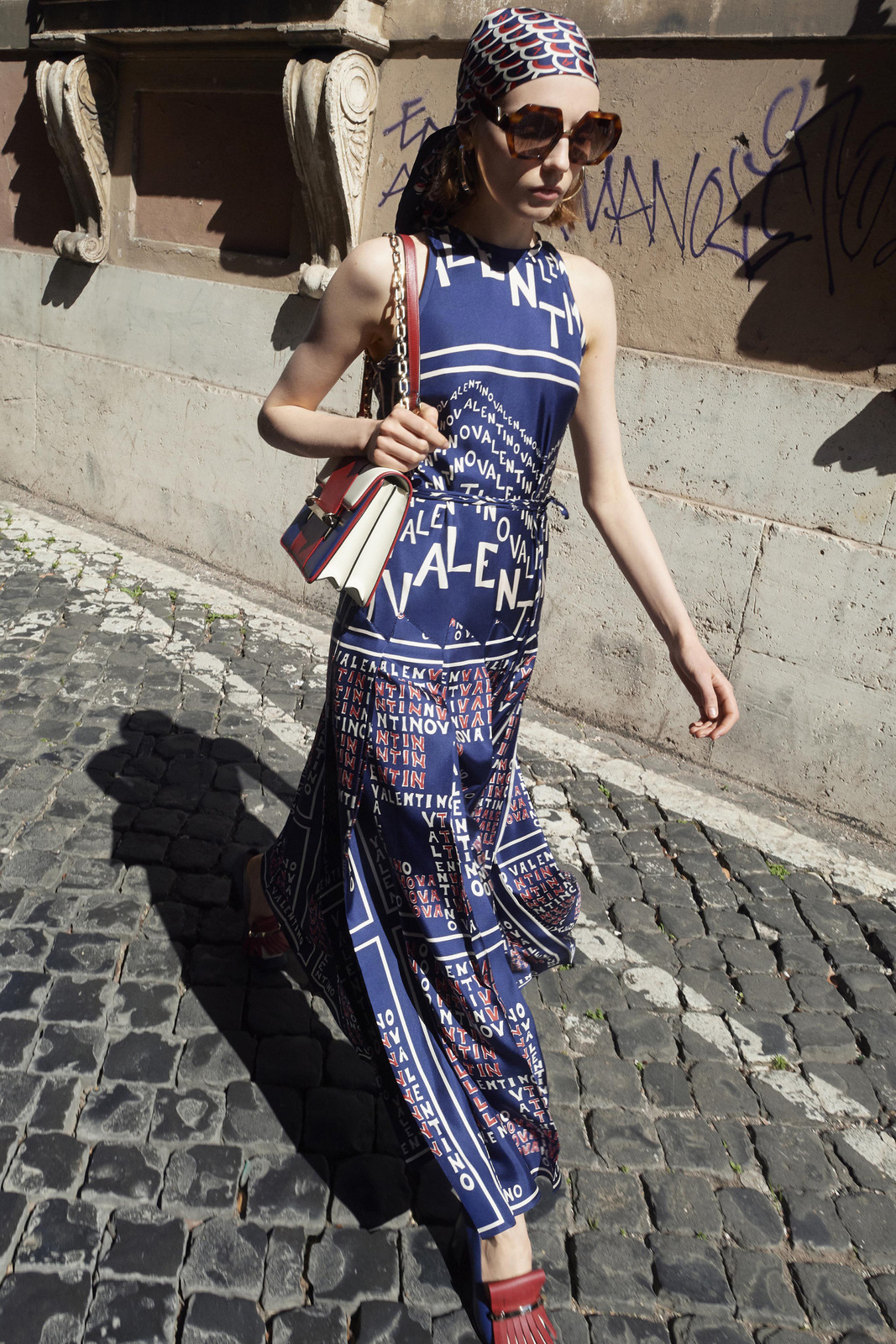 Valentino Resort 2019
Ever since Maria Chiuri Grazia left Valentino for Dior, Pierpaolo Piccioli has been searching for a new identity for the label. Subjectively, it's been some hits and some misses but lately it feels like Piccioli have found a compromise of the core of Valentino and new expressions. Valentino Resort 2019 was shot in Rome with a distinct 70s feeling, still grasping the efficiency of contemporary fashion and simplicity of a timeless style. The color scale was kept to navy blue, white, brick red and some green and beige. A lot of prints á la the 70s and also typical clothing pieces such as the maxi dress, the tunic and the headscarf. It's navy, but retro, structured and clean. The brand name was also present for several looks and used to create a pattern, going for the same marketing trick as Balenciaga, Louis Vuitton and more.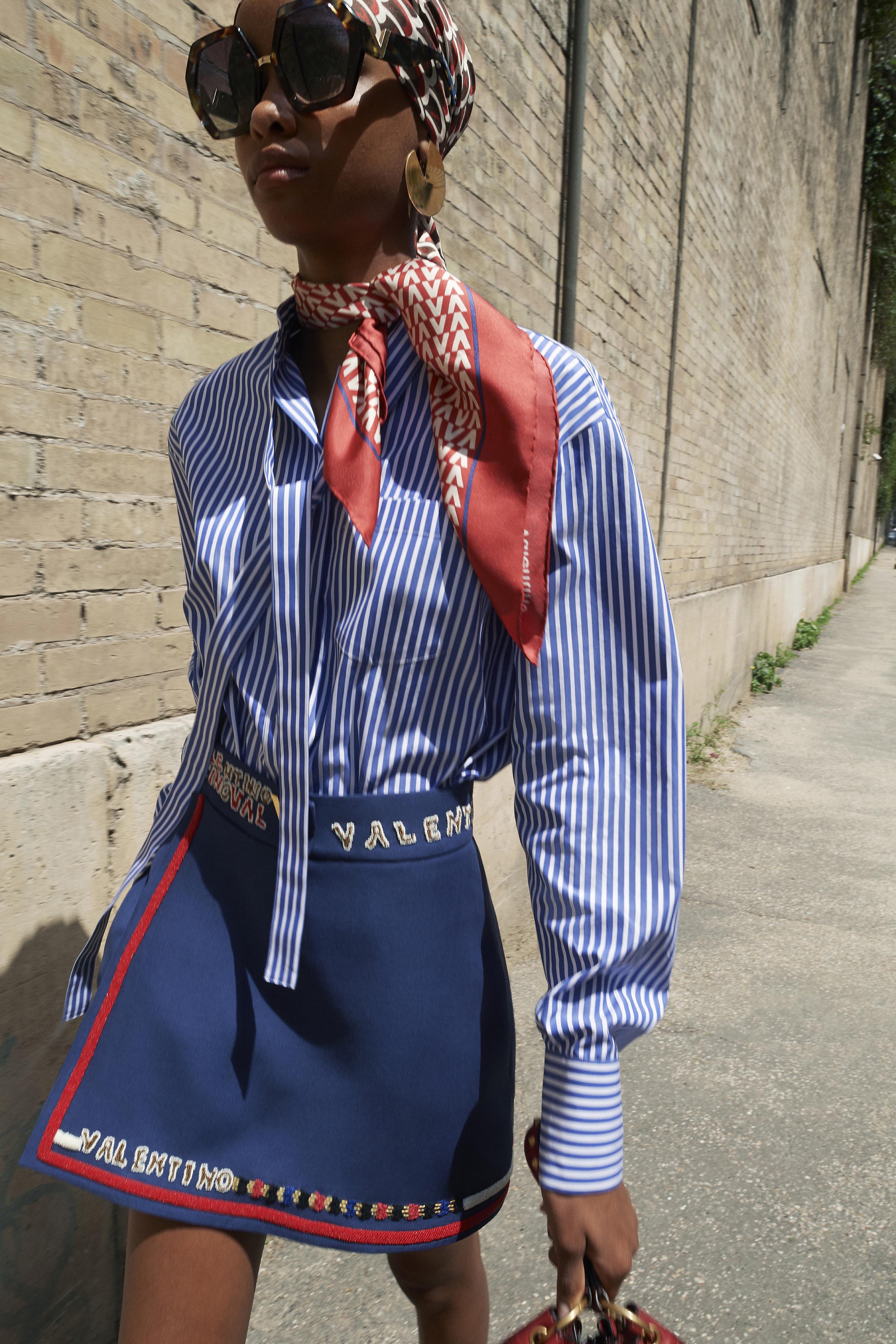 Review of Valentino Resort 2019
Long time readers of The Fashion Folks knows that I have a soft heart for Valentino and I've been rooting for the brand to get back on its feet. Though I try to write about several different brands, I couldn't help but do an article about this resort collection as I think it's magnificent. It's refined, balanced, eclectic and captures the charm of a luxurious summer fashion. Perhaps not accessible from that perspective, but rich in inspiration and easy to recreate with the high wearability. I adore the 70s fashion for most part and I think it's interpreted in a favorable way with the mix of prints, the harmonizing colors and (of course!!) the statement sunnies and fierce accessories.
I have several looks that I really enjoy, perhaps more of the whole look rather than the specific clothing pieces. I mean, it's not a secret that a collection easily gets so much better when the styling is on point though the clothes might not be the most appealing ones. It's only logical that a collection often fails when the styling isn't working. Anyways, I think this look is really chic with the mix of the colors, the prints and the different textures. Another look that reflects the high quality of styling is this one. This dress looks kind of magical and I adore this cape though I'm not too sure of the placement of the text. And ohh, how cute isn't this dress?  So chic with the different layers, the blocked colors and the 60s/70s style of dress. A sublte A-silhouette at its finest. Perhaps there are some looks that feels way too retro than what works, like this one and this one, but I still think the majority of the collection embraces a favorable modernity. As I briefly mentioned above, perhaps the singular clothing pieces wouldn't draw too much attention on their own if I were to see them in a store, but they are elevated by the styling and that's not specifically a bad thing. Especially not as that's how they're presented and intended to be worn. Would I mind wearing a modern 70s look in Rome on a hot summer's day? Not at all! Or would I mind living, sleeping, eating or breathing in the last dress below? Not at all! In fact, I must make it happen! *Gasp*
Folks! What are your thoughts on Valentino resort 2019? Let's chat in the comments! Xx