So every now and then I like to spice up (or dream up?) things here at The Fashion Folks, and today I thought we could gush over some dreamy dresses from the resort 2020 collections. Summer is usually a time for weddings, cocktail parties and other glam events, so perhaps this post also can serve as inspiration to some of you! Love dresses with sheer, layered materials, ruffles, florals and delicate colors. It's a fairytale in a dress! 
Resort 2020: Dreamy Dresses
Red Valentino
So this tulle creation from Red Valentino Resort 2020 is a dream! I love the peachy beige color in combination with the transparent fabric. The dots are making the quite neutral top more interesting and so does the oversized bow. The star of this look is however the skirt. The voluminous, ruffled, skirt adds a whimsical vibe to the look. I love the glittery style too as it enhances the magical feeling. The idea of adding the boots is a great styling twist and one that also could be seen in this look from the same collection. Love that the dress feels more wearable, but also perhaps more suitable for younger folks!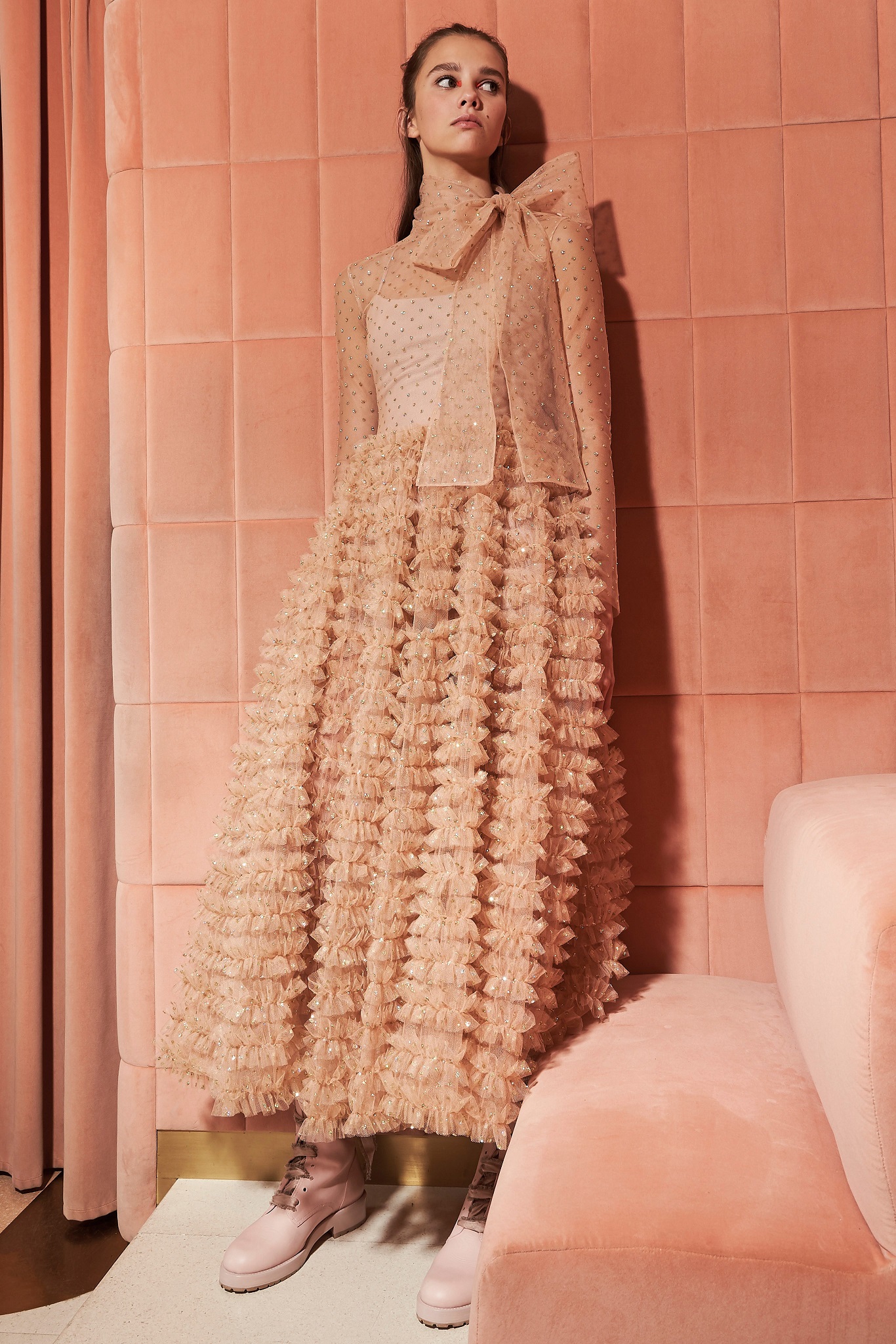 Giambattista Valli Resort 2020
It's not easy making white maxi dresses in a more glam context without making them look like wedding dresses,  but this creation from Valli is a successful example of this! I love how the clean white is done with the transparent fabric. The way that the sleeves are reflecting the skirt and the collar is another great detail about this look. I love the patterned piece under which adds some action to the look as well as the defined waist. A tiny detail is also the length of the sleeves, completely impractical, but oh so pretty for the enhancement of the spacious sleeves. Another detail I just have to mention, is the hair of the model – how pretty to a dress like this? Fashion magic!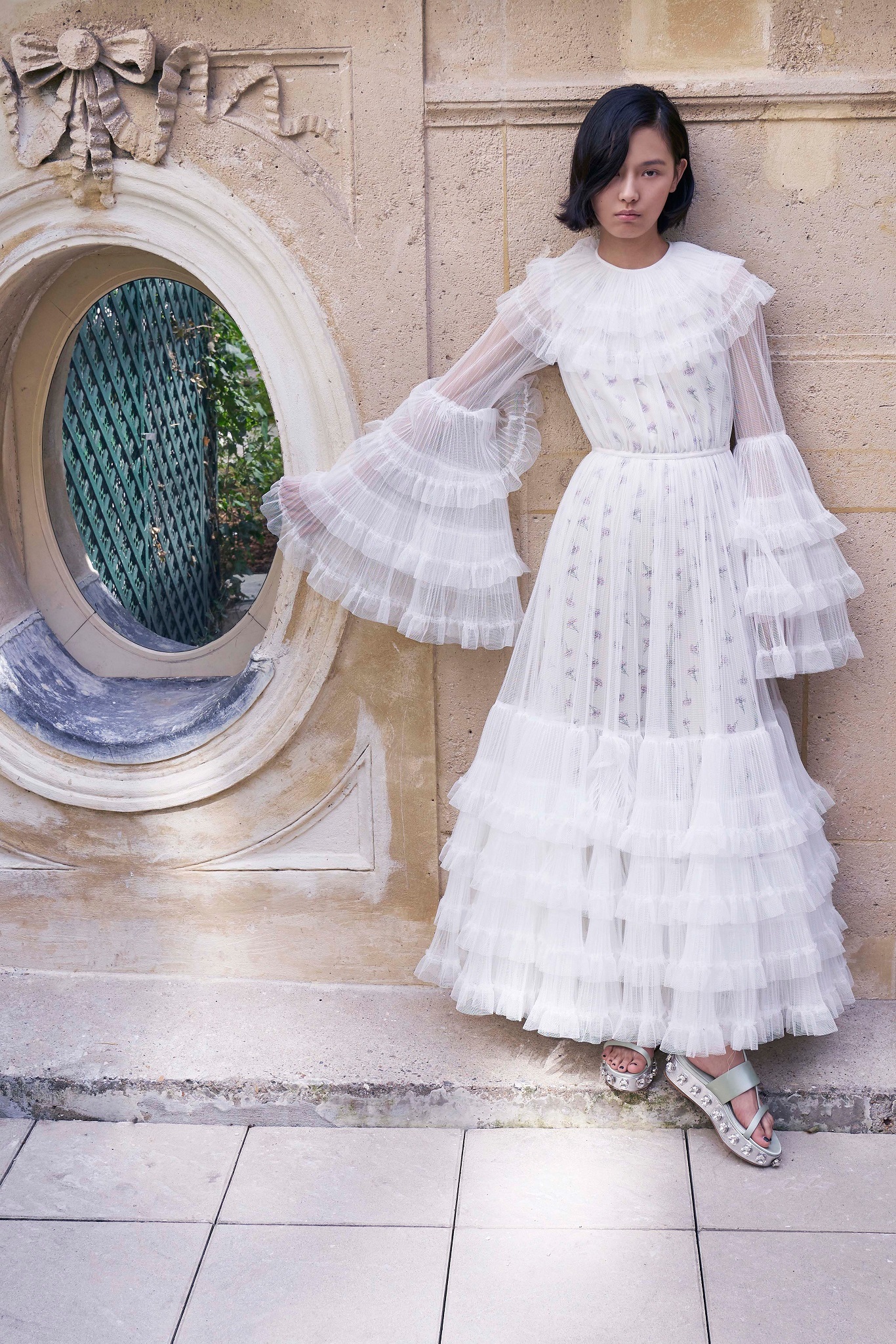 Marchesa Resort 2020
So Marchesa is definitely a brand that is known for their glam evening dresses and this creation from the label is no exception. There are so many things I adore about this dress, from the pink color to the 3D flowers and the length! I also adore how the sleeves are done with the sheer fabric and the flowers "growing" around them. The defined waist makes the dress more dynamic and also balances the flowers well. Notice how the transparent material is layered: it gives the hemline a nice twist. It also looks a bit multicolored, which is a subtle but stylish detail!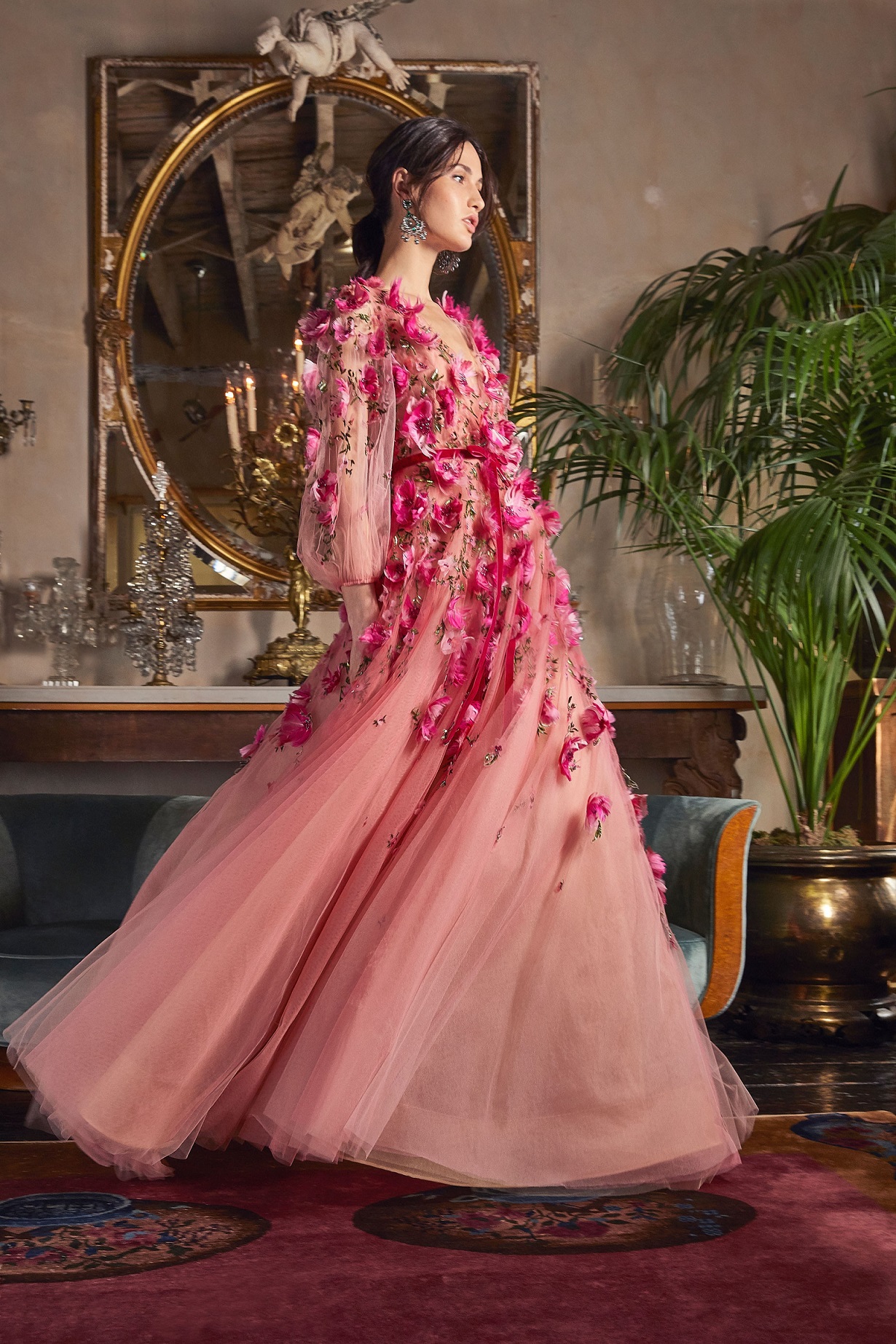 Folks! Do you have a favorite of these looks from resort 2020? Let's chat in the comments!