As well all should know by now, a trend shouldn't last only a season or two but for years. And thankfully, in many ways trends today last for years. Although details disappear and re-appear every season, the core remains the same. For instance, the current aprés-ski style, emerged 2-3 years ago. It has since become more colorful and oversized, but what was popular still works today in a trend context. So you don't have to go for the latest version of an item, embrace the one you already have in your closet! It's about style over time, not the trend of today. With all this said, here are some recyclable trends 2023: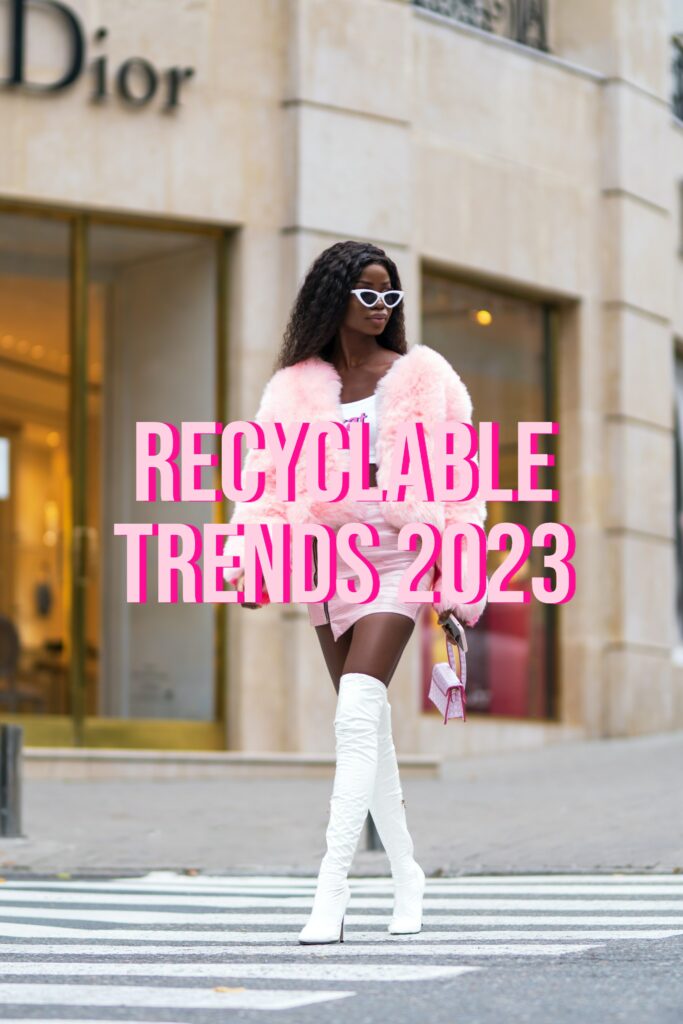 Recyclable Trends 2023
Oversized Blazer
The oversized blazer has been back in the game for some seasons now. This year it's still very much in the spotlight, and is preferably mixed with a more sporty and minimalist fashion. It's been common to work it over knitted dresses, or colorful sports set. You know, a beige pair of leggings and matching top with an oversized blazer? Yup, you got it. I also like the idea of working it over a college sweater and some casual jeans. Ofc, you can't go wrong with high-waisted jeans, a fitted top and an oversized blazer!
Statement Cardigan
The statement cardigan and the statement sweater are reliable clothing pieces this year too (and hopefully forever, I love this vibe). They've been popular to pair with casual jeans or neutral pants for a balanced look. I think you can elevate this look by pairing it with colorful/patterned pants and skirts for a more intense outfit. For instance, a colorful cardigan with a silk skirt in a similar hue? Oui oui, merci.
Loose Jeans
Loose jeans have maybe not replaced skinny jeans, but been close to. I say the most popular style of the loose jeans are the mom jeans. They're definitely a child of the 90s fashion, but a sweet one. This style of denim is perfect with a statement cardigan, as mentioned above, or with cropped tops. Or, why not go for a stylish blouse? It can be a good idea to tuck in whatever top you're wearing as you'll create a more dynamic look.
Chunky Boots
As for shoes, what else to go for than chunky boots? I do feel they become more chunky and intense each year, but I don't mind as I love anything statement. The chunky boots goes well in hand with anything mini length á la the 90s/early 00s, but don't be afraid to pair them with anything maxi or midi too. A maxi knitted dress with a pair of chunky boots is a superb idea.
Popping Pastels
Yes, maybe pastels return every spring, but this winter they're highly present too. I'd say the pastels are a bit more intense in their hue this year, a trend that emerged last season, but of course go with whatever you got. It's been most common to pair pastels with shades of white, beige and greige. I think this trend is terrific as it challenges anyone to develop past the all black winter fashion. If there's anytime we need colors, it's during winter for sure! Think a bit 1960s and some infusion from the 1970s' après-ski fashion, and you have something interesting.
Folks! What are your thoughts on these recyclable trends 2023? Any other trends you'd like to add to the list? Xx