Folks, for a change, let's do less of me rambling and more of me writing a concrete list of tips. Some are further reading and others are sneaky ideas for your style and outfits! Here's Random A-Z Fashion Ideas: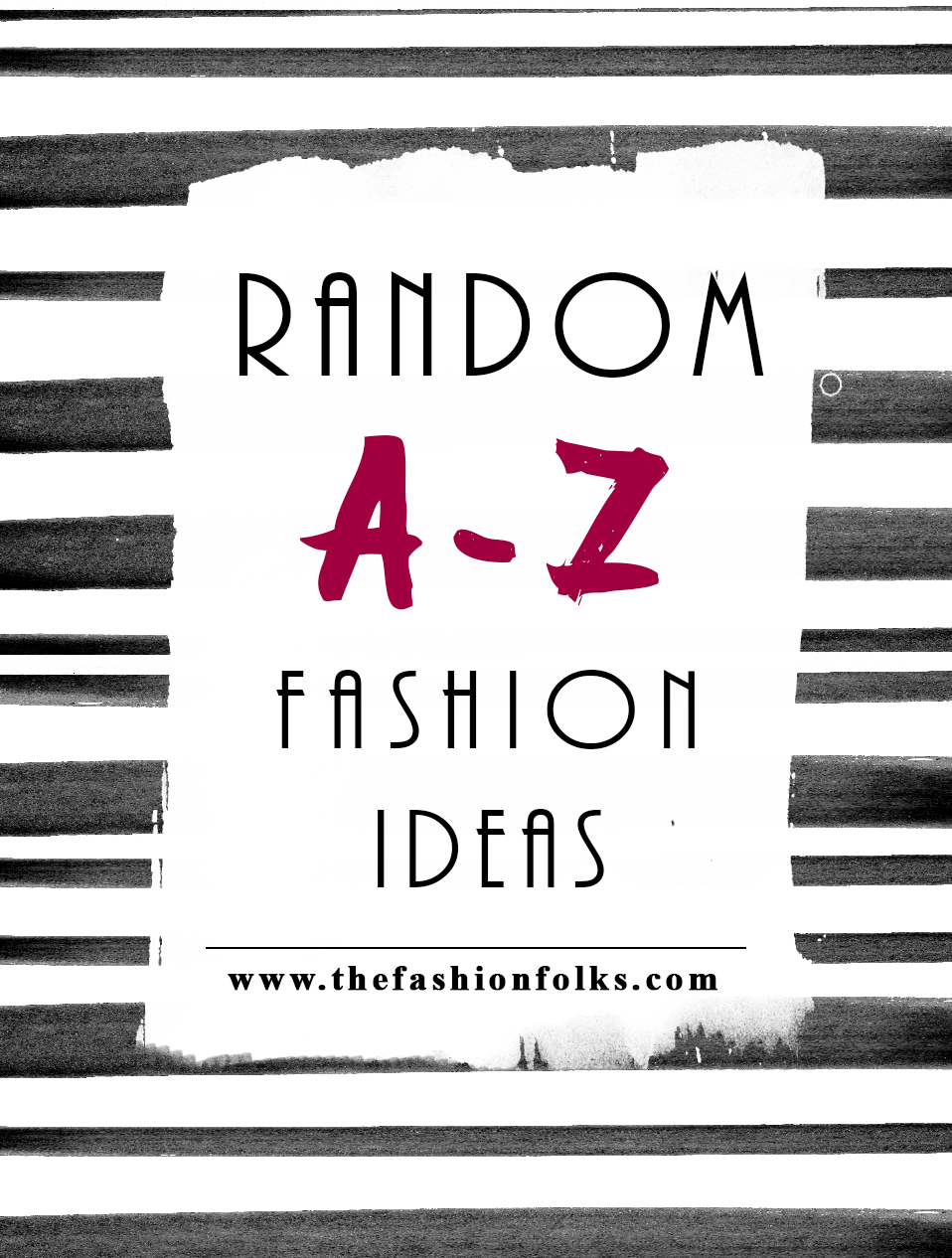 Random A-Z Fashion Ideas
A – Adding a scarf or necklace to your outfit will definitely take it to the next level!
B – Balance your outfit with 80% style and 20% trend. Read how to here.
C – Culottes are still quite the popular catch this fall, pick one in a fall color and  balance the outfit with warmer clothes on top.
D – Dressing for success is definitely how to embrace goals and dreams. They do say that one should dress how one wants to be addressed. Now that's something!
E – Easy way to hack morning anxiety is by planning your outfit the night before. More time for your outfit often means a more stylish one too!
F – Floral pattern works perfectly for fall too, just do one that is in darker colors.
G – Glam way of life? Add sequins, jewel tones and sparkly things to your outfit. It's the small details that makes it!
H – How to try something you're unsure about? Read more here.
I – Invisible, as in invisible cardigan, is perfect way to hack the cold weather which many of you thought too. What it is? Find out in this post!
J – Jeans that are flare or in a 70s style are favorable to style with heels and boots for fall. Gives the extra vibe but also keeps the jeans from going dirty. 
K – Kenzo x H&M is the designer collaboration of the season. Don't miss it here,
L – Light up your fall by pairing earth tones with pastels. Baby pink with burgundy, lavender with midnight blue etc.
M – More is more is one way to elevate the fashion way. Mix prints and colors with one another.
N – Nude colored shoes are a perfect way to add length, pick one accordingly and lengthen your legs!
O – Opt for a hat if you want to feel the fall vibe, easy and a chic way to keep you safe from bad hair days!
P – "Pyjama party" are always the two leading words when the pyjama trend is going big. And folks? It's definitely pyjama party life this season, not exclusive for women but for all this time!
Q – Questions about whether tights under clothes are okey or not are always on the sweater weather agenda. But seriously though, it's a comfy and safe way of wearing thin clothes during fall too. Read more here.  
R – Remember to add velvet to whatever you wear this fall, the fabric has never been trendier and it comes in every way possible. Adore the velvet boots, but also hat and clothes!
S – Stalking fashion icons and their style is definitely the best way of staying inspired and updated. Here's how.
T – Try a new piece of clothing in your comfort zone. That way, you'll feel more empowered and sure of the piece when you're out and about!
U – Use layers to stay warm this fall. I mentioned one way here. Another way to layer is by length. Do a tight, longer, clothing piece and then add a sweater. So the first piece hints below. And don't forget to roll up the sleeves!
V –  Various ways one can go fashion bold includes adding print and colors. A third way is to do the opposite of what you normally do. Go for a piece you love but is not completely your style. That's where the magic might happen.
W – Wellington boots are the obvious choice for fall and rainy weather, do them with defined pants or tights. Even better, do them with faux leather tights!
X – XL, L, M, S and XS are the most common sizes to work. As appropriate size might be sometimes (hello jeans), going for the style of the clothing wins any day. Don't be afraid to look beyond the labeled size but to wear it whether it works for you or not!
Y – Yellow is a color that many people despise, but try and pair it with pink and you'll be swooned too!
Z – Zebra print (way to use the letter Z), is quite the trend as it has its resemblance to the 1980s (which is hotter than ever btw). Read the trend report here!