I know I'm running late with this post as the fashion weeks ended a few weeks ago, yet I manage to be way too early as these trends won't be "relevant" in a few months time. Well, anyways, here's a preview of the makeup trends spring 2018. What about some pop of colors, glossy lips or perfected skin?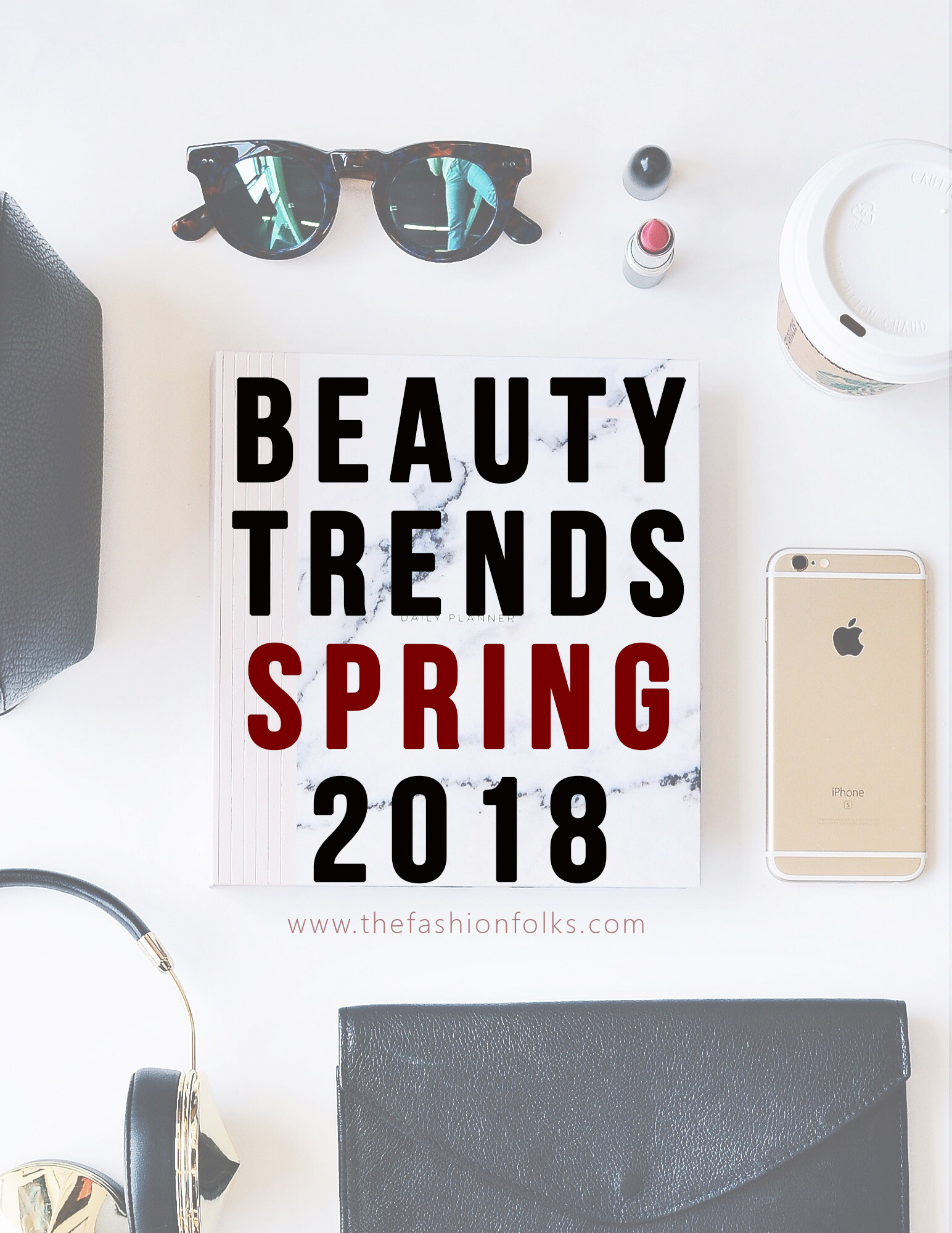 Makeup Trends Spring 2018
As always though regarding makeup trends I do have to state that they each an every year feel like "same same". That follows the logical realization that you can't be that creative with your face and still go for a "wearable" makeup look that suits the context of what's trending and what's approved. We're not living in a Hunger Games beauty era, we're still rather neutral and toned down with our makeup looks in comparison. That's why a pair of red lips isn't accompanied by heavy pink blush and a deep purple eyeshadow with glitter or pearls or whatever. When going for the red lips the rest of the makeup look is rather simple for the regular makeup person.
With that said, the trends aren't that varied and I definitely lack the skills to point out what makeup trends that trended which year as they're all quite similar. Still though, there are subtle differences and if you're one to experiment with your makeup looks, here's a trend report for you! Other than that,  I have to say that to us who are going quite similar for each and every day  – we'll be safe to continue with our classic makeup features this year too.
Red Lips
First out of the trends are the red lips that were everywhere this season. And I mean, of course they were, they're classic and highly dependable when going for the go-to look. The red lips were done in several different shades. This means that you can definitely  go for the type of red shade that suits you and still hit the trendy bar. Helmut Lang, Temperley London, Roksanda, Max Mara, Haider Ackermann, Sonia Rykiel, Antonio Marras, Blumarine and Badgley Mischka were some designers that went for the classic look. To be noted though, if you're going extra trendy, is that some looks were done more smudgy (like the berry style) and some were more perfected á la the 1940s.
Framed Eyes
To all of you who loves the eyeliner life, this trend is for you. The makeup trends spring 2018 are all about framing the eyes. Intensifying your eyes as in making them smize. The framing of the eyes is done by black eyeliners, sometimes going for 1960s smudge and sometimes more grunge as in the 90s. It's all about what you prefer, honestly. One fun challenge for us who adore the heavy eyeliner is to contrast it with a subtle liner under the eyes. This will intensify the stare and definitely add the trendy touch. Rochas, Roberto Cavalli, Tommy Hilfiger, Ports 1961, J.W. Anderson, Marc Jacobs, Carolina Herrera all worked the framed eyes if you need to get some extra inspiration.
Perfected Skin 
I think it's ridiculous when editors write that perfected skin is trending as, like hello, we're all trying our best to get perfect looking skin. And yet, here I am writing what perfect skin is trending. What I mean though is that the skin should get extra attention next year. Whatever you care about, care about the base. Go for a matte finish with some glowy pops or however your prefer your skin to look. Thom Browne, Sonia Rykiel, Nina Ricci, Isabel Marant, Mary Katrantzou, N21, Victoria Beckham, Alexander Wang, Michael Kors all focused on the perfect skin look. A good base and then you'll be good to go!
Shiny Lips
I would be lying if I didn't say that I'm not fully ready to embrace the shiny lips as I love the mattified look. But the shiny and glossy lips are here and they're here to stay. The shiny lips are kind of following the 00s/90s trends, where lip gloss were the statement to do. The shiny lips for makeup trends spring 2018 might not be fully about lip gloss but about lipstick with some subtle shine. Colored and moisturized lips but also your natural lip color with a gloss. Moschino, Valentino, Armani, Topshop, Erdem and Halpern all embraced the shiny lips!
Folks! Which one of these makeup trends spring 2018 is your favorite? Are you going statement of red or glossy lips? Let's chat in the comments! Xx