As I told you in the post on Monday, preview of the fall 2017 fashion trends, here's a preview of the makeup trends fall 2017. As beauty trends are more limited and precise than fashion trends, I've made a shorter list rather than a full on summary. Here are  some of the makeup trends fall 2017: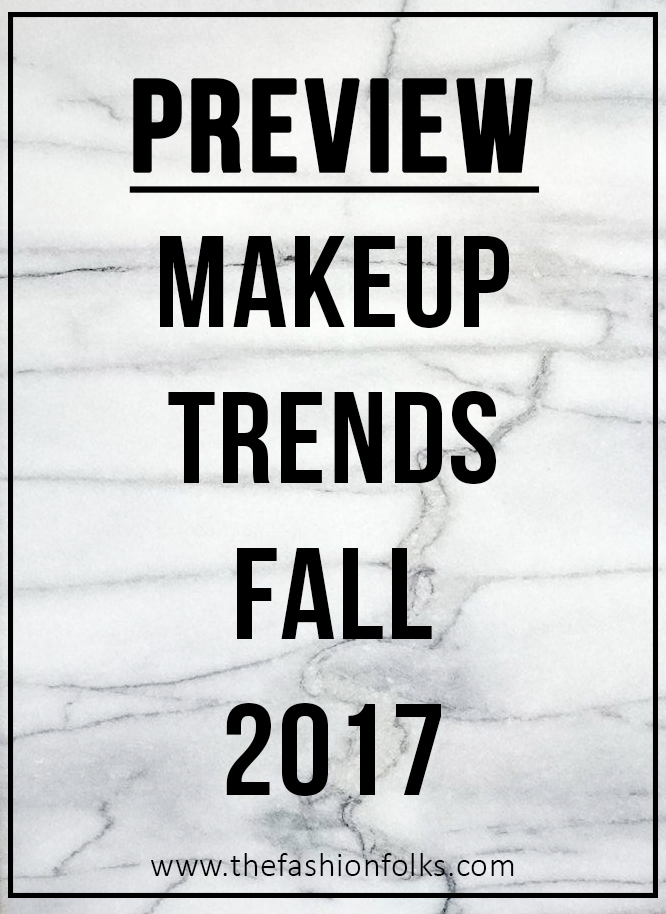 Makeup Trends Fall 2017
Colorful For Life
So a colorful fashion for fall has already been clarified, but same goes for the makeup life. Colorful eyeshadows and eyeliners are trending. Of course in traditional shape of powdery eyeshadows, but also creamier ones where the color is more intensified. Oscar de la Renta demonstrated this gorgeously. Vivienne Westwood also went colorful with a neon touch. Versus Versace went a bit smoky with a navy shade. Zadig & Voltaire went more artsy with gorgeous popping shades, like yellow.
1980s Natural Face
I know, a specific look for a 1980s natural face shouldn't differ anymore from a regular natural face. But you know that Cindy Crawford natural look? With big bushy brows, lips with a slight intensified red shade and a bit bronzy face? Well, that look is accompanying the fashion trends of the 80s. Think healthy, natural and perfected features (like eyebrows but better, natural lip color but stronger). Marchesa, Calvin Klein and Tory Burch all worked this look in different versions.
Simple Statements
I don't know if this is a reaction to the makeup on makeup looks that are everywhere, but for fall 2017, designers want us to stick to one statement. If you're going for statement lips, let them be in focus. If you're going for intensified eyes, leave them at that. Marc Jacobs went for a natural look with bold lips. So did Jason Wu with the perfect shade of red. La Perla went for heavy eyes and nude colored lips.
Artsy lines
Tome, Versus Versace and Mulberry are only some of the designers that went for lines with an artsy statement. Not really in terms of a classic cateye, but random or exaggerated  lines in different colors. Perhaps something not for the everyday, but ever so gorgeous and artsy! Mulberry's makeup look could pass for an everyday makeup look with the framing of the eyes though!
Refined 90s
I don't care if I only noticed Derek Lam doing this, but oh my such a pretty look. The awkward bright blue shade from the 90s (often done with mauve lips: see here) – but in a refined version. The bright blue is beautifully blended, with a touch of metallic, and the mauve is changed to a glossy lip. And above all: the look is kept as natural as possible. Genius balance of the features! I can definitely go for the 90s makeup if the blue shade is that pretty. 
Folks! Which makeup trend fall 2017  will you be working this fall? Leave a comment! Xx
Did you like this post? Hit the share buttons below!