If you feel drained by the thought of the chilly fall and winter months ahead of you, this post is to cheer you up! Last week I wrote an article on the makeup trends spring 2019, so today it's time to chat a bit about the fashion trends spring 2019. Something to look forward to, get excited about. And folks? It'll be a fun spring!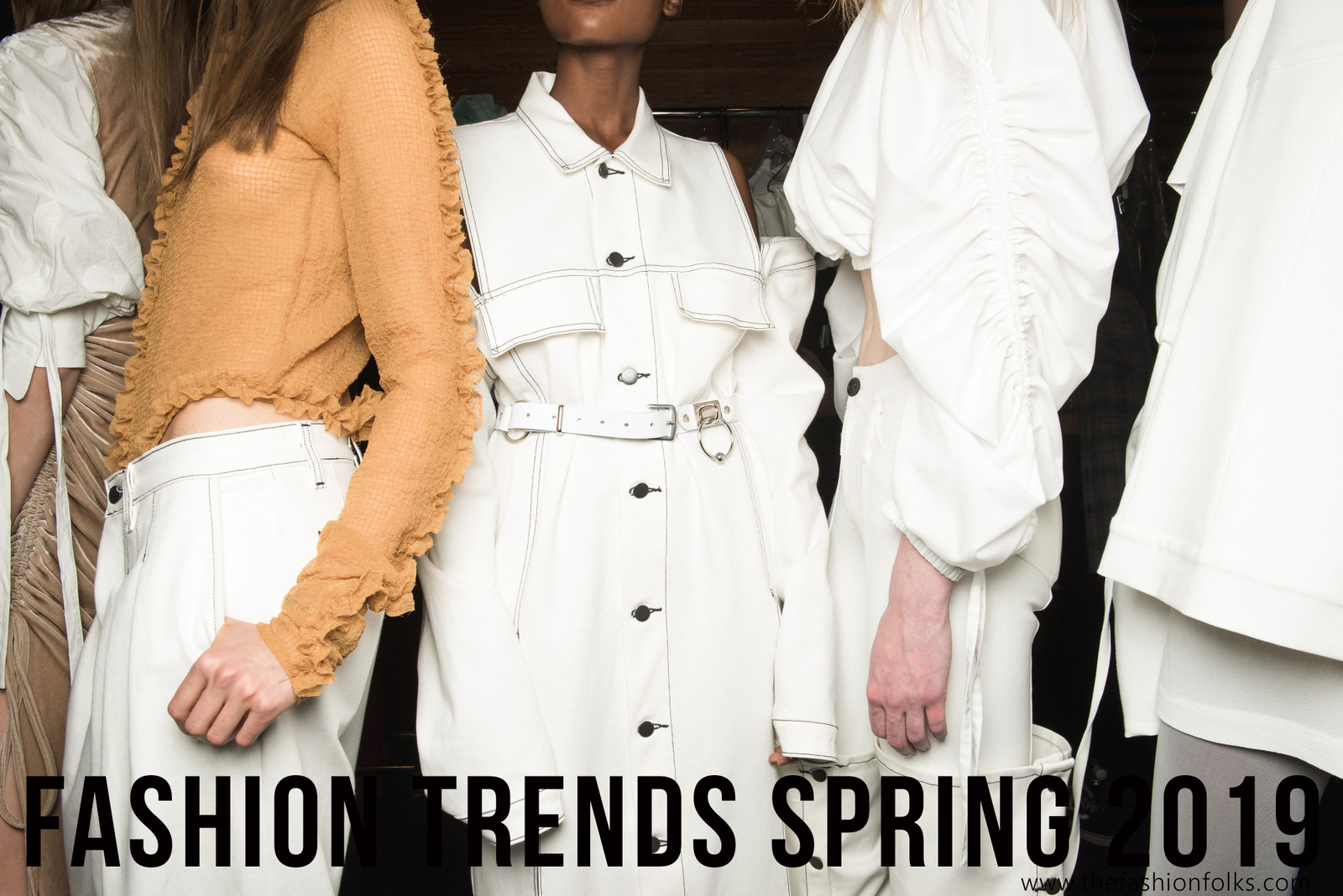 Photo by Flaunter.com on Unsplash
Fashion Trends Spring 2019
Volumes
As colors are what the eyes register first when seeing an outfit, it's logical that colors are an essential part of fashion. How colors can be matched is something I've talked a lot about too, as in my series of awkward color combinations. Next season, we should work with volume according to the designers. The trend is about the oversized blazers, shoulders, voluminous sleeves, skirts and airy pieces. Both covering the 1980s office style we've been seeing for some seasons now and also include the loose and flowy clothes of the 1970s. The trend of statement sleeves will continue as well  and was often paired with flared pants on the runway. Working with different volumes in one outfit can be tricky, but I'll make sure to do do some posts on the topic before spring is here. Marc Jacobs, Christian Siriano, Valentino, Stella McCartney, Dolce & Gabbana and Alberta Ferretti are some designers that played with volume.
Blazers
The blazers are the it-jacket next season too! The fitted clothing piece has been a staple for decades, but increased in popularity when the 1980s fashion made a comeback some seasons ago. The blazer that's been trending and still will be in trend is the one that's slightly more oversized and done with padded shoulders. The blazers have often been done in colors of grey, camel and black with the check pattern being the most trendy print. Balmain, Acne Studios and Isabel Marant are three designers that showed the office piece!
Artsy Fashion
This might be the trend I'm the most excited about next year. Artsy fashion is perhaps the most impractical and unrelatable part of fashion, but one that's the most challenging, innovative and explorative too. It's anything but basic. Next year all layers of the artsy fashion is explored with prints being mixed, colors being statement, silhouettes being exaggerated and styles being overall ridiculous. It's difficult to summarize this to more specific trends than that, as 'artsy fashion' is more of a general expression of fashion that's a statement. With that said though, it's pretty easy for you to try the trend yourself as there are no laws. It should be "more is more", look a bit all over the place and often embrace that ugly fashion look I've talked about earlier this fall. Welcome to the playground of fashion! Prada, Valentino, Versace, Moschino, Delpozo, Marc Jacobs and Richard Quinn all demonstrated what fashion can be about.
Crazy Colors
The fashion world keeps on embracing colors and next season is an explosion of statement-making colors. Pink, yellow, orange and red are all colors that were shown separately during fashion week. A lot of neon colors was spotted as well, done in the sporty and energetic context with minimalistic and functional clothes. A lot of the colors were done monochromatic, which been trendy for a few seasons, and other colors were mixed and matched together. The very idea though is to embrace a colorful fashion, where the popping shades are in focus. Christian Siriano, Prabal Gurung, Anna Sui, Giambattista Valli, Ulla Johnson and Brandon Maxwell are some designers that went statement!
Folks! What are your thoughts on the fashion trends spring 2019? Let me know in the comments! Xx