People are talking about embracing spring fashion and everything, so that's why it's an excellent time to talk about fall fashion instead! I mean, who cares that we just survived a long winter and the majority of us are in desperate need of D-vitamin? Fall fashion is the best. And I mean, tbh, as quickly as time passes by these days it'll be fall next week, lol! Anyways, here's a preview on the upcoming fashion trends fall 2017!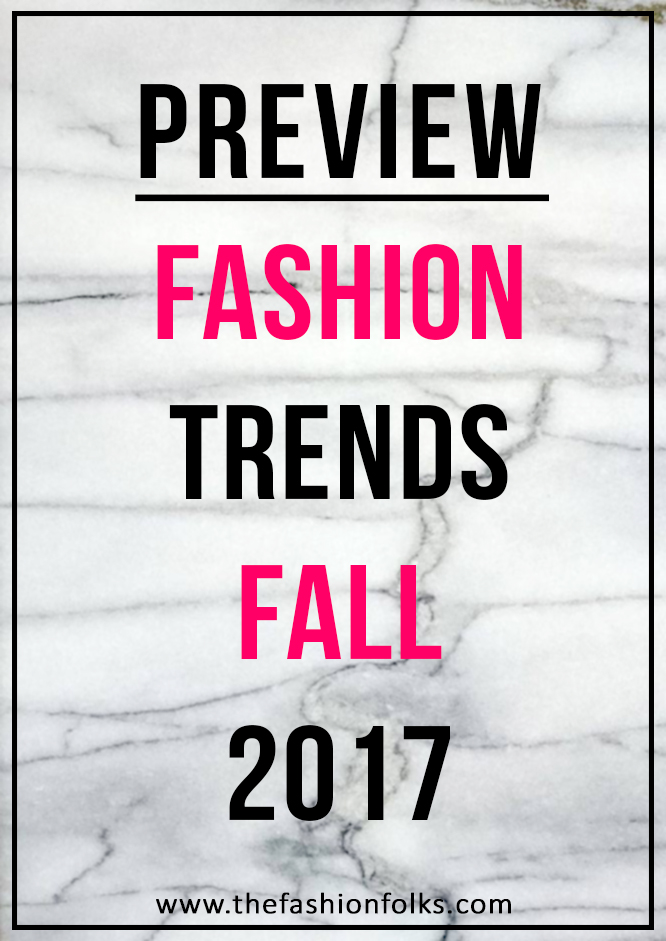 Fashion Trends Fall 2017
Colorful colors
I firmly believe that the world needs more colors and this couldn't be more true for the fashion world. Colors are highly associated with feelings and affects us and the people around us. That's why I'm utterly happy about the vibrant colors that are trendy for fall, and yes, preferably done as monochrome. There is, of course, the color for the year: pea green, but also a lot of yellow, red, blue and pink done from top to toe. Altuzarra worked the yellow and so did Nina Ricci (and also pink). Sibling worked the red life and so did without a doubt Givenchy too. As spring is approaching though, why only make it a matter of fall? Go colorful for spring too, the transition is quite easy!
Oversized Obsession
The oversized life is going crazy for real. I don't mind it too much though, quite the contrary, I love getting comfy in clothing pieces that are a few sizes too big. You know, food babies and so on ftw. Anyways, the oversized life is touching all styles of fashion. The preppy life is going oversized in terms of blazers, pants and silhouettes. The street style life is embracing oversized hoodies and jackets. Coats in specific are going a bit more exaggerated than last year. Still midi-length but often one or two sizes too big. Especially London Fashion Week went crazy on the trend with countless of designers going for it. Designers that worked oversized: Erdem, Sacai, Haider Ackermann and Simone Rocha – only to mention some! We all do, still, remember the oversized poncho blankets from Mulberry. Please let me know if anyone wants to send me one, I need it as a movable habitat.
Working 9 to 5
We're living in a time where more women than ever are nailing the work life. So perhaps it's no surprise that clothes and looks typically associated with the office are trending. A lot of blazers (one of the trends I pointed out specifically from Milan Fashion Week). But also ladylike from Paris Fashion Week with a lot of matching pencil skirts and blazers. Louis Vuitton had a more contemporary approach on the trend with a more youthful vibe. Stella McCartney went office style too, with a British twist. Alberta Ferretti partly embodied the trend too. Whether the designers' ideas of office clothes suits your life or not, it's a chic dose of inspiration!
Contemporary Renaissance
Note the word contemporary in the name for this trend, because the modern view of the Renaissance couldn't be more modern, upbeat, functional and suit the 21st century style more than it does. Instead of layers of uncomfortable fabrics and clothing pieces, we embrace the best details of it. Giambattista Valli went for the epoque, so did D&G as always and Jonathan Simkhai as well. Erdem worked it too. A lot of ruffles, high collars, velvet, some lace and definitely attitude. This trend is perfect for statement sleeves and blouses, also a perfect excuse to use gold and be all dramatic about your fashion game.
Prints & Patterns
Prints and patterns are never out of the fashion game, but are more in than usual this season. We have a lot of prints as in flowers (what else), squares, stripes, dots, postmodern art, stars, plaid, gingham and whatever you can imagine. The flowers are going pretty dark with black, navy and dark green as a common background color. Sibling went pretty retro and so did House of Holland. Tory Burch went classic and feminine with gorgeous flowers and the queen of prints, Mary Katrantzou did it pretty upbeat. The best part about this trend is that there's something for everyone, whether you enjoy it minimalistic or full on statement – you can make it work!
Folks! Hit me with your favorite trend for fall, going for history or taking it oversized? The post about beauty trends fall 2017 will be up on Wednesday! Xx
Did you like this post? Hit the share buttons below!