One of the best parts about the fashion weeks is the fact that we get a preview of the fashion trends 2020 (honestly, I wrote 2019 first in both the title and here…), which is always fun! I've said it before, but trends serves as a great way of understanding fashion and how it reflects society and our culture. It's also pleasant from an aesthetic point of view to see new styles, color combinations and old decades done in new contexts. Here's a preview of the fashion trends 2020 (I first wrote 2019…again).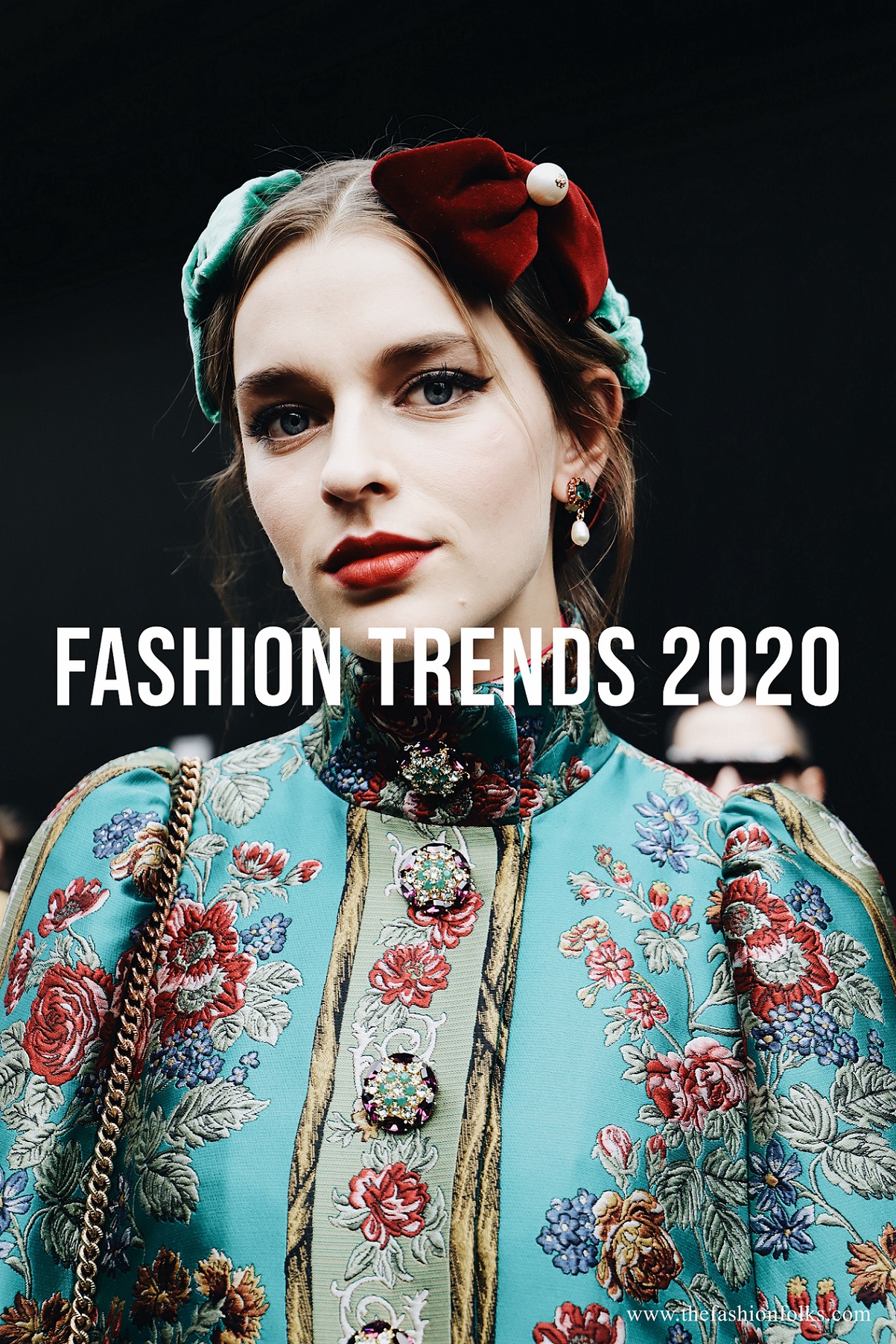 Fashion Trends 2020
1970s Vibes
Perhaps one of the most interesting trends for 2020 are the 1970s vibes. The 1980s have dominated the fashion scene for some years now, and is still major next season too! More designers seemed to however have taken a closer look att the 1970s. The decade is an eclectic, lively, period spanning from the disco era to the bohemian style and a unisex fashion. I'd say the 1970s style was mainly present through flared jeans, jumpsuits, retro florals, corduroy, maxi lengths, denim, high boots, leather and loose silhouettes. What's great about this decade is that it's much more easier to style than the 1980s, which makes it more wearable and timeless too! I definitely love the idea of going for a maxi dress in a retro pattern with a loose silhouette next spring!

Voluminous Pieces
Although the 1970s' fashion might present a more toned down fashion, we have some time left with the voluminous fashion of statement sleeves, oversized collars and excessive fabric. This trend has been going strong for awhile with both voluminous sweaters and dresses being popular, and it will surely continue like that next year. The trend of voluminous pieces is centered to mainly dresses, sweaters and jackets in spacious styles. I'm talking A-line dresses with ballon sleeves in midi lengths. Or oversized leather jackets, with statement cuffs and collars. The idea is however to embrace volume and either do so by a spacious silhouette or some oversized clothes. This trend is definitely peaking when done layered. For instance, a voluminous dress with an oversized jacket and a big blanket scarf? Cozy and a style you can embrace this fall too!

Leather Life
So what about that leather life? Well, this highly durable and usable material is going to be a popular one next season. Leather is a timeless material though, so you're definitely good to go with the styles you already own. It'll be popular to go for a leather look top to toe. For instance, do your leather leggings with a leather jacket, or perhaps a leather skirt with a leather t-shirt? I think the combination is quite neutral, although it's a material statement undoubtedly. But leather is frequent in neutral colors such as black, brown and white which are favorable to embrace monochromatic. You'll score some extra trend points if you style the leather with a sporty touch. For example, go for a college sweater under or add a pair of sneakers!

Flower Statement
Flowers are another timeless staple in fashion, but do reappear each season in new styles. The flowers of next season are vibrant and vintage! We'll see a lot of retro flowers according to the 1960s/70s, but also flamboyant flowers of earlier centuries. The flowers were done pretty predictable in combination with dresses, blouses and skirts. Some of the flowers were also done more tropical, which followed the trend of jungle patterns. I personally don't think flowers have to be that specific though, so go with the ones you already have but style them trendy if you want to discover new ways of doing them. Try them with dove colors, pearls or why not leather?

Retro Colors
Lastly, we'll definitely see a lot of retro colors next season. I'm mainly talking about colors spanning from the 1950s to the 1980s, like mint green, dove blue, baby yellow, orange and a soft pink. This style of color will be done in patterns but also monochromatic. We've already seen this trend emerge through one colored pantsuits, but it'll likely grow to include differents sets, skirts and blouses too. If you have a color at home you have a lot of, try and put it together top to toe. You can also style the retro colors with its darker counterparts. For instance, navy blue is really chic with baby blue. Soft pink is stylish with both magenta and red. The possibilities are endless!

Folks! What are your thoughts about the fashion trends 2020? Let me know in the comments below! Xx