So I'll be honest with you. Are beauty trends that exciting? Perhaps not. They kind of look the same year after year. If they do look different however, it's not something for the everyday life. But as with all trends, they are perhaps more to be inspired by than to adopt within the minute. Nevertheless, I love to be inspired and know what the beauty industry is up to. And as the fashion weeks just ended, here is a preview on the Beauty Trends Spring 2017: (And pssst, of course I'll come back to them when it's time for spring again, no need to take notes!).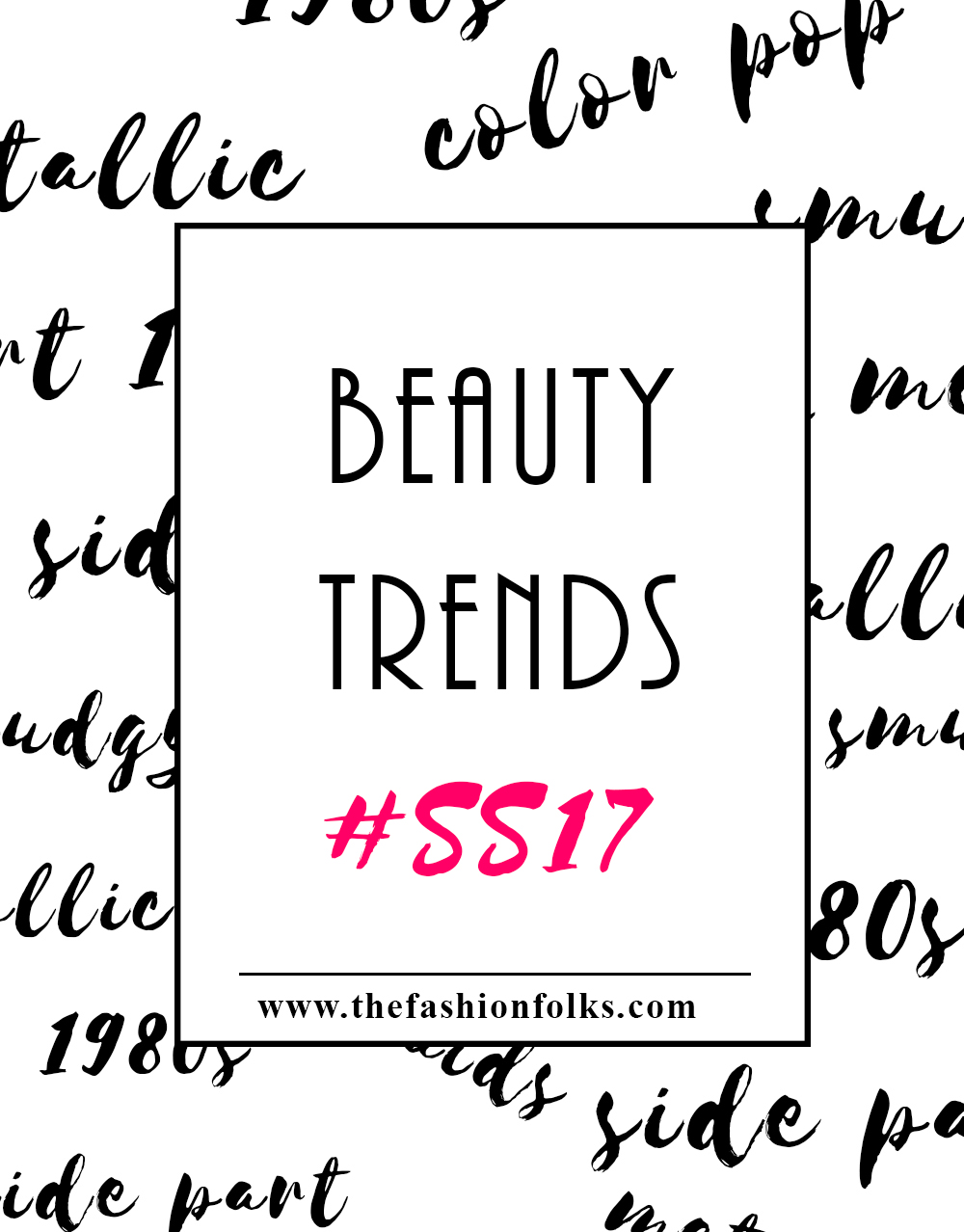 Makeup trends of Spring/Summer 2017
Color Pop
So this trend is for everyone who wants to go makeup bold but kind of doesn't have the time to do so. The color popping trend is a neutral makeup look with one bold touch of color. It may be your lips, your eyeliner or even ears (lol Proenza Schouler). The key part is to keep the rest of the face natural and let the color pop steal the attention. And ohh, even though I named the trend color pop, it can be color subtle too! See Leonard Paris below.
Smudgy Life
The smudgy life is all about a smudgy eyeshadow/eyeliner around the eye. Compared to its older sister, the smokey eye, this one is done with one shade and a lot of mess. We'd suggest doing a liner around the eye and smudge it out! The idea is for it to look messy, so it's kind of fool proof. See Rag & Bone below.
More Metallic
We talked about metallic for fall, but folks, you can work it for spring too! As with color pop, choose a random area of your face for a touch of metallic. Fendi did it on the lips, but eyeshadow, highlighter or even brows will work too. Whatever you decide, make sure to add the sparkle of life to da face! And yes, you can go beyond silver and gold, do one in a metallic hue that suits you best. See Fendi below.
Back (again) to the 1980s
Am I talking about anything else but the 1980s? Pretty sure it's all I'm talking about these days. However, stay alive cause the 80s are going strong next year too! It's the neon colors, the use of too much blush as well as eyeshadow. The less you blend, the better kind of! See Jeremy Scott below.
Hair Trends of Spring/Summer 2017
Side Part
So the mid part has kind of been in style ever since it made its comeback in 2008, but is the era finally coming to an end? Might be so as the side part seems to be the way to go next season. Take your hair, part it on one side and work it! I think that this look is perfect for a sporty vibe, but who knows, it might make its way to the fashionista life too! See Salvatore Ferragamo below:
Braids
As we thought we already had a good sense of braids, the beauty world is still finding new ways on how to keep the hairstyle trendy. Braids in any shape and form, however you like it, is trendy next year too. Instagram is hinting that the tight, sporty, baked braid is hotter than ever. The designers did braids in different styles, so I'm pretty sure you're good to go with whatever you want. See Kenzo below.
Folks! That's a preview on the Beauty Trends Spring 2017. Yay, nay, okay? Leave a comment below!