Remember how we talked about pink & yellow being the hottest color combo this fall? And that we showed the most chic runway look from Delpozo and we all kind of died and went to fashion heaven? Weeellll, guess what, we're back on earth and we're working that awkward color combo for fall! Here's pink and yellow fall 2016: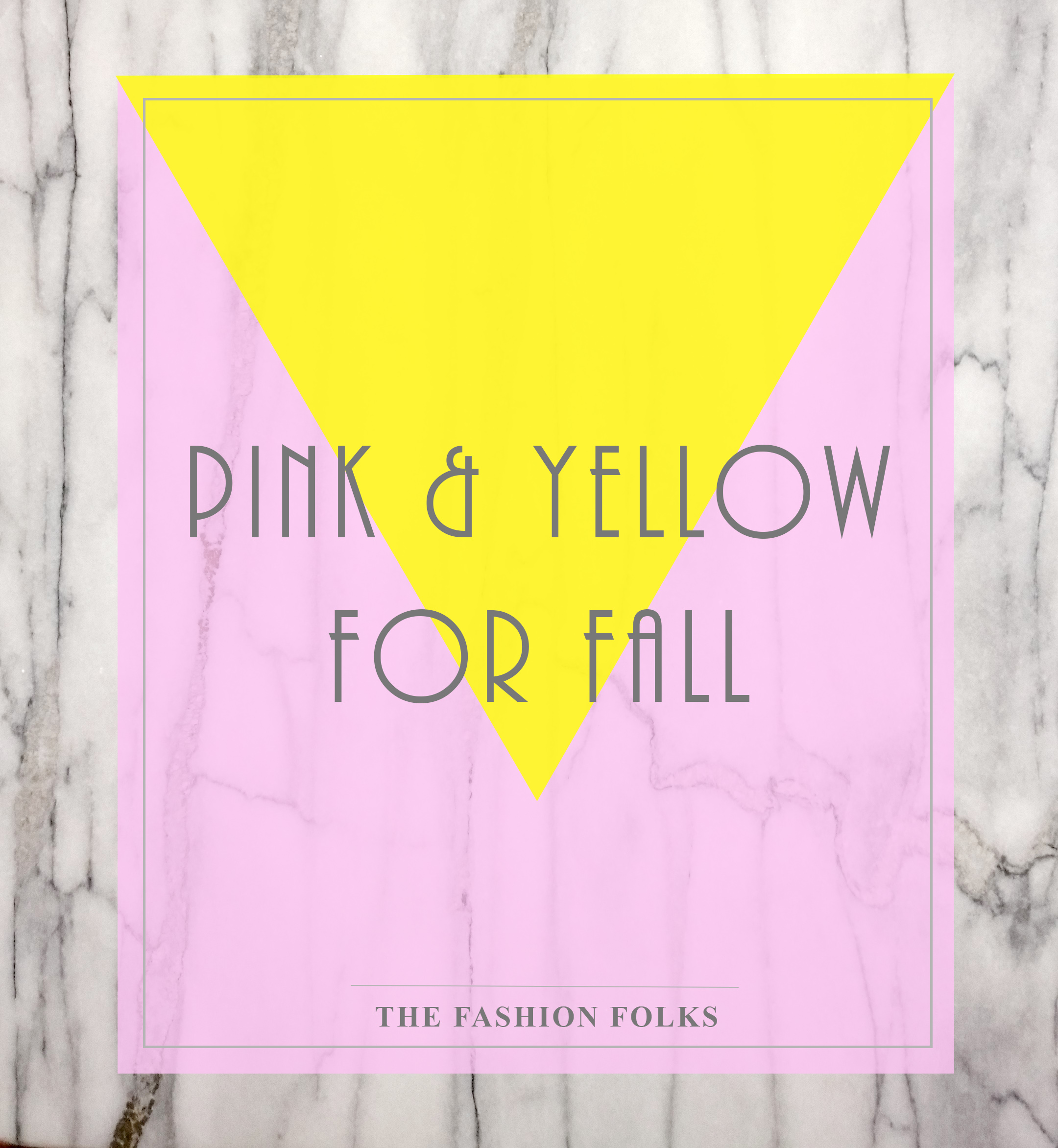 Why pink and yellow and why awkward?
So both pink, but mostly yellow, have a reputation of being difficult to pull off. Both of the colors can be hard to match with other colors.  And to some that is reason enough to avoid. Not to forget the history of combining these two during the 1960s, which quite frankly speaking had its awkward resemblance to wall paper or something. So it's a bit awkward,  or adorkable if you may say so. But we're not ones to back down for a fashion challenge, so seeing pink and yellow being back in fashion is no more than fun. As fall is usually centered to darker and rusty shades, we also welcome anything that's an exception to the rule.
How To Pull It Off
Here's the thing, the two outbalance each other in a flattering way to most skin tones. And we do stress that the best way to work new trends is just by trying.  As you might invest money in a piece though, keep this in mind.
If you're uncertain, head for a smaller piece or an accessory.  This will get you used to the color combo on you, but also be bold enough to count. If you have a pink sweater, add a yellow scarf or necklace.  Yellow dress? Add a pink belt.
If you're not going for a complete color combo in form of a pattern. Pick the color that you'll get the most use off (so you can work it with other things in your wardrobe). Many people would say pink, and

hey we don't object, look at our site and you see where we stand

. We love yellow though so if you know you can work the color. Do it.
The specific shade of pink and yellow
Now we know that we're mean when just referring to pink and yellow as there are endless of shades within the colors. We prefer when they're kept within the same intensity, as in pastels or in neons. But they do work when they're contrasted, so nothing to worry about. If you want to keep it safe though, check the intensity of the colors when you're about to match!
Pink and yellow during fall
We know,  we'd naturally opt for summer fashion when hearing the combo too.  But nope,  the fashion gods are demanding more of our style game than that. The easy part of pink and yellow is doing the two colors solely.  The hard part is mixing it with other colors,  mainly because they're both doing a good job at stealing the attention of the outfit. 

Do pair pink and yellow with:
Midnight blue, silver metallic, copper, dark green, grey, purple,
Maybe pair pink and yellow with:
Dark green, klein blue, purple, white
Don't pair pink and yellow with:
Black, gold, bronze, orange

We're not saying that our do's and don'ts  are right in anyway and that everything not mentioned doesn't work. We're just stating that these are our go-tos and no-no options. But as with everything folks, scan Instagram, Pinterest or stalk down your favorite fashionista and see how they pull it off! This trend is about daring and not overthinking it (even though we're fully aware that we just wrote an entire post on the subject)
Folks, for more about pink and yellow, read lovely Jalisa's (from The Style Contour) post on the color combo here! It's kind of an order as it is that good and informative! Xx