Holy macaron(i) folks! I may have been quite grumpy about the fashion weeks this month of September, even including MFW (!), but the fashion gods (or something) saved the best for last. Well, it's not for nothing that Paris is the fashion capital of the world. Here's a full summary of Paris Fashion Week October 2017: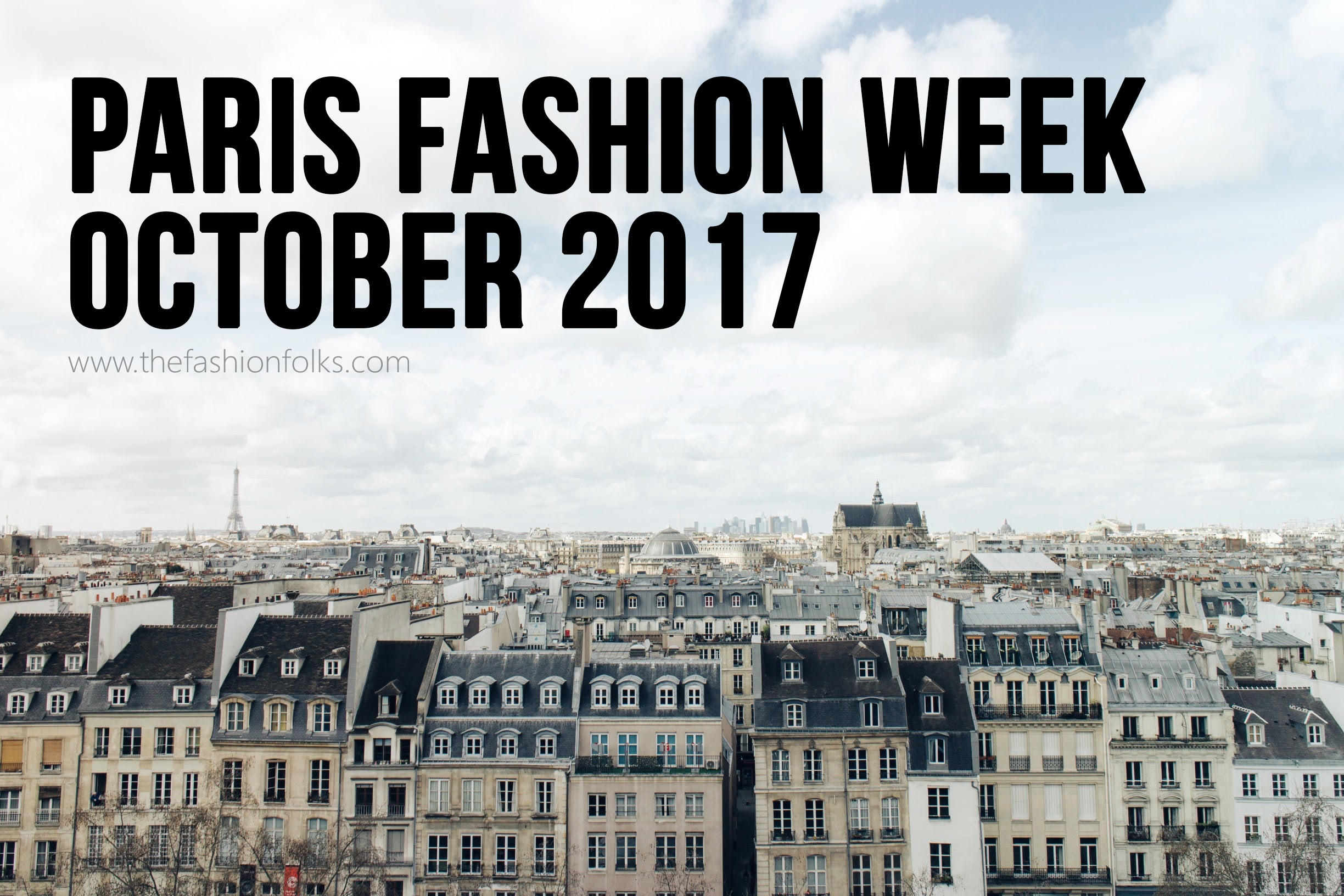 Photo by Nil Castellví on Unsplash
Higlights From PFW 2017
Alexander McQueen – The British fashion label was the subject for this week's review. I talked about the gothic romanticism and about the importance of contrasting elements and balance the styling. Catch the review here!
Valentino – The days of romantic dresses and fairy tale collections are long gone. Here is a more edgy, bold and wearable Valentino. The jackets in the collection, like this one or this one, are absolutely brilliant and I need one for sure (lol, I wish). See the full collection here.
Thom Browne – If you wonder what a collection everything statement looks like, this Thom Browne collection will pretty much do the job for you. This blue sweater (?!) is magical. See the full collection here.
Chanel – If the world is ever changing, you know what you'll get from Chanel. It was lady fashion, tweed jackets, pearls, 1980s silhouette and dramatic makeup. More importantly, the runway show was held at Grand Palais. Magical building! Catch Chanel here.
Givenchy – What you expected is pretty much what you got from Clare Waight Keller's first collection for Givenchy. It was the feminine style of Chloé but taken up a notch or two to fit the more dark side of Givenchy. This dress might be one of the best looks from the entire fashion month, it's wearable, different, cute and fashionable all in one! Catch it here. 
Bonus Highlights –  As Paris fashion week is the cherry on top, there are plenty of collections that deserves to be noted. If you have a minute over, don't forget to see Balmain here, YSL, Rochas (just look at pink coat/dress below!!) or Miu Miu. Let's see if I shall review them later this fall!
Trends From PFW 2017
As for the trends of Paris fashion week, they pretty much kept the trends of the previous fashion weeks alive. Still a lot of the 1980s with its statement blazers and pantsuits. Monochromatic outfits everywhere going from red to yellow, navy blue and green. The midi length isn't going anywhere anytime soon nor are the midi coats. The blazers status are already a fact and white is the color of next season. The thing with Paris though, compared to New York, is that the Paris fashion is more refined, more lady and more feminine. With that said, if the statement shoulders are done with a rough edge in New York, they're done sophisticatedly in Paris with a soft touch (often). I've tried to pick out three trends that are more specific for Paris though;
Pop of Material
The SS18 feels similar to the fall/winter season in one way; the materials are in focus. Several designers worked looks where the clothes were rather neutral but with one pop of statement material. Like a top in patent leather or a pair or transparent boots. Acne, Chanel, Ellery, Valentino, Balmain, Thom Browne, Balenciaga and YSL all went for a pop of material. Mainly some shiny leather, patent leather, fur, feathers or knitted pieces!
Power of the Pantsuit
The blazer is in fact a trendy piece atm and will continue being so next year too. If you want to elevate the blazer you should buy it with a matching set of pants. Yup, the power of the pantsuit is a thing. Some were done in a 1980s style, others more futuristic with cuts and some quite neutral. Acne, Haider Ackermann, Stella McCartney, Lemaire, Chanel and Valentino were some designers that went for the pantsuit look. Even more trendy in a monochromatic set or plaid!
Green Life of Style
Whether you opt for the military style of the green life or the jungle style, you ought to stay in the trendy lane. The military green was done a lot but also done with the influences of the jungle with tropical animals and flowers. Elie Saab went full on with the tropical style, Stella McCartney touched the green life, so did also Valentino, Junya Watanabe and Balenciaga.
Street Style From PFW 2017
The street style fashion keeps on delivering. So many fierce, fun and fashionable looks from PFW. I've picked out some favorites below. To note though is that the trends are still very much defining the street style. Lot of blazers, the color red, plaid and baker boy hats. Tried to pick out various styles!
Thoughts on PFW
Paris has for long been the fashion capital of the world and this week just confirmed it. Of course it comes back to what style of fashion you prefer, but when all the fashion weeks more or less work the same trends and looks (oversized, edgy, 1980s style) it's easy to compare the four and Paris wins according to me. It's not a fair comparison, not at all, but with more popular, classic and experienced brands showing in Paris, there's a likelihood that the overall outcome will be better. Right? If London fashion week has 4-5 brands that are really big, global and popular, Paris fashion week  has 15-20 brands that can compare. This means that even if the bigger fashion houses would fail to deliver (Dior, Louis Vuitton, Chanel etc), you can turn to Givenchy, Balmain, Chloé, Stella McCartney, YSL or Valentino. The list goes on and on.
I don't say that smaller brands can't deliver the same quality, not at all, but it's obvious that the bigger fashion brands are big with a reason. They always deliver something. Though I appreciate a small fashion brand presenting in New York, you can't deny there's another attraction around Louis Vuitton or any other brand that has influenced the last decades of fashion. And that, that helps securing Paris fashion week as the best one in the world. It's fashion history being written today. It's there it happens, where fashion still reconnects with its history, art story and timlessness. Perhaps something Paris, as a city, contributes to as well. 
Folks! What are your thoughts on Paris fashion week October 2017? Are you content with the last week of the fashion month or did you miss something? Let's chat in the comments!