New York Fashion Week wrapped up earlier this week and in true The Fashion Folks tradition it's time for a summary. NYFW September 2019 was a balance of the 1980s (what else?), street style minimalism and looks that represents the very idea of "casual chic". The fashion week of New York is not my favorite one, often due to its tendency of being quite neutral, normal and safe. I do think however that some of the designers this year showed some really interesting and memorable looks. Here's a summary on NYFW September 2019: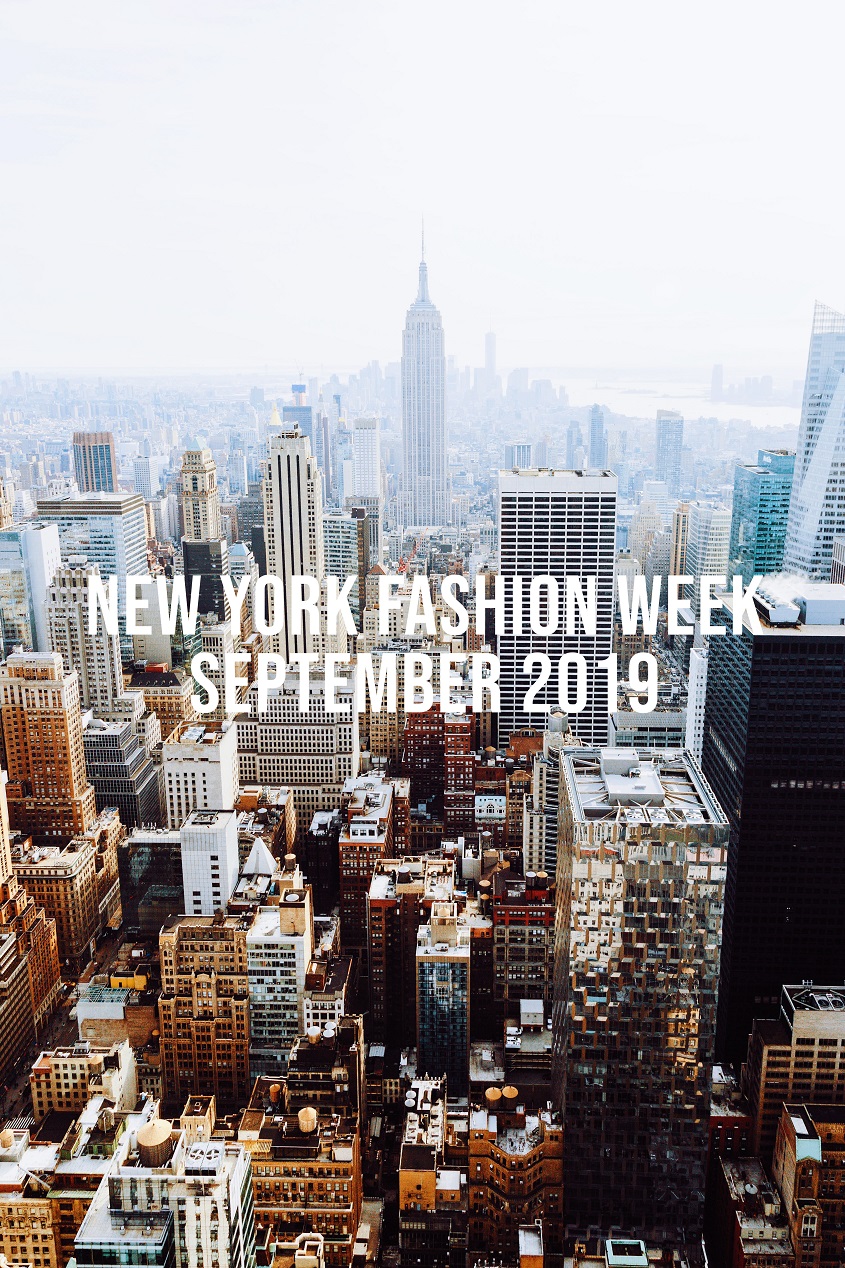 Highlights from NYFW September 2019
Zimmermann SS20
Okey everyone!  That's it! Everyone can stop designing white lace pieces because Zimmermann has perfected the style to its core this season. The white dresses, as well as blouses and skirts, are everything I've ever wanted in a LWD. A balance of bohemian chic and refinement. This dress is pure magic with its voluminous details and heavy layering of fabric. I love the sharpness this mini dress adds to the clean white. The kind of seashell style of this dress is also really lovable and I can see it becoming a street style favorite. All of these white dresses follows the wearable beach look Zimmermann presented for SS20. Lots of colors, retro patterns and details of glam. Have a look at the full collection here. 

Michael Kors SS20
Well, leave it to Michael Kors to show how the characters in Gossip Girl would dress like in 2020. This collection is the very idea of that school/work chic style through its play with shirts, sweaters, patterns and structured layering. It has that rich American kid, "weekend in the Hamptons", style to it. I love it though. There are lots of wearable looks that are pushing the limits just enough to be interesting, yet remain realistic. An example of that balance is this look. The spacious sleeves of the sweater adds a stylish fashion statement. Very clever styling with the matchy shoes and the adorable print of the skirt. The straw bag breaks off the cohesive look in an interesting way. As for Gossip Girl, I could definitely see Blair Waldorf in this look or why not Serena Van der Woodsen in this one? Here's the full collection.

Carolina Herrera SS20
If you're unsure about what the current fashion is about, you should have a look at Carolina Herrera SS20. In the collection you'll find a maximized mix of volume, floral prints, polka dots, 1980s, statement sleeves, shoulder pads, blazers, the 1990s and…you get it. There's a coherency in the collection undoubtedly, but I think the magic lies within the individual looks. I adore the how the florals are done in this maxi dress. The intense volume and polka dots in this look is another gem. This yellow creation is also really interesting. See the collection here. 
Trends From NYFW
Voluminous Clothes
I talked about the volume trend for fall 2019 in this article, but according to NYFW, this trend will continue next year too. A lot of voluminous sleeves, shoulders, dresses, skirts and jackets were shown during the week. I'd still say that this trend remains close with the 1980s elements of polka dots, blazers, pantsuits and inverted triangle silhouette. It's nevertheless a fun trend that's quite challenging from a perspective of wearability and perhaps even sustainability. I think one way of making this trend more wearable is to focus on clothes in neutral styles but with some volume. For instance, an LBD with a voluminous skirt or sleeves. Anyways, if you want to get some inspiration, check Rodarte, Marc Jacobs, Brock Collection, Oscar de la Renta and Vera Wang. 

Trench coats
This timeless clothing piece is never out of style truly, but it's definitely in style next season. The trench coats are being done in its classic colors of beige, pale pink, grey and black. I'd say some trench coats are more artsy than others with a focus on the shoulders or an emphasis on the waist. This trend also follows the line of a more neutral, earthy, fashion of camel, olive green, matte blush and even navy blue. Gabriela Hearst, Co, Theory, Coach, Carolina Herrera and Proenza Schouler all went for the trench coats. 

Retro Florals
The florals are alive folks! I adore florals as many of you might know, and I love how they each season slightly changes appearance. That way they stay refreshed and interesting. Next season the florals should be more retro and embrace that 1980s/1970s look. Often with a darker background and awkward colors such as mint blue, orange, yellow, pink and pea green all in one random mix. Paisley is also popular as well as the more geometric florals of the 1960s. The florals for next season are commonly done for blouses, shirts, dresses, blazers and jackets. Anna Sui, Zimmermann, Marc Jacobs, Michael Kors and Brock Collection are some designers that worked retro florals in their collections.

Thoughts on NYFW
So what can be said about a fashion week that's traditionally about American street style, minimalism and workwear – but this season pushed it to be more advanced, extravagant and more crazy than normal? Well, I welcome this change for sure. I wrote about this change in February, that I felt some designers went for a more haute couture, Paris elegance, in their collections. I don't mind maximalism at all, quite the contrary, as I welcome the creativity that comes with it and the pushing of fashion limits. The fashion of the 1980s has surely helped with this development as that decade was about volume, crazy prints, statements sleeves, shoulders and more is more. So I think that change has been a healthy progress, although there's of course a diversity that is to be celebrated in the fashion the different cities present. But from a perspective of being entertained, of taking notes of certain looks, saving them, analyzing them and trying to understand the details behind them; NYFW was a fun fashion lesson in how fashion evolves. How fashion is always trying to balance between wearability, trends and art. 

Folks! I'd love to hear your thoughts on NYFW September 2019? Tell me all about your favorite looks and collections in the comments below! Xx