So New York fashion week wrapped up a few days ago and a summary is in its place! I've had a hard time grasping what NYFW September 2018 was about. It worked a lot of different styles, as it should, but it was still hard to pin it down to this summarizing post. It was optimistic and playful, yet serious and melancholic. Some of the shows were brilliant and other labels that usually knows how to deliver kind of went "meh". Well, anyways, I've tried to pin it down: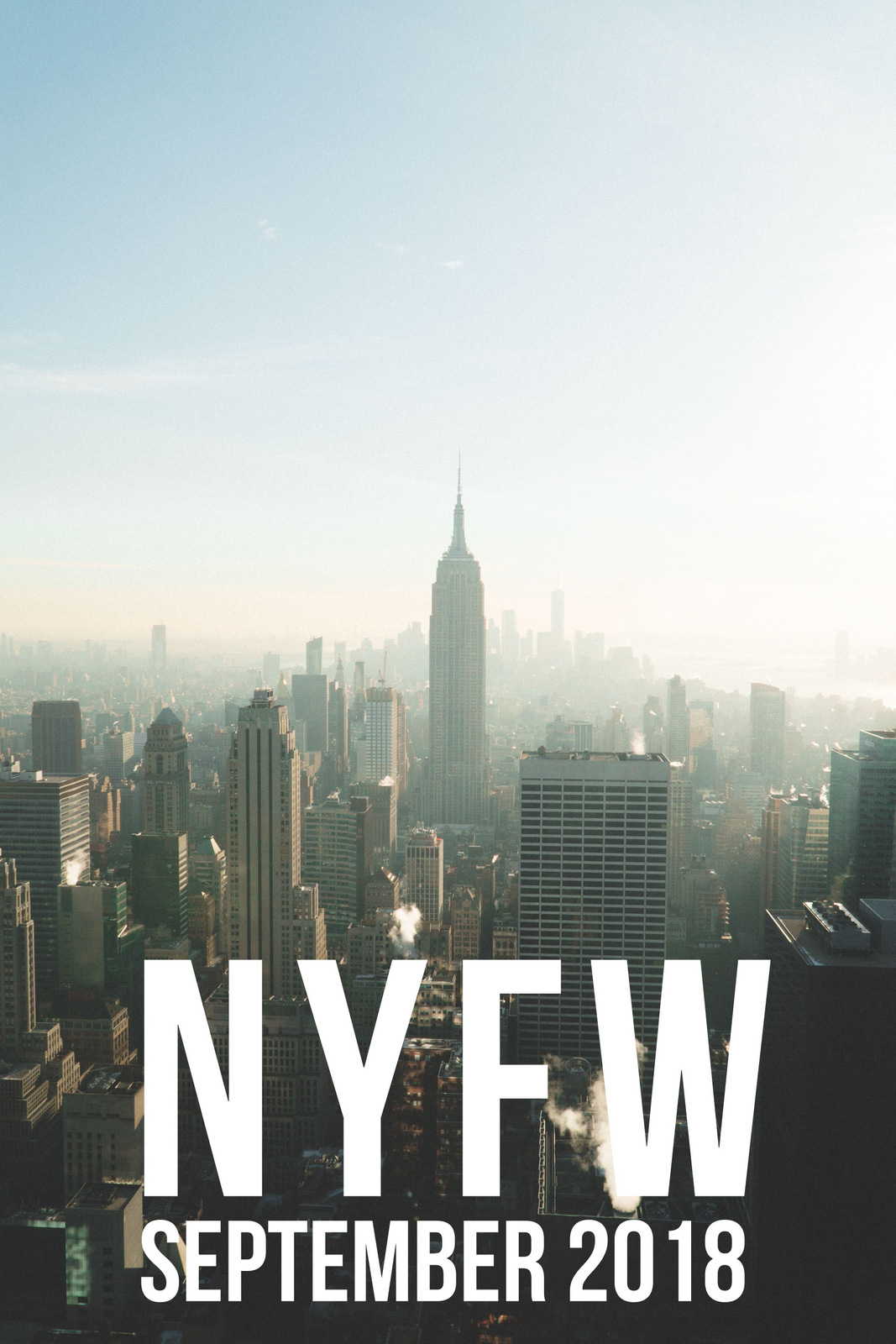 Photo by Dan Calderwood on Unsplash
Highlights From NYFW September 2018
Marc Jacobs
Though Marc Jacobs remains one of the most relevant fashion designers in our contemporary time, it feels like he left a part of that spotlight when he left Louis Vuitton a few years ago. It's only the past two seasons, according to my highly subjective opinion, that he's found his carefree tune again. And this SS19 collection is probably one of his best, if not the best, under his own label. It's far from wearable, but it's everything you want a fashion show to be. It's alive, interesting and full of lively elements like dominant colors, voluminous clothing pieces and random details. It had influences of circus fashion (or so), the 1980s and the 1960s (Kaia Gerber's look was everything). It was anything but boring. A lot of the pastel colored looks done in voluminous silhouettes felt like wearable cupcakes – in a good way. See the collection here.
Ralph Lauren
The American designer celebrated 50 years in the fashion business and put on quite a show with over 100 looks. The front row was top A-list with Anna Wintour, Hillary Clinton and Oprah Winfrey (only to mention some). I think we are a majority that can agree that Lauren has done so much for the American fashion industry and created the foundation for the refined sports fashion.  His looks are timeless, preppy, likable and wearable. Managing to do that for 50 years is worthy of an applause alone! See the collection here.
Rodarte
If Marc Jacobs was fashion circus number one, Rodarte is hitting close second. It kind of felt like Alice in Wonderland gone fashion or something similar. It was bold colors, silhouettes, tulle, ruffles, red lips and a dream land. The looks were a bit all over the place with the deconstructed styling. Some of the dresses can easily be worked on a red carpet whilst others felt a bit too artistic, although appreciated for their character of expression. More than anything though, this collection will indeed be remembered for everything it was (or wasn't). See the collection here.
Trends From NYFW
Pink Ladies
I couldn't agree more with NYFW, what the world need is more pink. Or I'm sure that so is the wish of the designers as pink was everywhere, done in so many different styles. Anna Sui, Rodarte, Ulla Johnson, Jonathan Simkhai, Calvin Klein, Diane von Furstenberg and Marc Jacobs were some that worked the color. It won't surprise me if more designers will show pink during the rest of the fashion weeks. It's a bubbly color of optimism, dreams and romance – all things that the world needs more of right now!
Voluminous Volumes
The 1980s is still around, but mainly in the shape of volume. Next summer is all about embracing the puffy sleeves, layered tulle skirts and a bouncy silhouette. Carolina Herrera, Alexander Wang, Derek Lam, Rodarte, Christian Siriano, Ulla Johnson and Marc Jacobs all worked the volume. I think this silhouette is a fun one to play around with as much of today's fashion is about "showing" your body and curves. Nothing wrong with that, but by playing with silhouettes that might not be the most flattering ones, there's a lot of confidence to be found! This is what fashion partly is about, daring to choose what's ridiculous over the societal construction of constantly looking like your best self. It doesn't have to be that serious all the time!
Crazy Colors
If you think you can hide from the colors next spring/summer season you're wrong, completely wrong. The SS19 season is all about the most awkward colors. Pink, as mentioned above, is a major trend but also the neon colors, yellow, orange and green. Naeem Khan, Michael Kors Collection, Self-Portrait, Brandon Maxwell, Oscar de la Renta and Prabal Gurung were some of the designers that went for the crazy colors. Think the 1980s colors (the primary ones, the activewear and the pastels) and you have a pretty good image of what next season will look like.
Street Style From NYFW
As always, the street style fashion from NYFW didn't disappoint at all. It's always fun to see what people are wearing and I know many of you also think that this is where the majority of inspiration comes from. So here are some of my best picks. A lot of mixed prints, bold colors and fun details:
Thoughts On NYFW
As stated in the beginning,  I've had a difficult time to conclude NYFW. It was partly really entertaining (like Marc Jacobs or Oscar de la Renta) but it was also kind of forgettable (like Alexander Wang and Tory Burch). Of course you can't deliver every season, but the quality of the collections can be much more coherent. NYFW is not the most refined of the fashion weeks either, it's a mix of high and low which is also what you get. I love the more playful and artsy side this week showed though, with a lot of colors, childish silhouettes and details. It's always welcomed when fashion is explored in more artsy ways. If you wonder what collections that are more wearable and easier to be inspired by and recreate, I think Ulla Johnson, Jonathan Simkhai and Carolina Herrera did a wonderful job!
Folks! What are your thoughts on NYFW september 2018? Let's chat in the comments below! Xx