So NYFW wrapped up this weekend and I thought I'd continue to summarize each fashion week in separate articles as I know you appreciate it! I overall think that perhaps not the entire collections of NYFW February 2019 were refined to their cores, but had a lot of great designs. I'd also say that it was pretty easy to nail down some trends as it seems like a lot of the designers embraces many of the current and upcoming trends in old or new ways. Quite interesting as I do feel the 1980s and 1990s revival has been explored for awhile now. But anyways, let's leave the analysis for later and start with breaking down the details! Catch the review of Zimmermann Fall 2019 here.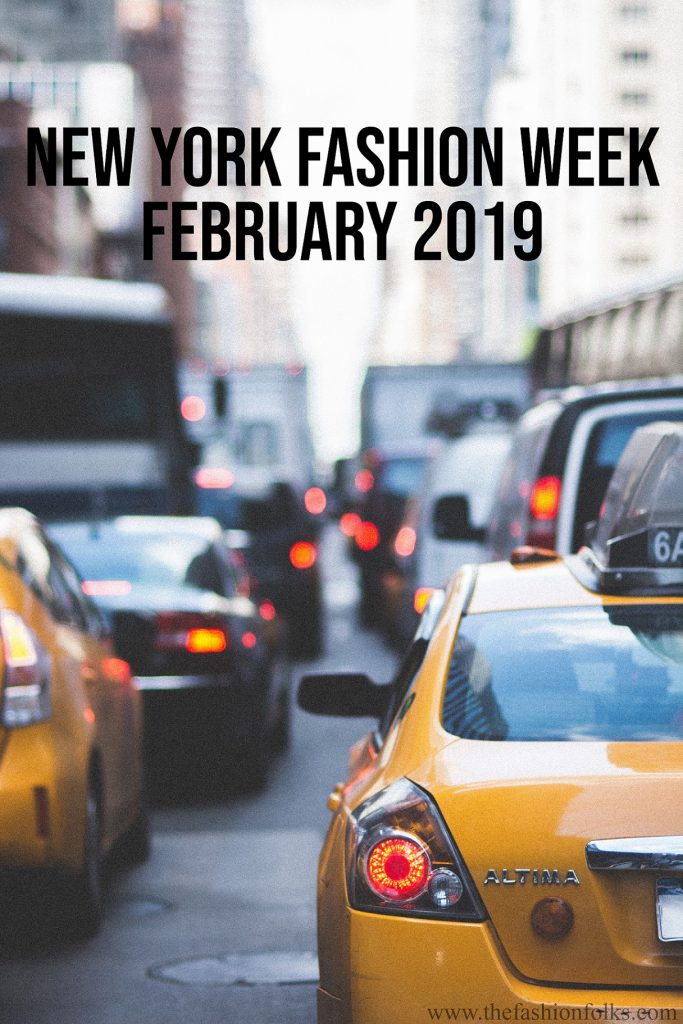 Highlights from NYFW February 2019
Oscar de la Renta
I'm unfortunately not one of those people that understands where Oscar de la Renta is going with its design vision. From a perspective of individual looks, the brand keeps on delivering stylish and interesting outfits. But if you see it in a macro perspective it gets more difficult to distinguish what the idea is more than to create elegant looks that are easy to like. Well anyways, I think there are some singular looks from Oscar de la Renta Fall 2019 that are worthy of some extra attention. This gold dress with the maxi fringe is really pretty and glam. Unexpected with the long fringe details, but elevates the look. Love the colors and contrasts in this modern boho look. That cape also looks really cozy and it-friendly! This creation might be something that's been done before, but love the drama and heavy volume of the skirt-part. Catch the collection here.

Marc Jacobs
Ever since Jacobs left Louis Vuitton it feels like he's been on a path of finding a new vibe to stick too. And I think he's onto something really good. He plays with colors, volume, textures and dares to exaggerate the simplicity. I love the layering silhouettes and how bouncy it is. Everything from this playful dress to this wearable one. I do have to say though that some of the elements are quite similar to what Valentino has done the past seasons with choice of fabrics, colors and style. But I do, however, believe that he manages to give the clothes his personal twist. Also, Jacobs brought back Christy Turlington to the runway and she was just magical in the black creation she worked for the closing number. See the collection here.

Ulla Johnson
I know I've said it before but Ulla Johnson is out there really making a name for herself. She continues to deliver wearable, likable, collections that plays with colors and prints. It feels like she has in one way established herself as a bohemian Tory Burch, if that makes sense. Perhaps she needs to push more boundaries and be even more bold with volume and eclecticism if she's gonna do this on an even higher level. But as for now, I like how easy she makes fashion and styling seem. Just have a look at this simple sweater, it's lovely. I adore the styling in this colorful look and the bold yellow tights in this one. Have a look at her fall collection here folks!

Trends From NYFW February 2019
Animal Prints – Surprise surprise but the animal prints are still going strong. Which is a really good thing as it means that purchasing leo or snake print now gives you clothes and accessories that will still be trendy this fall. And in the quick pace of fashion, that's quite something huh?! (read: irony). But anyways, a lot of the designers worked the animal prints in different ways. Both with its natural color combinations but also more colorful styles. Marc Jacobs, Alexander Wang, Kenzo, Diane Von Furstenberg, Coach, 3.1 Phillip Lim and Zadig & Voltaire are some of the designers that worked the jungle style.

Slits Style – A simple detail that will be trendy next season is the slit! Mainly done for skirts or dresses and not necessarily done that high up. This simple way of creating a more dynamic clothing piece is quite effective and also practical as it's easier to walk in longer skirts with a slits. I'd say the asymmetrical hemline was also done a lot and sometimes in combination with slits. Badgley Mischka, Philipp Plein, Alexander Wang, Oscar de la Renta, Jonathan Simkhai and Eckhaus Latta were some designers that went for the simple detail.

Puffy White Blouses – So the white blouses and shirts were pretty much everywhere during NYFW February 2019. The blouses were often done in a more puffy style with voluminous sleeves or with a spacious silhouette. Both a white shirt and a white blouse is pretty classic so doing them in a more voluminous style allows the clothing pieces to be embraced in new ways. It was styled in different ways too, which shows the wearability of the clothing pieces as it is that classic. Perhaps there was a certain 1970/80s vibe to the clothing piece. Some designers that dealt with the clothing piece includes Rodarte, Zimmermann, Ulla Johnson, Tory Burch, Brandon Maxwell, 3.1 Phillip Lim and Oscar de la Renta.

Thoughts on NYFW February 2019
I overall think that NYFW was pretty good. It's difficult to compare the different weeks as they're quite separate from each other. Whilst PFW delivers high fashion, artsy, creations – NYFW has always stayed true to the street style vibe of New York. And so was the case of NYFW February 2019. I wouldn't say that it was street style fashion from its more grungy and casual styling, but street style from its wearable perspective. The collections were simple. The clothing pieces were for most part easy to like and something you could find in the stores. It's mainly Marc Jacobs, Rodarte and Oscar de la Renta that are exploring the fashion that's close to the level of Paris. But hey, I don't put any value in it. NYFW doesn't have the same designers as PFW and is therefore different. And as much as one love to dream about creations á la couture, it can also be rewarding to focus on collections that's close to your everyday style – like those of NYFW. So I appreciate it for what it is, but I also acknowledge that PFW is more like historical art whilst NYFW is contemporary. And I prefer the dreamy and unrealistic style of historical art (or fashion) if I would have to choose. I mean how much more fun wouldn't life be if we walked around in artsy, dreamy, fashion?
Anyways, folks, enough rambling from me! What are your thoughts on NYFW February 2019? Let me know in the comments! Xx