Oh hey oh hoy, New York fashion week wraps up today so a summarizing article of the first week of fashion month is in its place! This article is highly subjective and far from covering all the shows, trends and "ah"-moments. You're better off viewing the shows on Vogue instead! But I'll pick out some personal favorites, overall highlights and my thoughts on the fashion week. Here's a summary of NYFW February 2018: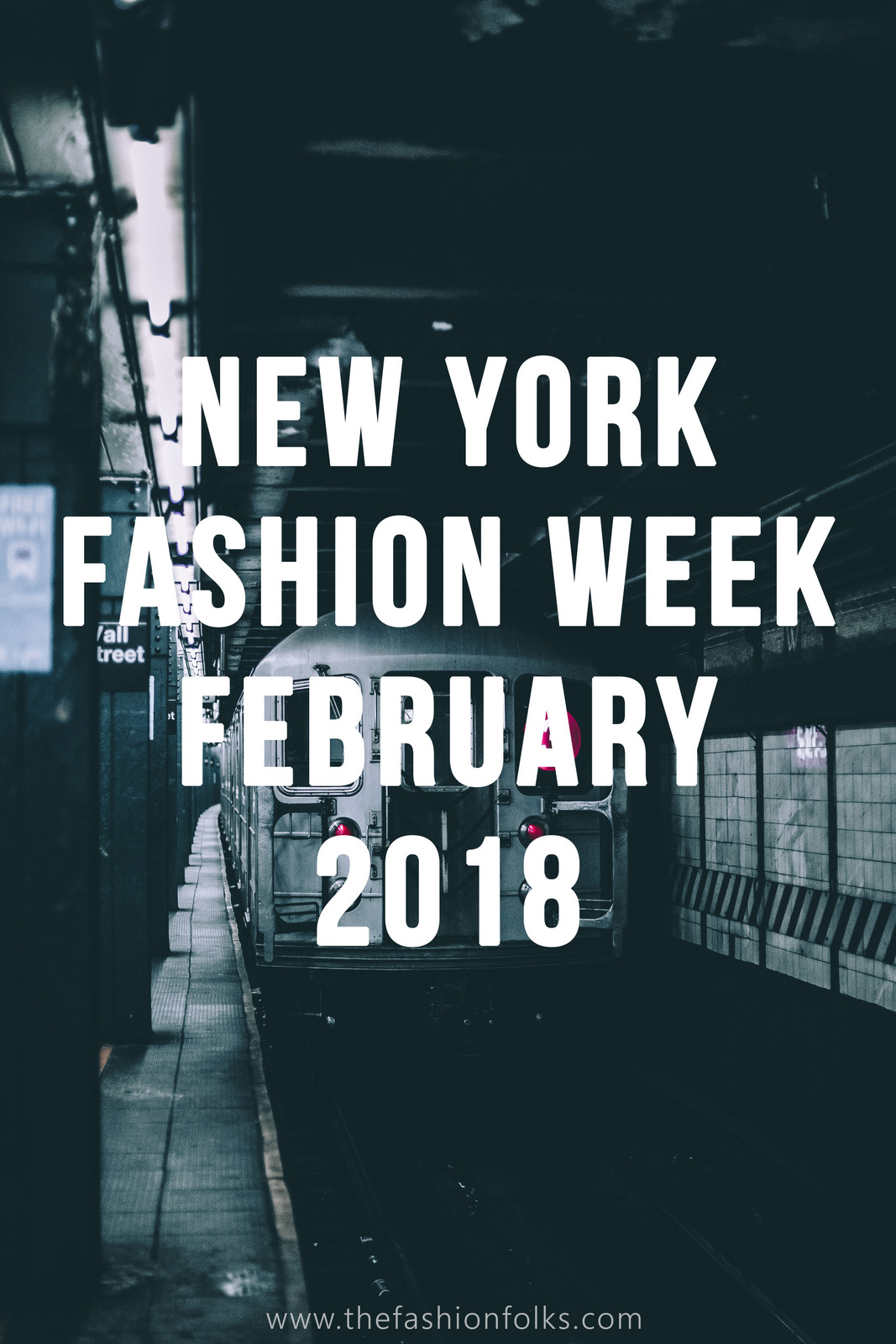 Photo by Andre Benz on Unsplash
Highlights From NYFW February 2018
Ralph Lauren – Patriotism and Retro Beach Vibes
I can't think of a label that translates American patriotism in a more refined way than Ralph Lauren. I've never had a specific opinion on the brand nor the design aesthetic, but I must say that this collection partly won me over with the sporty, elitistic, retro beach vibes. A refined 1930s/40s feeling of elegant silhouettes, distinct color blocking and structured pieces. Insanely wearable too, with this gorgeous dress being a hit and this lovely look as well. The entire collection feels like a toast to the Hamptons! View the collection here.
1980s Madness
So the fashion world, or the fashion brands presenting in New York, have gone absolutely bonkers with the 1980s style. And I'm afraid, that it's not what the best people (brands) do. It's a subjective perspective, of course, but the 1980s haven't peaked already as I hoped for, but is far from doing so. A numerous of designers went crazy with elements of the 1980s, going for that infamous silhouette, those insane colors, the never ending amount of animal prints and just crazy yuppie statements. Marc Jacobs perhaps went most insane but Tom Ford, Michael Kors, Victoria Beckham and more, all contributed. If you're a fan of the 1980s, congratulations, you have a fun fall of fashion trends ahead of you. To the rest of us, let's sit this one out ehh?
Diversity Amongst Models
Diversity can exist in different ways and the fashion world has struggled with them all the past years (ehrm, decades). But perhaps, we are starting to see a slow change in this? I don't have any official statistics but it feels like there's more diversity of ethnicity, age and body types. Christian Siriano brings more diversity to the table through his shows and Eckhaus Latta included older models too. Let's hope that this is truly the start of something new!
Oscar de la Renta – Textures and Floral Dreams
I often go on about Oscar de la Renta being a bit too safe and "same old" over and over again. This collection is not really an exception, its sympathique and quite charmine. But, I do think it's one of the best collections in years as it so wonderfully plays with the floral prints, textures of statements and elegance. There are four looks that are INSANELY good, first one being this delicate floral dress. The second look is this statement of texture, that is just one of the most chic LWDs I've seen in recent years. The third look is this ombre history which is just melting in perfection. The fourth look is this classic black gown we all have seen several times before, but this one just felt so damn perfect with the timeless cut, the luxurious garment and the edgy slit. Oh my! View the full collection here.
Trends From NYFW
Animal Prints
Just to prove my point that the 1980s madness have gone insane (lol), I of course have to highlight the proper comeback of the animal prints. Zadig & Voltaire, Jeremy Scott, Tom Ford, Michael Kors, Victoria Beckham and Marc Jacobs all reached for the animal style when choosing the prints of the season. Mostly leopard prints but also a good dose of zebra prints in different statement colors. Surely a trend that embraces the electric and wild style of the 1980s, though I say you're good to go with your regular leo dots and zebra stripes too!
Interpretative Bohemians
The boho style is one that pops up every now and then in different interpretations. This year, it felt like the bohemians were divided into two sub-categories, the first one being an edgy bohemian and the second one going for the romanticized style. The edgy bohemian was demonstrated by Coach 1941 and 3.1 Phillip Lim. The more romantic style was captured by Ulla Johnson, Warm and Rosie Assoulin to mention a few. Some elements that are characteristic for the bohemian style includes the floral prints, the midi lengths, the flowy clothes and the layering!
Mixing Prints
Speaking of my article yesterday, the mix of prints or the print mix is real this fall. Anna Sui, Zimmermann, Bottega Veneta, Oscar de la Renta, Calvin Klein and Michael Kors all went for the layering of prints. Some were done more statement, like Kors, but others kept it more neutral like Bottega Veneta. I couldn't really spot a trend pattern more than the mix of prints, which basically means that you're trendy enough just going for more than one print in one outfit. Perhaps the check pattern as a base and either florals or an animal print to match it with, was more common than other combinations. Catch yesterday's article if you today want to start the trends of tomorrow (cachingaaa).
1980s Overload
Still not sure that the 1980s dominated the week that much? Well here we go again. Tom Ford embodied the party life of the 1980s with a lot of black, metallics and power clothes. Marc Jacobs went for the awkward color scale and severely oversized statement silhouettes. Anna Sui went for a more contemporary 1980s vibe, but still going for the rock and edgy touch. Alexander Wang's collection also went for a slightly more contemporary yuppie and also touched down in the 90s with the Matrix feeling. Zadig & Voltaire went for the edge, office wear and after-ski all in one. Must say though that this look is superb, don't know when to wear it but I'd wing it for sure! Prabal Gurung also went for that retro after-ski vibe, totally here for it honestly!
Street Style From NYFW
Would it even be the fashion weeks if I didn't include some chic street style? I enjoyed the creativity in the streets this year, being both approachable yet with a unexpected twist. A lot of blazers, puffer jackets, red boots, patent leather and check patterns – all elements that follows the current and past trends of the last months. Well I'm not done with them, so keep 'em coming!
Thoughts on NYFW
I must say, though I neglect the apparent brilliance everyone seem to see in the 1980s, that I'm positively surprised by the NYFW February 2018. It was unexpected, it was energetic, it was eclectic and it was everything a fashion week should be. From the refined and precise moments of Oscar de la Renta, to the unexpected style of Michael Kors and the retro patriotism of Ralph Lauren. Perhaps many designers went for their usual aesthetic, but I must say that it feels like they did it better than before with a concentration and determination to keep a balance of wearability and creativity. I wouldn't go full crazy though and say that entire collections were pieces of geniusness, but there were many individual looks from so many different designers this year that I cannot do anything but to admire and even crave. I'm almost so happy with it all that I feel like doing an entire article just rambling about the excellence in specific clothing pieces and styling efforts. It's nerdy, I know, but if you want it, I shall be happy to do it!
Folks! What are your thoughts on NYFW February 2018?  You'll find me in the comments, as always! Xx