Folks, I hope you had a magnificent NYE and I wish that 2017 (!!!) will bring nothing but magic to your life. With that said, I thought we'd begin the year of The Fashion Folks by talking about resolutions – of course from a fashion and beauty perspective!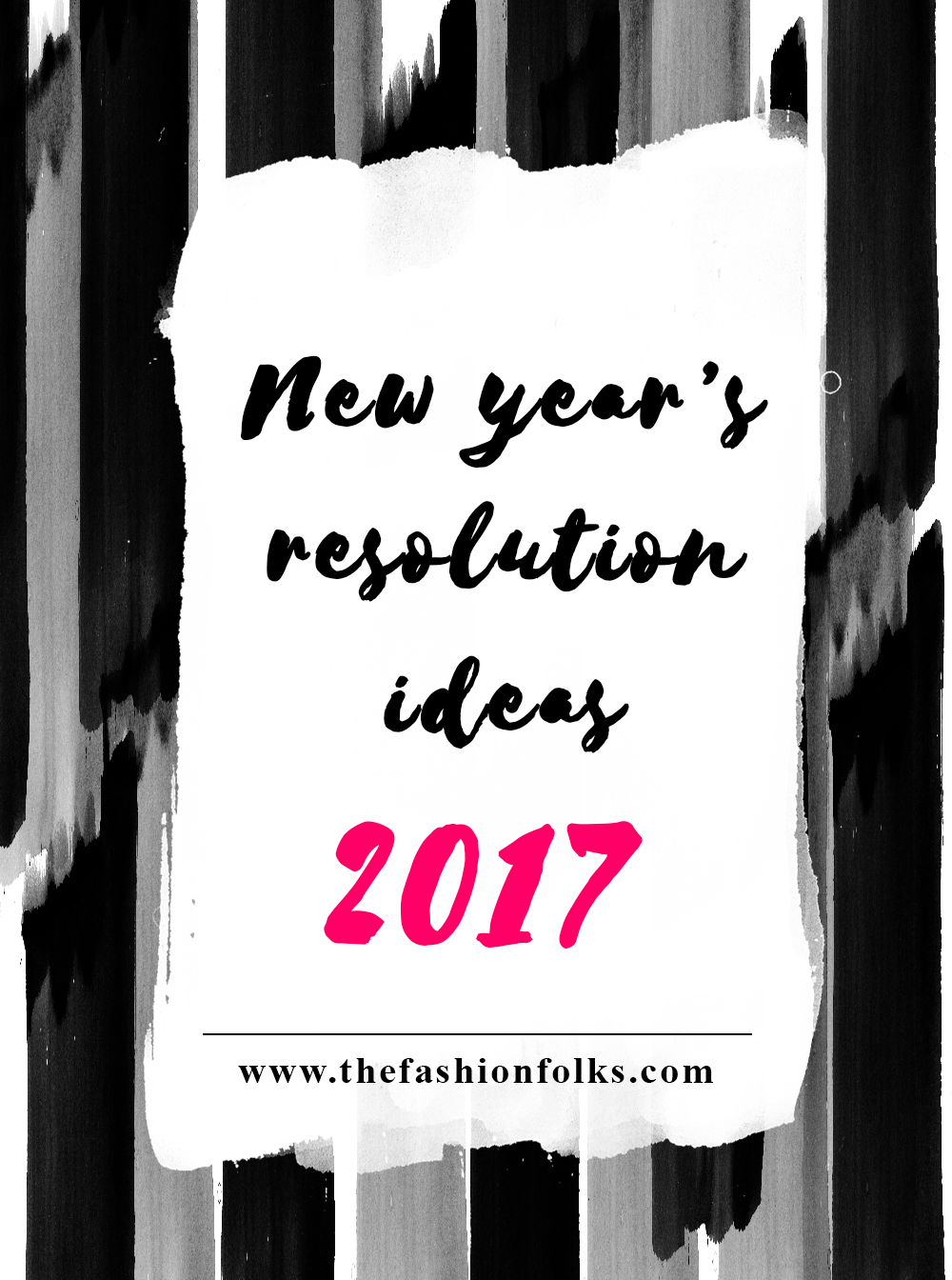 New Year's Resolution Ideas
Well I actually don't like to call it New Year's resolutions as resolutions are more of a promise rather than goal-striving. So New Year's goals if I may! There's no one who genuinely believes that a magical transformation from the 31th of Dec to the 1st of Jan occurs. Changing yourself or something in your life is a progress and working towards a goal is that gradual change. Here are some fancy ideas that might be something for you:
Fashion Ideas
Regarding fashion, there are several ways you can embrace the new year and the changes that comes with it. The suggestions I've written below are just a handful of ideas and the only successful way of going fashionable in 2017 is by being true to yourself and your style. So choose the ones that reflects you!
Dress after your body
Knowing your body type is key for knowing how to dress successfully. If you know your body, you know the best clothes and outfits for you. Dressing after your body will not only make you look extra but also feel extra. Looking good and feeling good are both dependent of one another. One of the secrets to a successful fashion life is to balance. When you know your body type you know how to balance the proportions properly and create harmony in your silhouette. Here's a chart for you as for now, but I'll get back to this subject later in 2017 as well.
Try a new style
Boy don't I love to push fashion boundaries?! Always staying open minded and receiving regarding fashion is the best way to always stay at the top of your game. Be open to trying new clothes and style. Embrace the geniusness in eclecticity. Balance the preppy A-line with some faux leather or go bohemian with a fun pattern. That person who's style you adore and kind of want? Track it down and embrace it yourself (just make sure it's still a reflection of you). Here's how to track down a style.
Dress even better
So here's another fashion secret no one will tell you. How to dress even better is all about the details, the minor details that no one but you notices. It can be anything from knowing your body type, like above, and dress accordingly. Or balance the colors in your outfit with a hand of perfection. Dressing even better can also be about adding that necklace or removing the belt. Always be critical when you first try on a new outfit and think of ways it can be better. Adjust and then walk out the door and slay as usual!
Dressing bold
Welcome to another chapter of me ranting about people dressing like one another. But I wrote here, that I wish for 2017 to be a year of creativity and individuality – so I won't stay quiet about this one. Dressing bold is not exclusively about choosing bold colors, prints and silhouettes but to explore the lines of comfort from your point of view. Perhaps you're an all-black all year kind of person? Begin to mix it up with shades of grey, try some white and work yourself gradually up that fashion ladder. Perhaps you're already satisfied with your style as it is, but we all know that neglecting development has never been an option of fierceness.
Beauty Ideas
I feel like I have somewhat control over my fashion life and my intention of progress within the area. But as for beauty, I want it to match the fashion game so I'm all here for the beauty challenges of 2017! I might be ambitious here, but hey: it's about goals and not promises!
Makeup after your eyes
Doing makeup after the color of your eyes might sound like a no-brainer, but it's similar to knowing your body type. You might not care about it too much, but once you tried, you can't ignore the greatness of the small, but distinct, difference. I'll do a full post on this later, but here's a color chart to begin with. Choosing eyeshadow/lipstick after your eyes will make them pop, and eyes that smeyse are always the way to it! If you want to embrace this without changing your everyday makeup look, think about how you can incorporate a new color in a subtle way. If you're working green eyes for instance, adding brown or gold is gorgeous. Do a mascara with some gold in it, or do a brown liner along the waterline for a subtle effect!
Step up the nail game
Cause you know, well-looking nails are actually a pretty good sign of you as a person. Whether they're bare and chewed on, or long and red, they ought to say something. And I know that I regardless of bare or painted nails want them to look as good as possible (cause yes, I do care about this). So this year I'm all for removing nail polish (or re-do), when it's chipping and not live with it for weeks. Also do base coat and top coat, and give some love by moisturizing them with coconut oil. Keep the nails in shape folks!
Leave the skin alone
The never ending resolution on a lot of people's list is to leave the skin alone. Don't pop, don't squeeze and don't destroy anything that is annoying to you. Regardless if it's acne or visible pores. I know it's tempting but you know that 9 out of 10 times you'll only make it worse. So next time you're standing in front of the mirror, try to imagine what it will look like after you've popped it. Probably even bigger, more red and definitely more visible. So leave it alone and wash the face instead (or something). Keep it clean and never, ever, go to bed with makeup on.
New skincare routine
Continuing from the last point, a new skincare routine can sometimes be what your winter-tired skin needs. To add something or to remove something else. Stay true to what your skin needs and always stay cautious about how it reacts to makeup and beauty products. The basic skincare routine is to wash and moisturize the face, at least once a day. If you put some training into it, you can make it to a 30 sec routine in the bathroom. Something your skin, of course,  will be happy about. Don't forget the SPF either and a face mask every now and then is beneficial.
Folks, that were some New Year's Resolution Ideas! Hope you found something inspiring and remember that these are goals and not do or die hardcore resolutions. I'd also just like to thank you all for the continuous support of The Fashion Folks, you are all a sweet bunch of gems and I hope you'll stick around for 2017 too. It's a preeeetty good one if I may say so! Xx
Did you like this post? Hit the social media buttons below!