Folks! I planned on doing a major trend report on fashion and beauty trends Spring 2017. But as I began writing I realized that I've already summed up the Spring trends one, two and three times. So in case you've missed, here is a round up on the trends Spring 2017 and links to previous posts!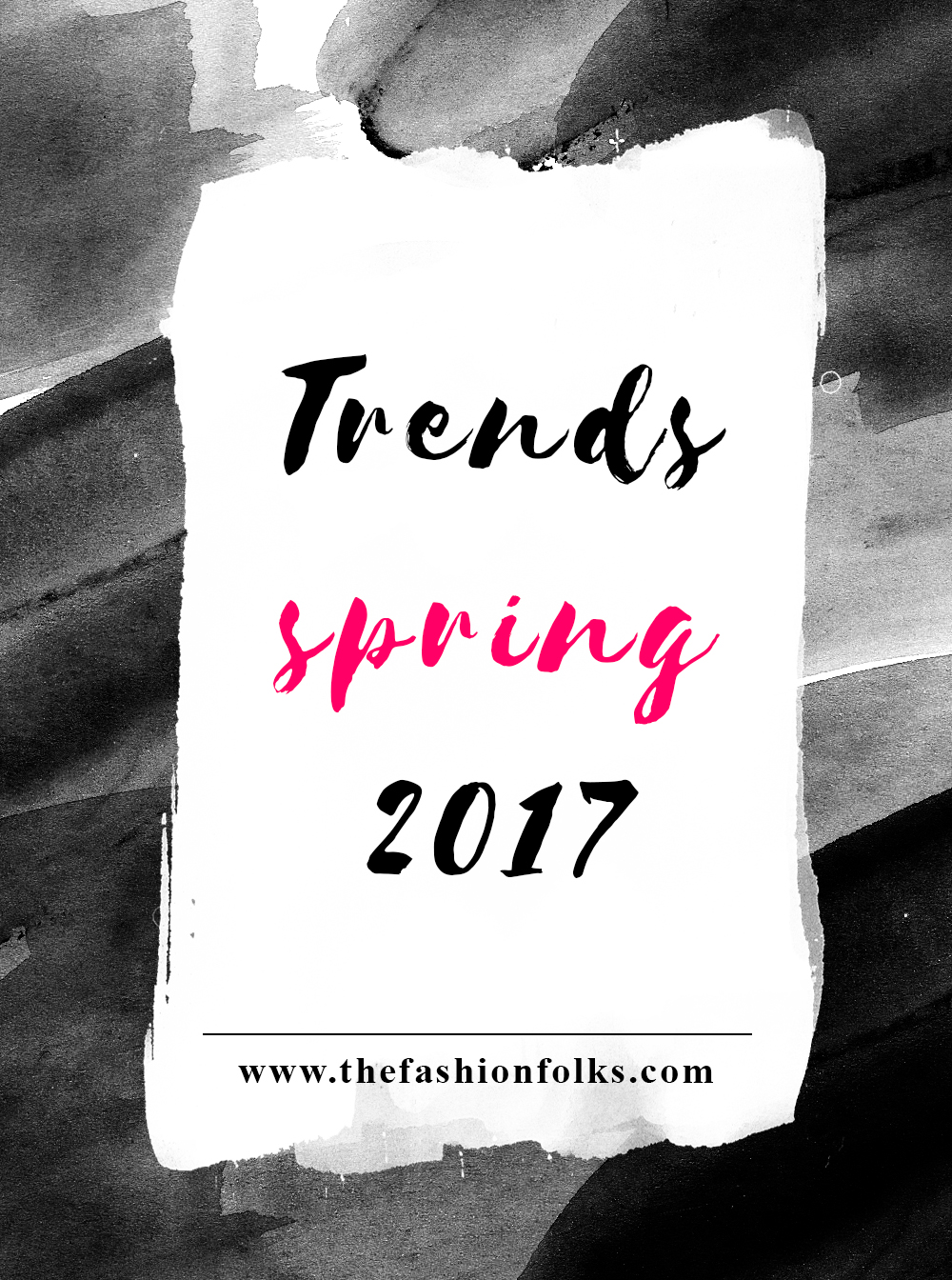 Trends Spring 2017
Another year and another set of trends. 2016 wasn't only the year the world and humanity  seemed more divided than before. Last year also saw a change within fashion and beauty. Where style preferences and influencers seemed to drift further apart. The decreasing eclecticity  in 2016 is continuing into the new year and the trends we'll embrace in the months ahead.
As society keeps moving forward to new technology and innovations, fashion keeps looking back at old decades and past trends. The recycling of fashion, as well as beauty, in 2017 will be centered to the 1980s with influences of rock, denim and bigger is better. The idea of recycling is also reflected in the color company Pantone's choice of color for 2017; greenery. Greenery as in green in general and pea green in specific. The motivation behind is centered to the idea of green as a color of nature but also a shade for tranquility and new beginnings!
Fashion Trends
Stripes

are more classic than trendy, but if staying classic can be trendy – that's the melody for Spring. Stripes in any shape are accepted, but favorably in colors and more as in color blocking than identical. Doing stripes with anything denim and a bold lip is pretty much the one look you need to care about Spring 2017 if you ask me.
1980s

life is on! It's been a gradual process and embracement from designers, but the rock decade is here to stay for a few months at least. You're free to choose from whatever genre you like. From leather (rock), denim (functional) or oversized (office wear). Don't forget to add awkward colors as in neon or intense pastels!
Flower power

as in literal flower power of the late 1960s and early 1970s is back. By literal I mean that the flowers should be in a retro shape and touch. The 1970s are becoming more popular so it's only logical that the flower prints get their fair share too. See Chloé's collection here if you're uncertain.
Tees with prints/text

are back (have they ever been out of fashion though?). Make a statement this Spring by a text/quote you stand by. A graphic tee is a fun way of mixing things up but also a great way of declaring what you feel without needing to waste time on it. I have a crop top sweater with the words "why?" and I love to use it whenever I'm moody. (As in, why are you even talking to me right now?)
Catch full post on Fashion Trends Spring 2017 here!
Beauty
Smokey eyes?

No smudgy eyes are the way this year. The eyes should look a bit messy and you can create this look by one shadow and an eyeliner. The smudgy eyes comes with a touch of the 1980s and doing the look in black or dark brown is a hit!
Make life pop with pops of colors

. The no makeup makeup look is paired with color this year. Do the face as natural as possible and add a pop of color wherever you prefer. May it be a colorful eyeshadow, lipstick or cheeks. The touch of color should be intense and statement making. Red and pink are extra favorable, but touches of orange are trendy too.
The 1980s

leaves it marks on the beauty side of life too. Neon is embraced in makeup, where your ordinary eyeshadow should be changed to a touch of neon color. If you want to keep it safe, do your regular black eyeliner in a neon color, where pink is a favorite to do. You can also do it as Fendi, and create a color blocking pattern on the eyelids. Lips in statement colors as in mint blue and yellow can also work with a neon touch.
Braids

are more of style than trends this year as braids in any shape works. You can take braids bohemian by making them loose or you can go full on business preppy and make them tight and defined. Braids in buns are highlighted and so are french braids. Add a braid to make sure that you're on the trendy beauty side 2017.
Catch the full Beauty Trends Spring 2017 here!
The Fashion Weeks
(I was on vacation for PFW, so, uhm, that summary didn't happen)
Collections
Here are 5 different collections from the fashion weeks to get you all the nerdy detail life of the upcoming trends!
Well, hope you feel inspired/excited/whatever you want about the trends spring 2017! Remember though that it's about style, not trends in specific! Question is, what will you embrace/neglect this Spring?
Did you like this post? Hit the share buttons below!