Okay folks! Haha I thought it's about time to mix things up a bit and for once, talk about things I personally don't wear/avoid wearing. I'm humble though in knowing that the perception of fashion always changes, and what looks really fashionable right now is probably going to be a cringe moment in 5-10 years. Anyway, let's not take this post too seriously, it's just my unpopular fashion opinions 2021.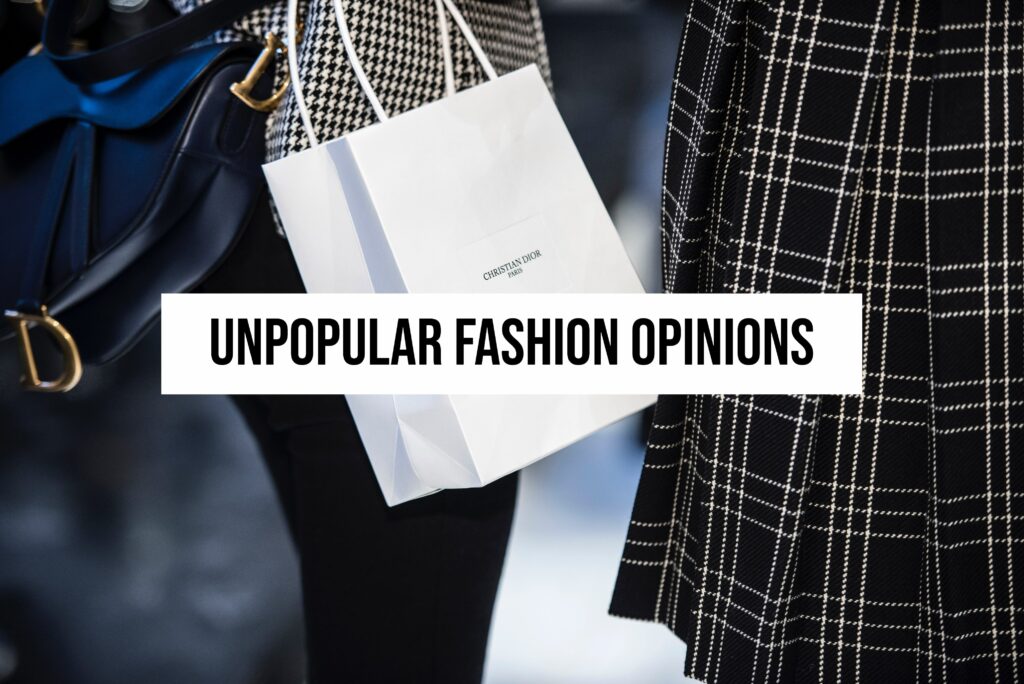 Unpopular Fashion Opinions 2021
Black with Brown
I know the old style rule is that you shouldn't wear black and navy blue together, but my personal pet peeve is black and brown together. This is kind of ridiculous as I do wear this combination sometimes, but I try to avoid it. I think there's something incredibly dull about this duo, and also something that's clashing; especially when the brown is a bit darker. Black simply doesn't make brown justice the same way that beige, camel and orange does. I don't however have a problem with black and brown in one pattern, so yeah, I'm not consistent with this one.
90s Office Wear/Street style
A really popular style right now are the 90s. The style is mainly split into two categories, the oversized pale 90s office wear and the street style fashion with baggy pants and fitted tops. I'm not a fan of either styles. I love the 90s for the minimalist items such as the slip dress, the slip skirt and cami tops; but I'm not convinced of the rest. The 90s office color palette is often rather faded, centring around white, beige, grey and lavender. I think the combination of a white shirt and beige blazer has a tendency to be incredibly dull, and throwing in some lavender is not making it better. As for the street style, I dislike low waisted baggy pants mainly because they're incredibly unflattering and…not aesthetically pleasing.
Skinny Jeans & Sneakers
So, I know. Skinny jeans and sneakers are such an iconic duo. Everyone wears it (not me), it's such a basic go-to look and it's kind of the everyday uniform. Why I don't like this? Well, I think it's something with the tight jeans and the, often, more chunky sneakers that just creates and unfavourable look. I mean, skinny jeans are casual and sneakers are casual, so it becomes just predictable and plain. I get it for the sake of comfort and wearability, but I prefer my skinny jeans with boots, slippers or heels. And my sneakers? Well, I wear them with romantic A-line dresses and puffy dresses for a clash. I understand if you think my option is way worse. I do have to say though that I love wearing my tights with sneakers, so maybe the problem is mainly about the denim fabric.
Crop Tops
I love the idea of crop tops and I own a few. I've worn them a few times too, but call me a fashion conservative, but I just can't pull it off. I haven't fully given up the fight yet, I'll try and find new ways of styling myself out of the problem, but it's a struggle. The glitch between my high-waisted pants/skirts and the crop top is just painful. I've tried and layered it with a slip dress, to avoid the glitch, but I think it looks too static? I think I would be better off with a cropped cardigan, rather than a puff blouse or fitted top. Hence, I love the idea of wearing them, so I'll continue the fight. 
The Baguette Bag
Lastly, is the baguette bag a good idea? I don't think so. They're tiny, they look a bit weird and they're probably too 90s for me. I do love a good crossbody bag, so I don't mind the petite style, but I guess I just don't think it looks good with a tiny bag hanging on the shoulder like that? If I'm gonna wear a bag on the shoulder it's going to be a big statement one, that's at least a bit practical. I think they can look good in flatlays and on Pinterest, but I'm not a fan of this trend in general. I'd love to be proven wrong though, so maybe in a few years you'll see me with one. Though it's to be stated that I don't think this trend is here to stay. 
Folks! What are your unpopular fashion opinions? Let's chat in the comments below! Can't wait to hear your thoughts! Xx