Another fashion week and another Monday for a collection review. Today we're going full British as in London's fashion week and a fashion show from the islands! Here's Mulberry Fall 2017 RTW. Catch the full collection here.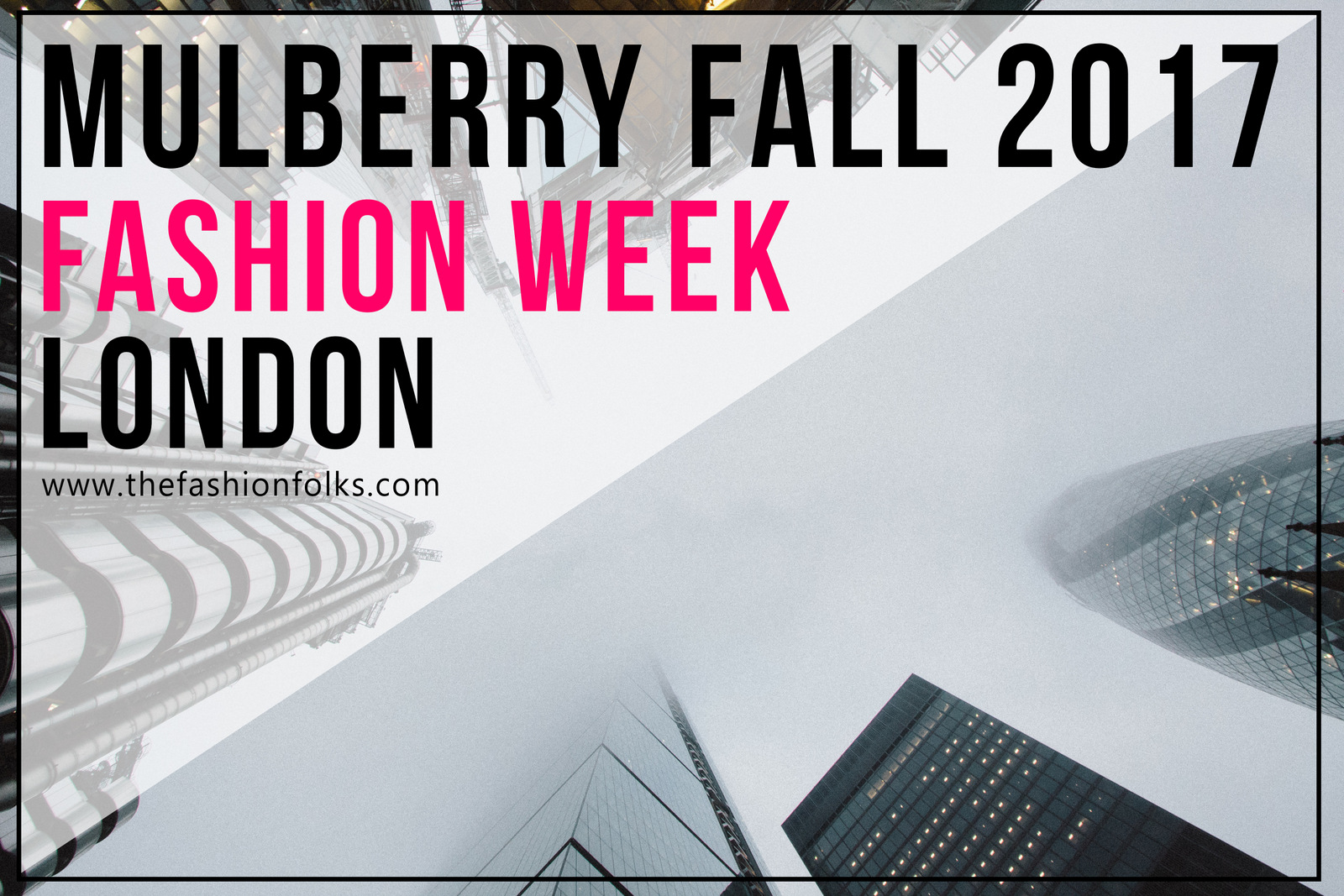 Details: Mulberry
Mulberry's tagline is "A new perspective on heritage"  (at least according to their instagram). The words couldn't be more true however, with a distinct touch of British fashion and culture – in all their collections. Founded in 1971 the company has seen the best and worst of British fashion. Spanning from the punk years of King's Road and expansion of british labels such as Stella McCartney and Alexander McQueen. Through it all, Mulberry has had a clear core of plaids, leather handbags, preppy and always dressed for a cup of tea (with today's collection being no exception). Creative director is Johnny Coca!
Mulberry Fall 2017 RTW
To a foreigner, the UK might seem like a place of gorgeous landscapes, terrible weather, old aristocracy, afternoon tea, posh people and adorable old ladies (only a part of it though). Mulberry does nothing to defy this idea however, but embraces it to its fullest length. For fall 2017, Mulberry ticked off classic british design features such as plaid, blazers, crochet, clothes for rainy days and old floral pattern. The collection lands somewhere between floral wallpapers in a room for afternoon tea and the UK postwar with a twist on dark colored office clothes. 
It comes with a lot of sets as in matching blazers and skirts, but also matching dresses and pants. The blazers have their fair share touch of the 80s and are somewhat oversized. There's also a lot of oversized ponchos that are quilted. Not to forget,  the ruffles that tunes out to excessive fabric of sleeves, ruffles and skirts (a big trend this fall btw!). The silhouette is pretty loose and even going on oversized. The preppy life exists in form of floral patterns, bows, crochet pieces and pastel colors going slightly metallic.
Thoughts on the collection
Are you familiar with the Cheerleader effect? Where a group is more attractive than the individual person? But the persons of the squad leads up to an overall gorgeousness? Well, a terrible and a somewhat sexist term, but the principle is applicable here. Mulberry presents a genius idea and a finished look, that for most part looks really good and charming. But when one studies the pieces and plucks the outfit apart, it fails to deliver the same stylish effect. for instance, I love the oversized quilted ponchos. I'd love to have one and take a nap in it. Perhaps its chicness though gets lost somewhere by not matching it with patent leather boots or a same colored blouse. See where I'm going?
Same goes for the floral dresses with ruffles, they're darling as only a cup of tea can be, but their styling options stays limited. Not to forget the blazers, I have yet to see someone pull of an oversized brown plaid blazer without looking like a fashion disaster. The ideas and looks of the collection are great though. The two first looks feels like a mix of "the British heritage" and modern femininity. The triangle shaped trench coat in a plaid pattern is a british classic. The two looks of brown and yellow floral/plaid pattern are also a great reflection of precise styling, but might not perform as well out of the context. Not to mention the dusty metallic pastels in floral patterns – lovely in the presentation but might look too much lady without the right styling.
The crochet dresses are either a love or a hate subject, but presents an adorable British afternoon tea look. Perhaps more cinematic than reality, but a fun play of idea. I have no idea what to say about the floral purple quilted oversized cape, but again to underline its coziness and my wanting of it due to its nap-ablitiy (an important word). The dark brown look with the manchester skirt (?) and scarf is a perfect reflection of casual chic, but its power is within the styling and not the clothes. I'll leave it to you to decide upon the 1980s pastel silk looks. However, some colors and combinations are better left in that decade – if I put it that way.
Conclusion
Overall though, I need the number to the stylists of the collection as I have a long list of looks I want with the exact clothes and accessories. It might not be a wearable collection in specific, but if you have a love for British fashion and odd clothes, this is the collection for you. Perhaps you'll find some charm in the ideas of fashion presented, but not in the specific clothes.
Folks, what are your thoughts on Mulberry Fall 2017? Leave a comment! Xx
Did you like this post? Hit the share buttons below!