As you know by know, we love to push fashion boundaries, and playing with patterns and colors is a big part of it. To some, wearing pattern at all might feel like a big step, but don't worry, we covered the subject here. To the rest of you, here's how to mix prints: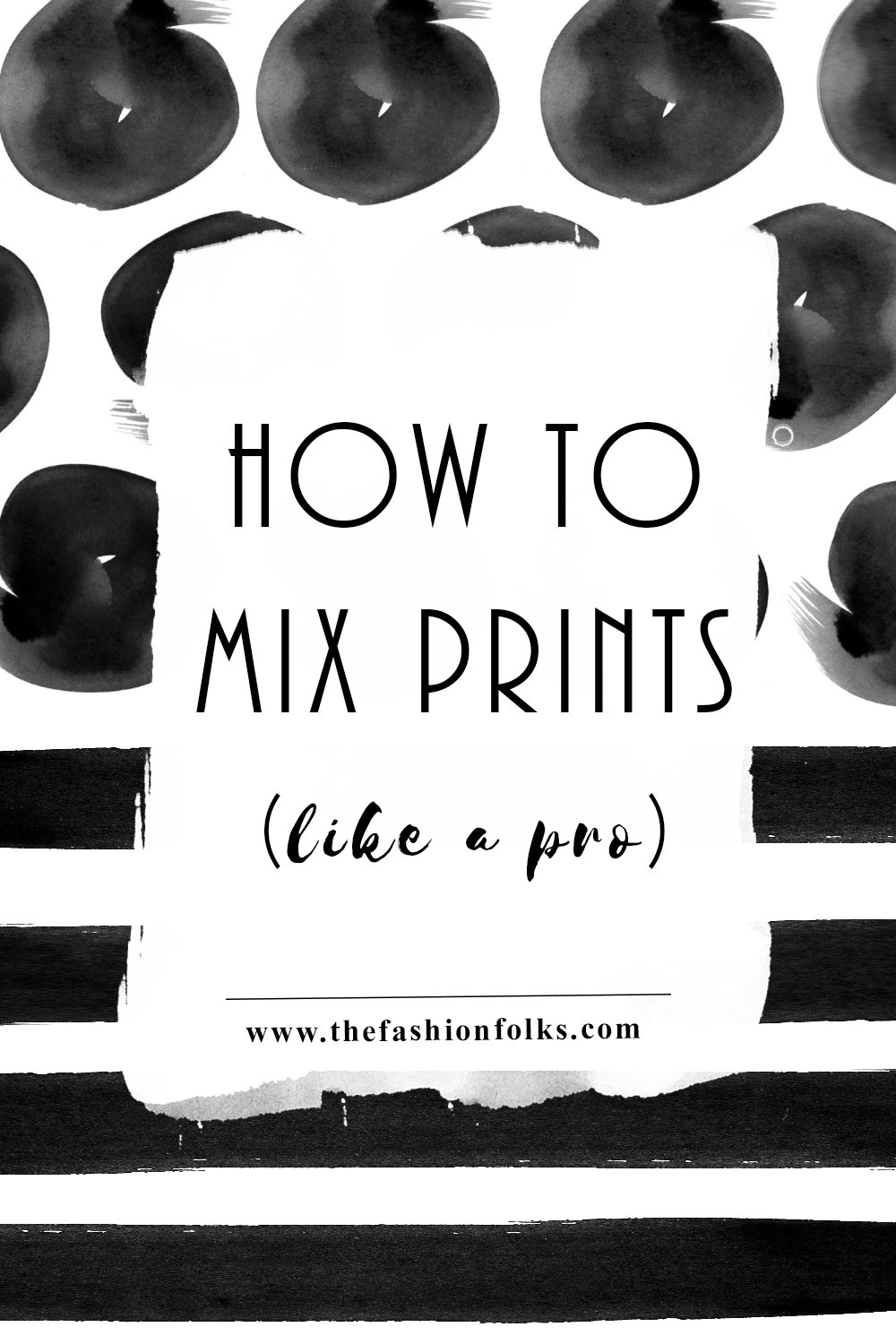 Why one should mix prints
To begin with, why should one even mix patterns with one another as one piece of it can be quite the statement? Well, there are several benefits, let alone the fun part of doing it. But matching and mixing prints makes any outfit look fashionable, with a little effort to it. Two or three patterns in one outfit don't need accessories, statement silhouettes or matchy details. The patterns are enough as they are. This leads one to days when an outfit can be done within the minutes, and you'll still look chic. Not to forget if you need to be dressed comfortable (but an outfit without details is boring) you can do the pieces in pattern and it'll be fun as it is!
Three Things To Think About
When mixing patterns, there is mainly three things to think about. Or three different ways of doing it. These are not exclusive fashion rules, and doing them other ways works as well, but these are some guidelines on how one can pull it off. But as always, we encourage you to go beyond and trust your fashion eye!
Keep them in the same color scale
As one pattern can be crazy enough for the eye to register, keeping the patterns mixed in the same color is beneficial. This will make the outfit look more pulled together, and the patterns will blend as one. If you can't do two patterns in the exact same color scale, we suggest that you keep at least two colors in common for the matching part. As humans register things that looks alike, the patterns will look matchy together, due to the common color. To make it even more difficult for you: 
Having the color base of two patterns as the same color, will make the outfit appear

softer

.
Pairing the color of the base with a same colored detailed pattern, will make it appear quite

balanced

.
Having two detailed patterns in common will make it look more

messy

.
Now we don't stress one to be better than the other. But if we're going to be harsh, the softer look is easier if you're just starting out. After that, you can work yourself up to a more messy look (aka go fashionista pro). 
Larger and smaller patterns
Another way to make a mixed pattern look work, is by focusing on the size of the prints. A larger pattern in combo with a smaller one will appear more basic and enhance the smaller print. This can be favorable to do when playing with silhouettes and body shapes. The fashion rule goes that smaller prints slims down and larger patterns makes it wider. If you want to enhance or tone down a body part, match it with a pattern of the wished size! And if you want to do both at the same time, well, go for a mix of prints!
Similar patterns
If the two pieces are similar in the pattern, the outcome is often quite genius. You can go basic with two different kinds of stripes, of why not two floral patterns? This also comes back to creating balance for the eye and make the patterns easier to register. Similar prints, or even the same, is a great way of doing sets of clothes. Like a blazer and some pants, or a crop top and a high-waisted skirt. They cover different parts of the body, but are united by the print and  will create a more coherent look.
Or….
Just forget everything we just said and match patterns that are completely different from one another. A colorful floral pattern usually works perfect with a simple striped piece, obeying the fashion rules that are. Contrasting patterns is bold and quite risky, so we'd suggest doing this when you're more comfy in wearing prints.
One last thing
A pro-tip that follows the last point is to have a third piece in a neutral color. This might be an accessory such as a belt, or why not a blazer or a scarf?  Having a third piece in a neutral color, will "smooth" the mixed patterns, but still keep the balance right. 
And that's a wrap folks! Hope you enjoyed the post, leave a comment on your best tips, and if you want to read more of these posts, let me know!