What's a better way to start the weekend than to cozy up with this summary of MFW September 2019? There were a lot of interesting looks, trends and collections this year and definitely a lot to talk about. I do think that MFW is the second best of the four weeks, with PFW as number one. Perhaps MFW didn't prove their worth this season though, but the level of fashion is still really high. Here's some highlights from the week as well as some trends: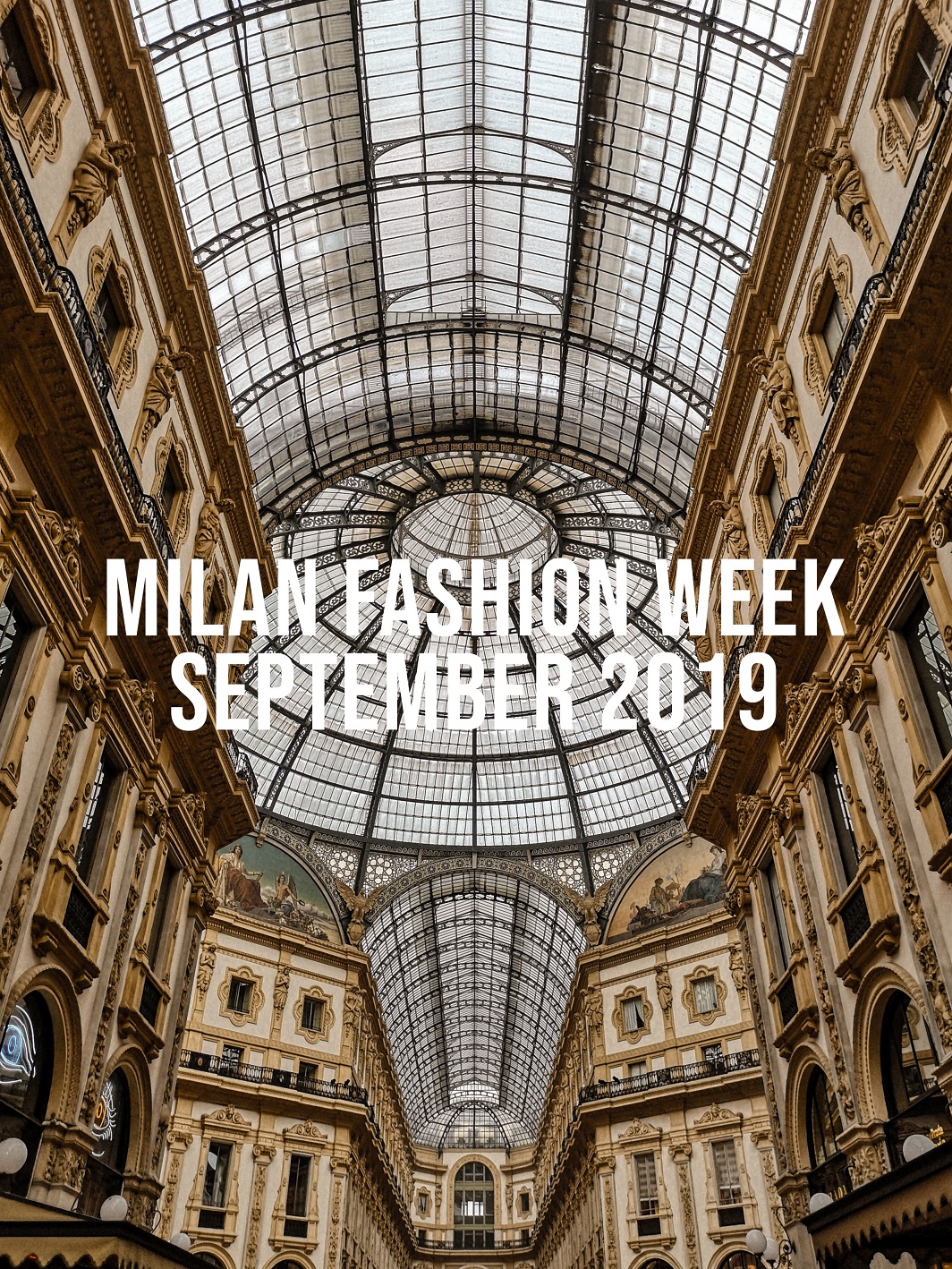 Highlights from MFW September 2019
Alberta Ferretti
If you want to take a trip down the memory lane of the 1970s' fashion, Alberta Ferretti SS20 is where you should look. The collection is full of vibrant colors, prints and materials. From orange to brown, red and yellow – it truly embodies the colors of the decade. I love the use of denim in the collection. Although it's a version of a 1970s fashion, it feels innovative and relevant. This denim jacket is for instance modern and retro with the color blocking, the length and the pattern. See the full collection here, it's a gem!

Sportmax
I've always had a soft heart for leather details. It's something with the distinct contrast, the function and the unexpected twist that is appealing. Sportmax took this and embraced it fully in their SS20 collection. Sophisticated dresses with leather collars and belts like this one and this one are stylish examples of this. The tops of the collection are interesting with their highly structured look. I also appreciate the colors of the collection, they feel classic but refreshed in their new look. Catch the full collection here.

Moschino
Moschino has a quite interesting concept going on with one distinct theme per season. It's not always as successful as it could be, it's highly entertaining with the artsy, extravagant, lively looks. This season's theme was art in general and Picasso in specific. These looks are far from being wearable, but definitely worthy of the spotlight through their infusion of fashion and art in the most simple form. There are several looks from the collection that are more or less genius on the literal theme "art x fashion". This music dress is one example, this frame dress is another and not to forget this one. Get your dose of inspiration here. 

Trends From MFW
Jungle Life
I don't know if you remember but some years ago, a jungle fashion was quite trendy. With tropical patterns, clothes in earthy colors and functional details. Well, according to some of the designers of MFW this trend might already be making a comeback. A lot of earthy colors of olive green, brown and beige was done. Tropical patterns such as palm leaves, tropical florals and birds were also presented. This trend is undoubtedly a vibrant one with tones of green, beige and brown but also orange, red and pink has highlighting colors. Dolce & Gabbana, Peter Pilotto, Tod's and Versace were some designers that presented this trend. 

Updated Workwear
I wrote about Agnona's office wear-look in this article and it turns out that several designers had the same idea. With updated workwear I mean traditional workwear of pencil skirts, shirts, blouses, blazers and pantsuits that were done in modern styles. Some deconstructed, some in trendy colors and others in glossy materials. This trend can easily be recreated if you take your ordinary go-to office clothes but add interesting materials or change a piece or two for something more trendy. Perhaps leather leggings to go with your classic white shirt, or why not add an oversized blazer to your LBD? Armani, Max Mara, Gucci, Versace and Prada all embraced an updated workwear look.

Soft Blue
If we're gonna talk about colors from MFW, I'd say that blue and different version of it was the most common color. Agnona did some 80's mint blue looks and this color popped up in others collections from MFW. I'd say though that the most common color was a soft blue. Both dove blue but also a pale sky blue. Several designers went for this look, often as a highlighting color rather than the primary one of an outfit. Salvatore Ferragamo, Etro, Blumarine, Tod's, Bottega Veneta, Max Mara and Armani were some designers that went blue this season.

Thoughts on MFW
So what about MFW this time? Well, I thought it was okey. No more, no less. Many of the collections were well designed as always and it was a favorable mix of Italian design, contemporary trends and new ideas. I'm not too sure in specific what the week was lacking, but perhaps the absence of memorable collections? I know a lot of people found Max Mara, Bottega Veneta and Missoni to be some of the best collections. I'm not the one to bring down the party mood, but I thought they recycled the same aestheticism they've had for years. I wouldn't say that their SS20 collections in specific were groundbreaking, but well-executed as always and perhaps therefore the praise. Moschino was of course memorable, but not in the context of wearable, next-level fashion, but more for a memorable idea itself. Overall though, it was a week of wearable, realistic fashion done classic and modern ways. And that's always a good recipe for inspiration! 

Folks! What are your thoughts on MFW September 2019? Let's chat in the comments below Xx