What's a better way to start October than to summarize MFW September 2018? The Italian city brought a pleasant mix of traditional, classic, fashion and upbeat, modern, looks for the everyday life. Perhaps that I favored specific looks from a lot of different collections, rather than finding one collection as an entirety to be brilliant through and through. Anyways, let's dissect and discuss MFW September 2018: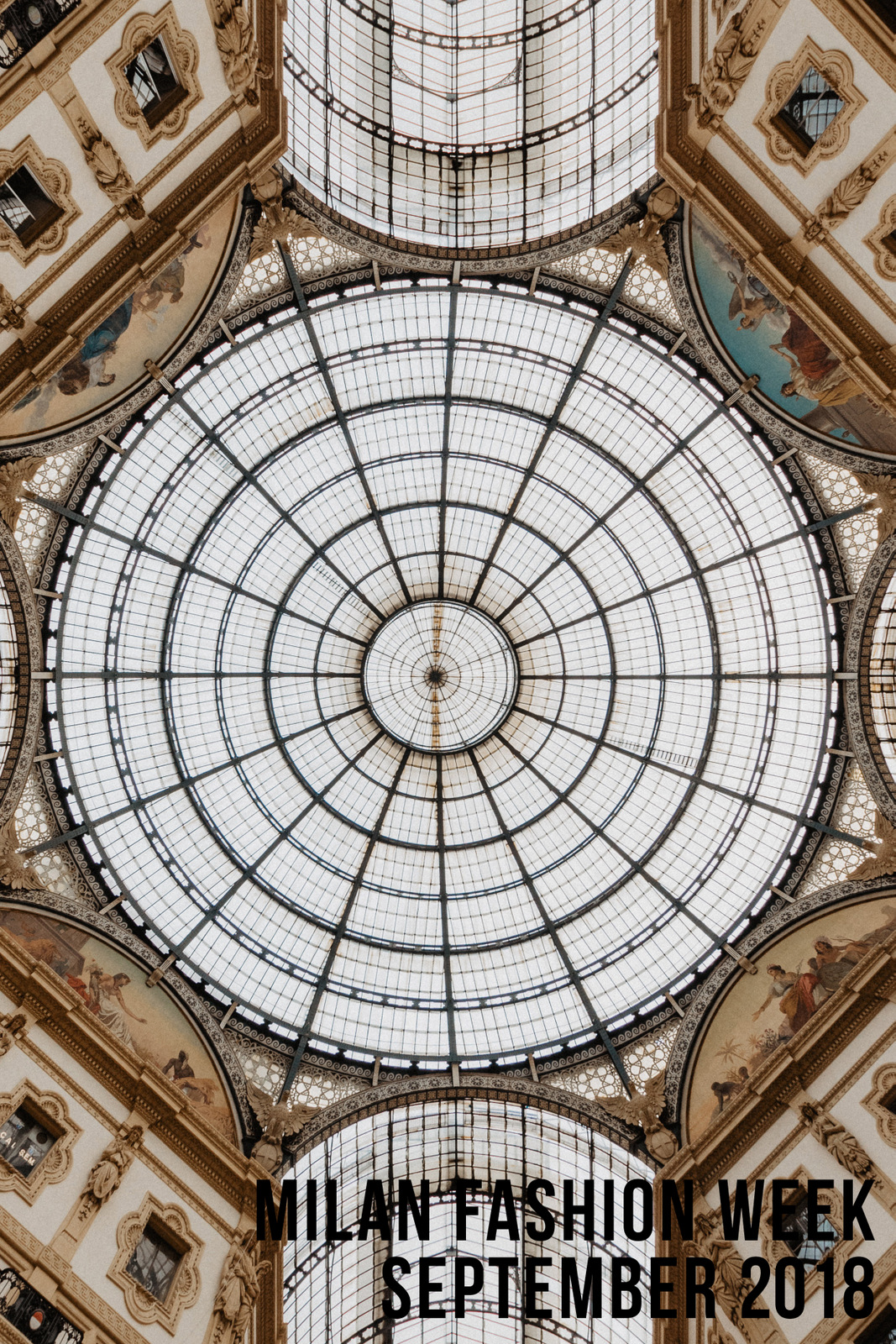 Photo by Fernando Meloni on Unsplash
Highlights From MFW September 2018
Prada Spring 2019
You can tell Miuccia Prada has been in the business for long. She just simply knows the ways through finding her own tune whilst serving new and captivating looks. Prada Spring 2019 celebrated a 1960s fashion done in a modern perspective. Details, silhouettes and materials felt vintage, whilst the looks when put together presented a more upbeat style. It was short lengths, leather, statement sunnies, shirts, layering and a lot of black. If you only gonna see one look, this one sums up it so well. Here's the full collection.
Calcaterra Spring 2019
My heart skipped a beat when I saw this look from Calcaterra Spring 2019. That mix of colors, materials and texture is just perfection down to its core. I love that the glossy fabric is fused with the sporty style of the sweater as it creates a nice eclectic look. The many elements that are being balanced shows a precise way of knowing what to mix and when to do so.  The rest of the collection perhaps doesn't reach the same brilliance, but is overall pretty good with the carefree, lazy, yet stylish, vibe. See the full collection here.
Dolce & Gabbana
If you need to feel the joy of fashion, you only have to take a look of D&G Spring 2019. It's full of livly details, vivid colors and prints full of energy. Though D&G has a melody they tend to stick to each year, they certainly have found a really favorable and likable one. It's explorative, challenging and just beautiful. A lot of gold, embellishment, floral fabrics and voluminous clothing pieces. I think this look in specific is such a beautiful one from the collection. Gorgeous balance of colors, different textures and such a nice hue of green. See the full collection here.
Trends From MFW September 2018
Details of Draping
There's something really simple and sophisticated with draped clothing. It's often really flattering, the fabrics are often light and flowy and there's something timeless about it (no wonder though as the technique is ancient). Several designers added some details of draping to their collections this year. Giorgio Armani, Emilio Pucci, Erika Cavallini, MSGM, Emporio Armani, Alberta Ferretti and Dolce & Gabbana all went for the classic style. Quite sophisticated to go for that look for spring if you ask me. A more soft style of the pleated elements that have been trending for some seasons now.
Explorative Fashion
One of the biggest trends this year is the "ugly" fashion. It's about breaking traditional fashion rules, pairing difficult colors and going for the "more is more" look.  This style of fashion will continue to be explored and expanded next season. I like to call this style explorative fashion, as it breaks the lines of the comfort zone and is okay with fashion looking a bit ugly and too much. Etro, Iceberg, Marni, Versace, Moschino, Prada, Giorgio Armani and Anteprima did all go for that over the top, crazy, look. The best thing about this fashion is that you can try it yourself, it's just about daring. Dare to mix those colors, those elements and add the final detail. Start small with only one element that's out of your comfort zone and slowly build up towards a fashion that's explorative and breaks the boundaries of your comfort zone.
Earthy Colors
One aspect of the colors that are trending next year is that they're loud and vibrant. Milan fashion week seemingly had another idea of next year's colors; it was all about the earthy colors. Olive green, off-white, camel color, dove blue, brown and copper. It's sophisticated, a bit bohemian and in line with the natural style. Fendi, Missoni, Roberto Cavalli, Max Mara, Salvatore Ferragamo, Erika Cavallini, Philipp Plein, Sportmax and Calcaterra were some designers that went for the more natural look. What I love about this trend is that it's sort of foolproof. All the colors within this style can be matched with each other which is why you can't really do it wrong.
Street Style of MFW
As always, the street style of MFW September 2018 did not disappoint. It was vibrant colors, pantsuits, some 1980s and a lot of monochromatic looks. I love the one colored pantsuits, as well as the vibrant yellow dress. Also the second look is really lovely, that light and warm shade of brown is so good with the fall fashion!
Thoughts on MFW
Overall, I liked MFW this season. It was a lot of interesting perspectives and different styles – which I always favor. As stated above though, it was more about the brilliance of individual looks than entire collections. Perhaps it's just me that's overanalyzing collections as always, but I thought a lot of the collections lacked in refinement all the way through. Many of the looks felt lazy or just straight up boring and forgettable, whilst other looks in the same collection were perfected to their core. What's the best thing with MFW though is that it's one that's reliable. You know that Prada will present something new, that D&G will do its same old but do it good. Max Mara will embrace the classic office look whilst Moschino will be an artsy and demonstrating show. It might seem a bit too predictable at times, but it's not always a bad thing. If anything it paves way for less known designers to step up their game and do something memorable (like Calcaterra). I also must say that I really appreciate that a lot of the Italian designers always dare to get uncomfortable with colors and prints, daring to challenge fashion norms. We need more of that!
Folks! What are your thoughts on MFW September 2018? Let's chat in the comments! Xx