And it's time to kick-off this weekend with the latest fashion from MFW! The Italians are always presenting well-designed, thorough, timeless collections with lots of tailored, fitted pieces in classic colors. MFW is promoting a more mature fashion compared to the vibrant street style vibe of NYFW and LFW. MFW's melody is perfectly in line with Italian design in general, of tailored clothing pieces, durable materials and timeless designs. MFW February 2020? Well, it delivered the Italian dream indeed! 

Highlights From MFW February 2020
Plan C
I wrote about La DoubleJ earlier this week, but almost chose Plan C instead. Plan C was also done as a photoshoot instead of a runway show. What I love about the collection is the mix of sporty, minimalist, retro elements. The colors are a perfect match for the simple designs, such as this green set or this pink jacket. The color palette of brown, blue and white is another genius one and one that's very retro too. I love the layering of this look, the knitted scarf is such a fun an unexpected element to the timeless brown coat. What perhaps takes this collection to the next level though are the bags, especially the oversized bag with a woman motive. They're retro, they're statement and their vibrant colors are complementing the clean sporty, simplified, design. See the full collection here.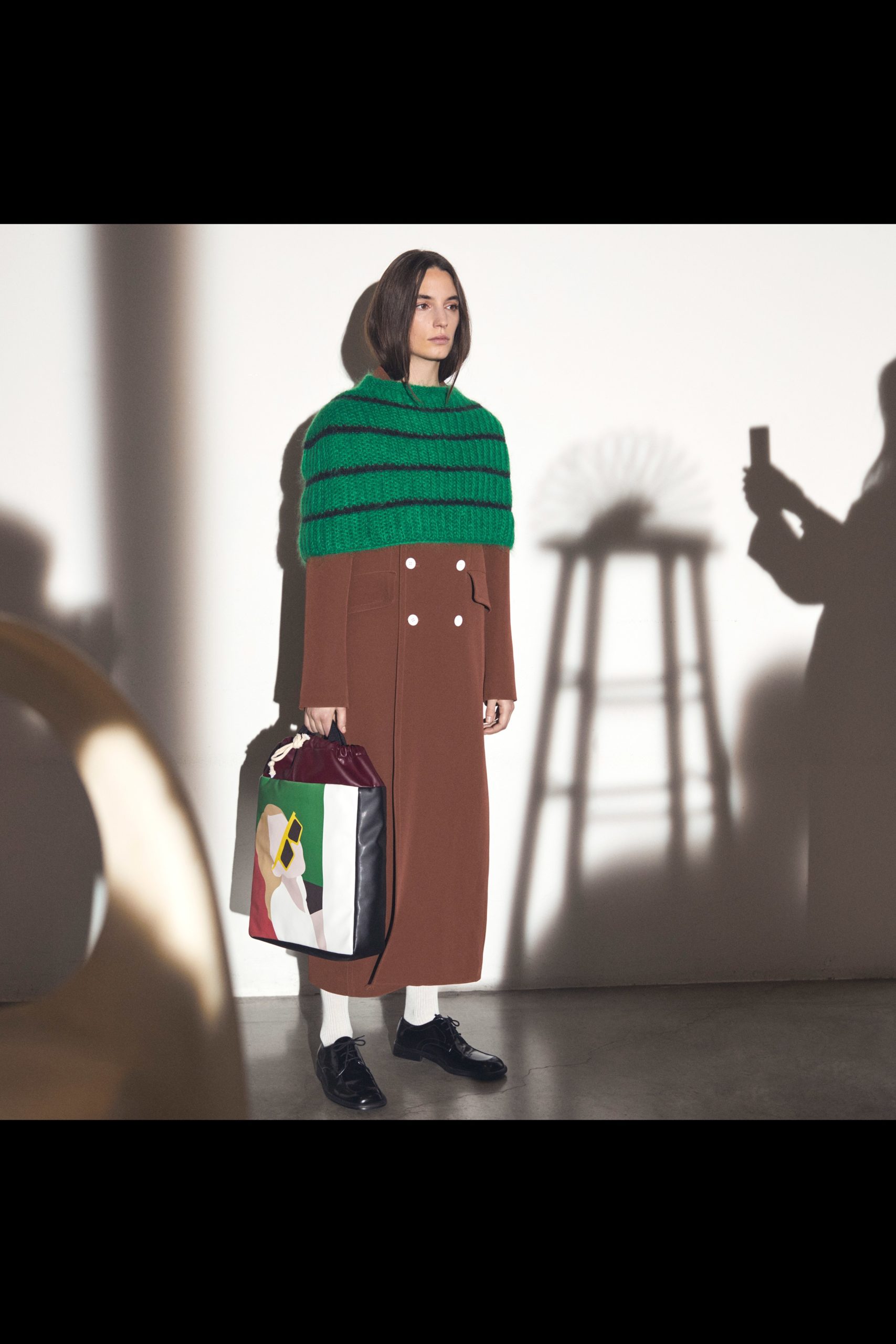 Sportmax
Another brand that delivered was Sportmax. The label also went for the same classic, fitted, design but with more edge. The attitude of the collection was much due to the excessive use of leather and patent leather. Leather boots were in specific a popular element and made up for some of the collection's best looks. This monochromatic outfit is an example of this, and this grey look is another one. Love the intensity of the contrasting materials with the delicate silk and the bold leather. This outfit and this one are two examples of when a "dull" material is intensified by the complex leather. See the full collection here.

Jil Sander
It might well be that Jil Sander is one of the best in the business to design collections that are a perfect mix of timelessness, femininity and sophistication. The best part about it is that the wearability of the collection is often high, as the playfulness and expression lies within the details and not the entire looks. Take this look for example, the buttons are creating a chic detail, but the clothes themselves are pretty wearable. Or this leather outfit, the material might be a statement but the color and the design of the clothes are neutral. There's this constant balance of significant details and wearable design. My favorite looks from the collections are the pale pastels however. This bright yellow is divine, gorgeous with the bold red lipstick. This layered yellow outfit is gorgeous, as well as this blue one. Love how delicate the colors are. See the full collection here.

Trends From MFW February 2020
It-Coat
One of the biggest trends from MFW are of course the coats. I'd even say it-coats as this classic clothing piece was done in patterns, embellished and statement materials. The coat is a pretty good representation for Italian design as it's tailored, timeless and quite often unisex. The clothing piece fall 2020 is everything from colorful to voluminous, with statement sleeves or oversized collars. In other words, you can definitely find a style you'll like! Max Mara, Versace, Dolce & Gabbana, Tod's, MSGM, Philosophy di Lorenzo Serafini, Missoni and Agnona were some designers that went for the it-coat style. 

Brown Materials
Brown is one of the biggest colors right now and will continue being so according to MFW. The neutral color was mainly done in statement materials such as leather and suede. Brown was also common for knitwear, patchwork and even crochet. What I like about this color is that it's neutral and easy to match with other neutrals, pastels and neon. I specifically like brown with camel, orange, gold and animal patterns such as leopard and snakeskin. Jil Sander, Marni, Sportmax, Tod's, Agnona and Salvatore Ferragamo are examples of designers that embraced brown. 

Pastels
Although this fall will be all about the neutrals with lots of brown, beige and black – another major part are the pastels. Both pastels that are a bit faded, as seen at Jil Sander, but also more intense pastels that are more retro in their style. Mint green, lavender, taffy pink and baby blue are examples of popular pastels. I'd say that a baby yellow and a taffy pink are especially trendy, embracing that youthful, energetic vibe of the 1960s. Gucci, Prada, Jil Sander, Plan C, MSGM and Salvatore Ferragamo are all going for that retro pastel style. 

Thoughts on MFW
So what to say about MFW at last? Well, perhaps the fashion week won't go down as the most memorable one in the history. Moschino, Versace and Dolce & Gabbana are brands that normally represents a more playful, memorable, fashion of Milan, but all three brands were pretty anonymous this season. Perhaps not Moschino, that worked a 18th century rococo fashion, but something felt off with the collection. Perhaps that the rest of the collection was quite predictable after the opening looks? I'm being harsh, but it's a subjective review after all.

There are 5-7 brands at MFW that all are working a fashion of timeless looks, unisex, minimalism and a mix of robust and femininity. They're all talented at what they're doing, but it's honestly not that easy to tell the collections apart as they're all going for the same look. The style I'm describing is Italian indeed, but it shouldn't stop these brands from infusing other styles and elements. Prada is quite good at mixing up classic Italian design with more retro, artsy and playful elements. Perhaps it wasn't as successful as normal this season, but there were a few looks that were quite interesting and innovative. Overall though, I like the high level MFW is maintaining although the brands' identities were a bit anonymous and predictable. But it is to stress that the fashion presented was a perfect fit for fall with brown, leather, coats, layered looks and focus on contrasting materials. I'm not gonna say no to that, but I'd like to see more of a playful fashion with more colors, prints and intriguing details that are taking timeless fashion to the next level. 

Folks! What are your thoughts on MFW February 2020? Did you have any favorite from the collections? Xx