Another Monday and another fashion week to summarize. I might be running a bit late on this summary as MFW February 2019 wrapped up 1,5 weeks ago, but oh well – better late than never! Milan fashion week wasn't anything too crazy and pretty forgettable if you ask me. I wouldn't go as far as saying that it was dull, but it wasn't that entertaining either. I honestly think that Vivetta, which is a pretty anonymous label, had the most interesting and innovative collection (which I reviewed here). But there were, of course, some notable moments too that I've tried to pin down below!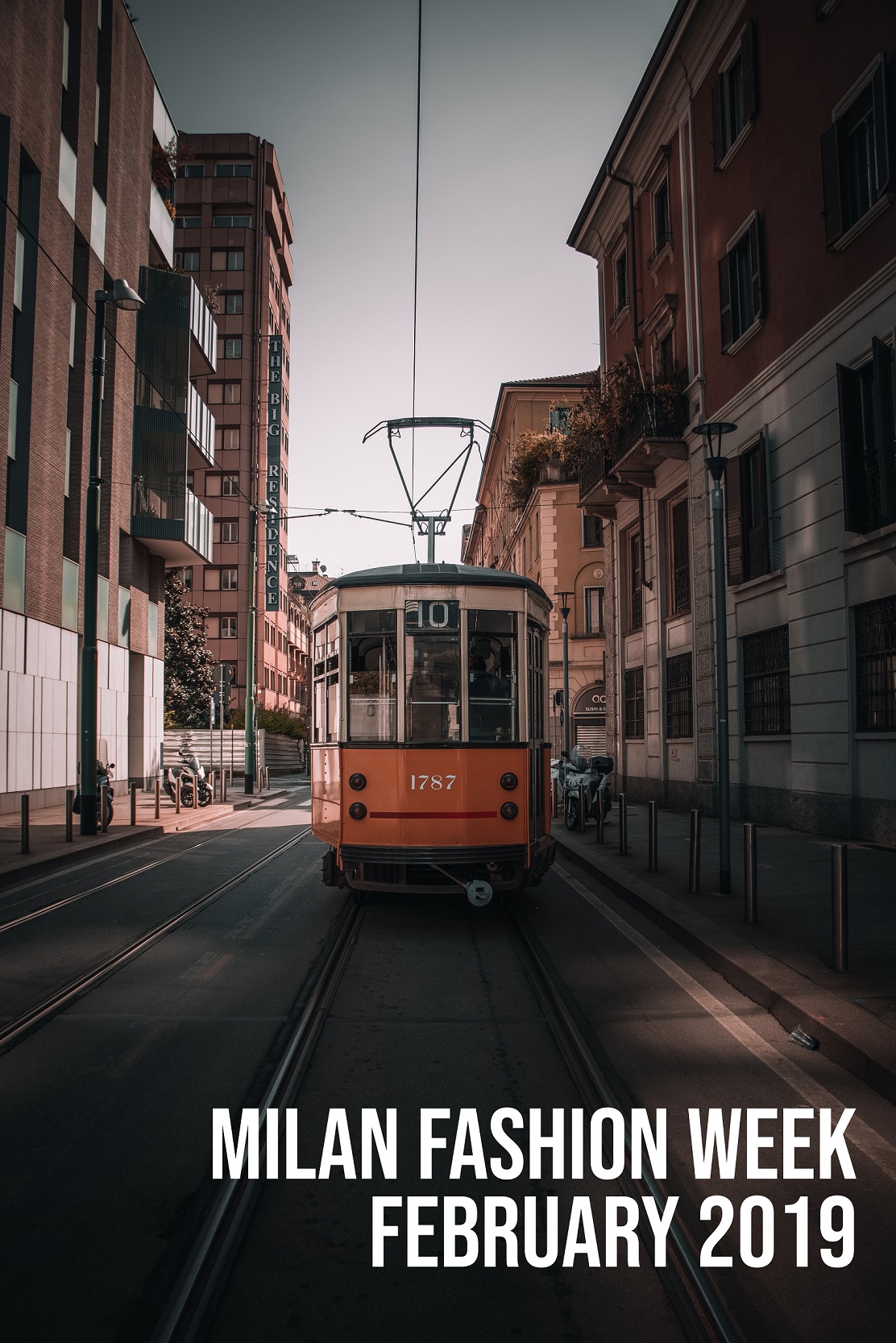 Highlights From MFW February 2019
Max Mara
If you wanna see a collection that pretty much summarizes the current trends and the upcoming fall trends 2019 – Max Mara fall 2019 will pretty much be your best friend. The collection does everything from maxi layering to monochromatic, OTK leather boots with knee-long clothing pieces. Camel, off-white and awkward turquoise. Statement leather pieces and some animal prints. Folks – it's all in there. The collection is overall pretty clean, layered and elegant. I'm crushing majorly on these looks, this is what I want to look like this fall! Catch the full collection here.

Moncler 1 Pierpaolo Picciolo
Can this be true? Winter dresses? Like, actual winter dresses? Well apparently, because that's exactly what Picciolo x Moncler is about. It's innovative, it's entertaining and it's pretty beautiful too. Picciolo has translated the design he does for Valentino and combined it with a very elegant winter fashion. The result is dramatic winter dresses in fairly dove colors. The dresses are further elevated by the beautiful presentation, creating associations with a more aristocratic society. See the collaboration here!
Luisa Beccaria
As many of you know by now, I love when there's a specificity with colors. The more unusual and specific ones, the better. Perhaps the colors of Luisa Beccaria fall 2019 aren't that unusual but oh so specific and maximized of their fullest potential. The olive green with the ocean blue is really favorable. The teal blue is perfect with the velvet material. And this dark coral dress is genius with this silky, but heavy, dress. Just a really delicate, petite and wearable collection with an appreciated focus on the power of colors. I do think it's often easier to reflect over colors' powerful qualities when it comes to brighter and more bold shades, but it's equally true for the more dove shades. Catch all the looks here.

Trends From MFW February 2019
Bright Neutrals
If there's only one trend you should know about from MFW February 2019 it's the trend of bright neutrals. Often done monochromatic and in combination with some leather, the bright neutrals are mainly centered around camel, beige and off-white. Perhaps not the easiest colors to deal with for fall and winter, but nevertheless wearable ones as the colors are timeless. Coats, jackets and cardigans where extra popular to do in the bright neutrals. Sportmax, Max Mara, Alberta Ferretti, Blumarine, Gucci, Fendi, Tod's and Salvatore Ferragamo were some of the designers that embraces this trend.

Effective Leather
Perhaps (faux) fur has been dominating the past seasons, but this fall it's time to bring back our leather pieces. Leather for fall 2019 was used effectively as jackets, skirts, pants, boots and accessories. Sometimes as classic, matte, leather and sometimes done as patent leather. The idea was pretty much the same though – use leather to intensify the outfit. I'd say that the OTK leather boots with the monochromatic looks (as embraced by Max Mara for example), was perhaps the most common look. Or contemporary one at least. What I like about this trend is that it's highly wearable as all of us more or less owns at least one (faux?) leather piece. Some designers that went for the effective leather look in their fall 2019 collections includes; Bottega Veneta, Prada, Fendi, Tod's and Roberto Cavalli.

1970s Mood
So the 1980s have been dominating for quite some time now and the decade that might be up next for inspiration is the 1970s. If you haven't figured it out yet, fashion is pretty much repeating the decades of the 20th century. When one decade has been done, it's time to move over to the next one. And when all of the decades have been done, you start from scratch. Well, cynicism aside, the 1970s mood is a pretty bohemian one if you ask me. Or at least according to Etro and Missoni. Salvatore Ferragamo, Roberto Cavalli and Fausto Puglisi went for more contemporary and upbeat 1970s elements. The common core though is to focus on the 1970s prints, such as the animal prints, the paisley patterns, retro florals or distinct color combinations in symmetric patterns. This trend is perhaps more of mini one in comparison with the other two though, but nevertheless a relevant one.

Thoughts on MFW
Well apparently the roles are reversed in the fashion world. Because if I was positively surprised by NYFW and LFW, MFW was pretty disappointing. I thought the collections were pretty ordinary and quite similar too if I'm gonna be frank. Nothing too memorable but nothing particularly bad either. There were a lot of monochromatic looks (like a lot), a lot of neutrals and a lot of trends we've already seen being done. I think MFW struggled this year with predictability as the brands have a pretty distinct aesthetic they religiously follow. Gucci did Gucci, D&G did D&G, Emilio Pucci did Emilio Pucci etc. I think there's a fine balance of staying true to your design vision but also push those boundaries and find new ways of interpreting the design profile. This wasn't done enough this year at MFW, which is bound to leave to disappointment as the designers of NYFW and LFW presented new ways of the old fashion. As MFW has a really high level of fashion, with a lot of interesting and different brands, it would've been fun to see how the Italian designers would've taken the 1980s trends to the next level. Or done something completely new. Well anyways, I should also point out that I wouldn't be this critical if it was NYFW/LFW that would've done this as it's still pretty wearable, stylish and the very core of Italian design; luxurious, simple and relatable.

Anyways, folks, what are your thoughts on MFW February 2019? Let's chat in the comments below! Xx