Folks! Although the fashion weeks ended a couple of weeks, there's still a few posts left concerning the fashion month. Two of them are previews of the trends we'll be seeing next year! I know it's a lot to catch up on, with the fall trends being as relevant as ever, but it's a fun way to know how the fashion will evolve and also have something to look forward too! Here's preview of the makeup trends spring 2019: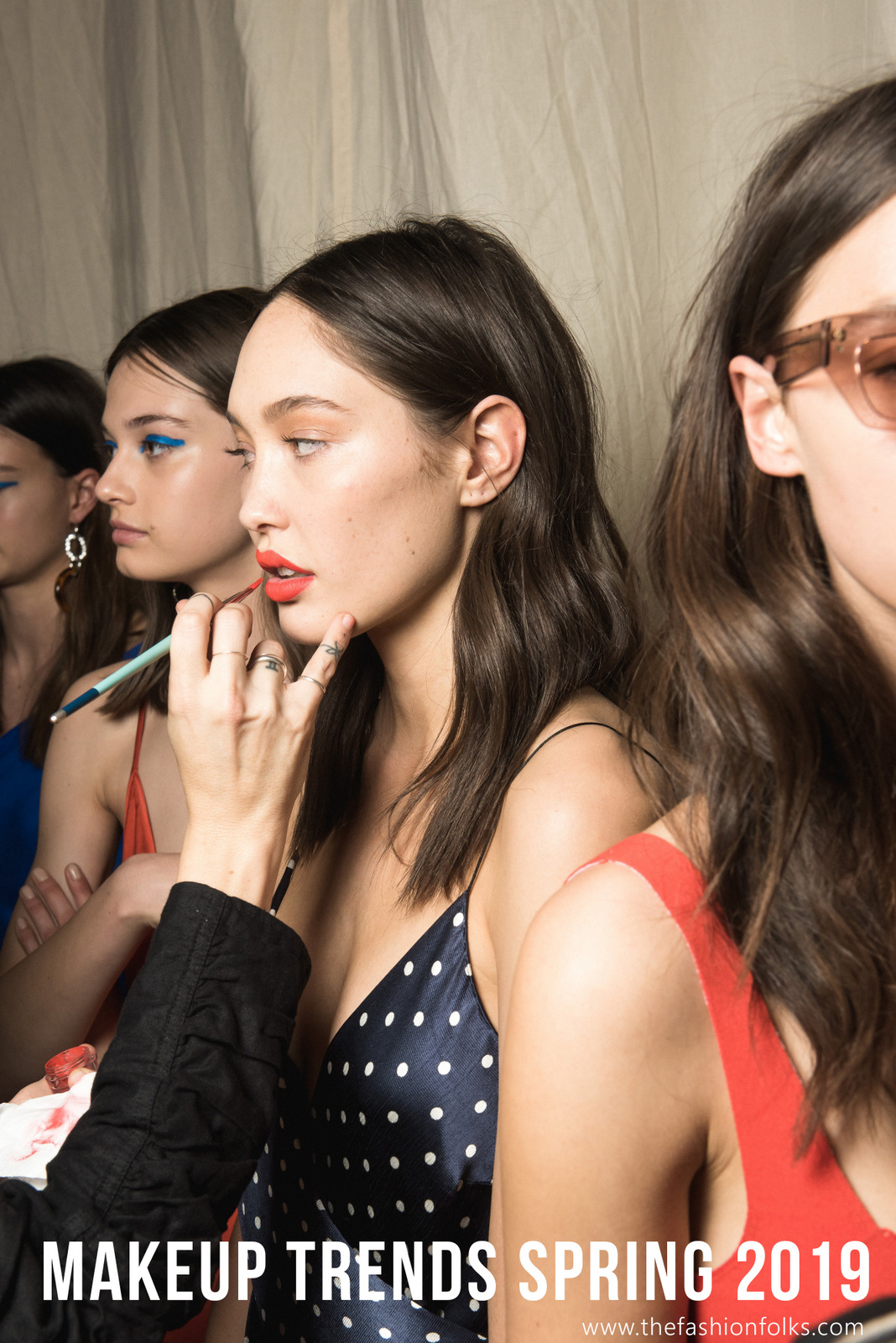 Photo by Flaunter.com on Unsplash
Makeup Trends Spring 2019
One Colored Eyeshadow
If you're struggling to keep up with the colorful fashion life, perhaps experimenting with colorful eyeshadows is more of your thing? Going for one colored eyeshadow is a major trend next spring. Not only bright neons and pastels, but also classics of pale pink, peach, grey and black. The makeup look is fairly simple compared to the more advanced looks that's popular on Instagram. To succeed with the look you need one, or perhaps two, shades in the same color and apply on your eyelids. It's only favorable if it looks a bit chunky and irregular, as this too is a part of the trend. Peter Pilotto, Christian Siriano, Erdem, Brandon Maxwell, Marc Jacobs, Carolina Herrera, Alice + Olivia, Rodarte and Missoni are only some of the designers that went for the look.
Red Cherry Lips
Red lips are always in style, but with all classics they slightly change appearance each season. Next spring the red lips should be bright, glossy and popping. No dark and dramatic fall lips here, but intense and lively spring lips. What I love about this hue of the red lips is that it adds so much life to one's face and outfit, which is what we all need for spring. Such a cute one to match with the pastels, a dusty pink or lavender? Escada, Rodarte, Naeem Khan and Ryan Lo were some to work the bright lips!
Light Blush
A recurring word within the beauty world is fresh. You should look summer fresh, fresh for fall, during the holidays and definitely for spring. Looking fresh is about having a polished skin, some healthy glow and rosy cheeks. The light blush look with a perfected base is trendy next spring and should be as natural as it gets. The blush should look natural, be very light and match your eyeshadow/lips. One way to achieve this look is to be very light on your hand or swipe one extra time with your brush to make sure you get a natural result. Take a look at Kate Spade, Longchamp, MSGM, Vivienne Hu, Oscar de la Renta, Marc Jacobs or Badgley Mischka to get some inspiration!
Folks! What are your thoughts on the makeup trends spring 2019? Let me know in the comments below! Xx