Folks! Get that British cup of tea going cause' this post will be all about London Fashion Week September 2017 that wrapped up earlier this week. As always, I have some things I loved and other things I didn't like as much. But let's analyze the problem of LFW later in the post, first we're about the hit the good stuff. Here's a summary of London Fashion Week September 2017!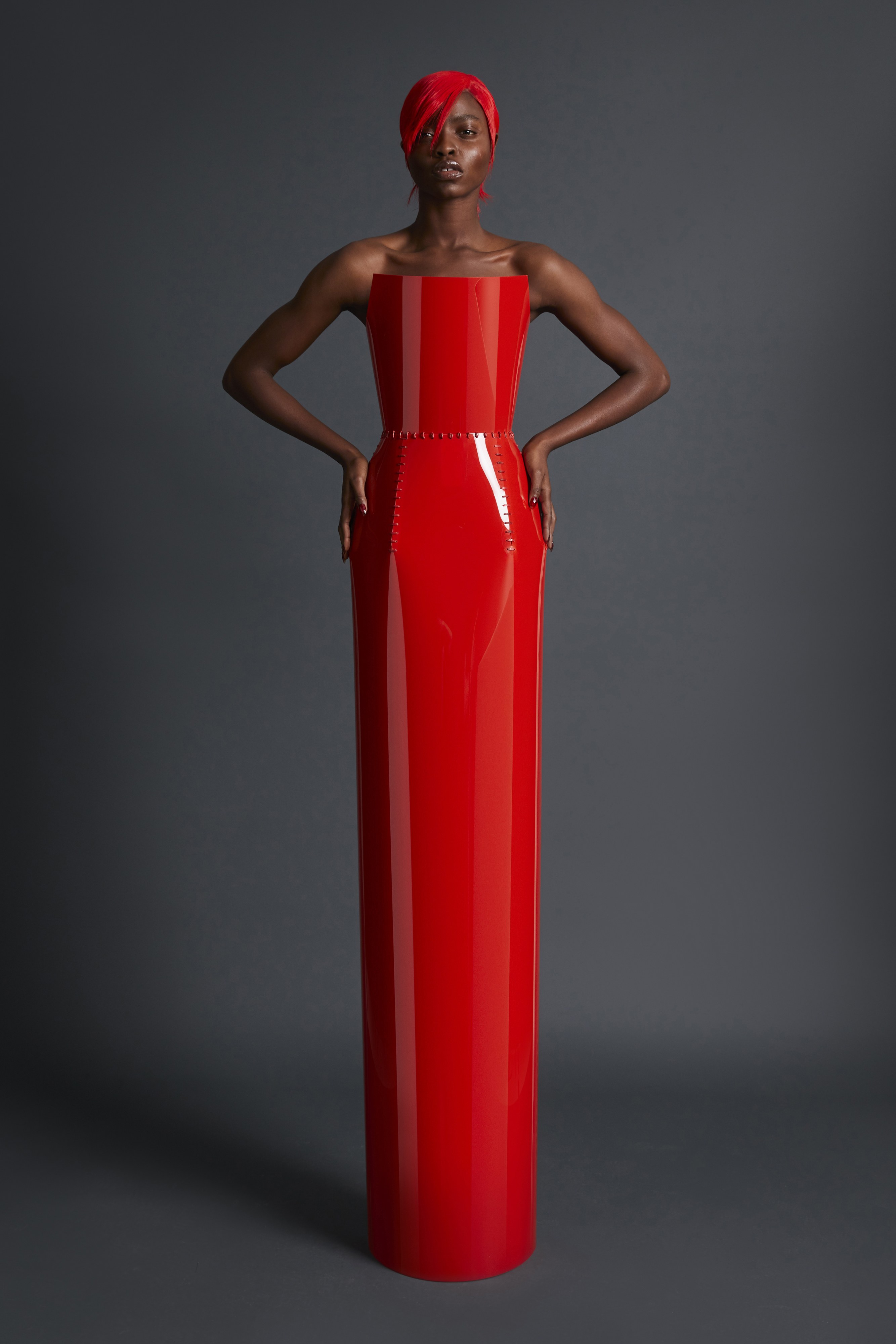 Courtsey of Gareth Pugh – SS18
Highlights From LFW
Mary Katrantzou – The greek designer was the subject of choice when I did the collection review earlier this week. If you need a proper dose of youthfulness, colors and energetic prints – catch the review here!
Burberry – Perhaps LFW didn't deliver the traditional British fashion we love to adore, but Burberry is always bringing the game. Plaid, trench coats, knits and layers – you name it. I absolutely loved this look as well as the idea behind it. A transparent jacket over a knitted sweater? Just sign me up!
Christopher Kane – I might be in my early 20s but I've seen a lot of fashion in my life. With that said, I love when I see a look and think "this feels new". Kane had several looks (in the same style though) that felt new. This yellow thing, this black gem and this red one? Love them!  Catch the full collection here.
Anya Hindmarch – I don't know who is responsible for the color scheme at Anya Hindmarch, but I want to find that person and give that person a hug. The colors are way too pretty to ignore and blends so well together. A lot of vintage, but a lot of eye candy too. See it for yourself here!
Gareth Pugh – Enough with the joking around folks. If you want artsy fashion you have to see Gareth Pugh's SS18 collection. Can you even move in this dress? Not sure, but I want it for sure. Don't forget to take an extra look at the metallic tops, they're a true statement of fashion. Start the weekend with the artsy fashion by viewing Pugh's collection here.
Trends From LFW
I have to be honest with you folks, London Fashion Week September 2017 was a weird one. It managed to be so anonymous yet present so many chic and wearable collections? I think I missed some action, which we'll surely get from Milan and Paris now. However, some nice trends were embraced. Not so much specific clothes that made a statement but colors and prints that were put in focus. Voluminous clothes, a loosely marked waist, a lot of business with shirts and blazers, plaids, florals and flowy fabrics. A closer look? Here:
White
White is always a classic choice and looks like the designers agrees with me. The bright shade next spring is definitely a thing and I'm not talking about any white, but the crispy white of winter. Christopher Kane, Roksanda and Ports 1961 all worked a lot of white.
Yellow & Red
No, I'm not talking yellow and red in combination but yellow and red done monochromatic, separately. I wrote last week in the summary of NYFW September 2017 that bold colors are gonna be a hit next season, mentioning red and yellow amongst the popular shades. If the London designers were to make the final call, an intense yellow or intense red done top to toe would suit the style. Anya Hindmarch, Christopher Kane, Roksanda och Ports 1961 were some that went for yellow. Gareth Pugh and Topshop Unique went for a bold red.
Florals
I'm not too proud for highlighting the floral prints as a trend next season. But okey, it's happening? Florals done in a luxurious fabric were kind of the melody for many designers. Erdem went quite fashion history with heavy materials and florals in combination. Roland Mouret did them and so did Mary Katrantzou.
Street Style From LFW
It's always fun to view the street style, I mean, that's where it gets real right? I picked out some looks I liked a bit extra. Some denim, some ruffles and a lot of stylish details. What I love about the street style fashion is that that's where you see what trends really works for the everyday person. The designers can do how many crazy looks and trends that they may want, but what reaches the street style is what really matters. Of course the runway sets the tone in one way or another, but the power is what the "ordinary" people make of it.
Thoughts on LFW
I'm not sure that it's a good thing that the trends I noted instantly from a fashion week were about colors? I had to go back and see all the collections to note the fringe, voluminous silhouettes and loose styles. Perhaps it's more of a reflection of me as a person to get excited about yellow or red, or it's a reflection of London Fashion Week September 2017 being average? Nothing that got me head over heels and nothing that left a lasting impression either, besides the colors. Perhaps it's a good thing though that I'm going more low key on LFW as a nice problem for MFW and PFW is to have too many collections to choose from. So far, NYFW and LFW has both proven that Italian fashion and French fashion is still where the fashion magic happens. Where there's a healthy eclecticism and mix of designers, visions and styles. Where fashion is more artsy and less likeable. A fashion circus in other words. But hey, that's just my subjective opinion – after all!
Folks! What are your opinions on London Fashion Week September 2017? Did you have a favorite collection and what trends do you look forward to working next year? Let's go happy or mad together in the comments, lol! Have a lovely weekend, Xx