Oh folks, what a perfect way to end a week with a summary of LFW September 2018! London, with its youthful and explorative street style fashion, is not one of my favorite ones but I must say that I'm positively surprised by this season's collections. It was a pleasant mix of youthful energy and elegant classics. Interesting trends, details and interpretation of past ones. So here's a summary of LFW September 2018: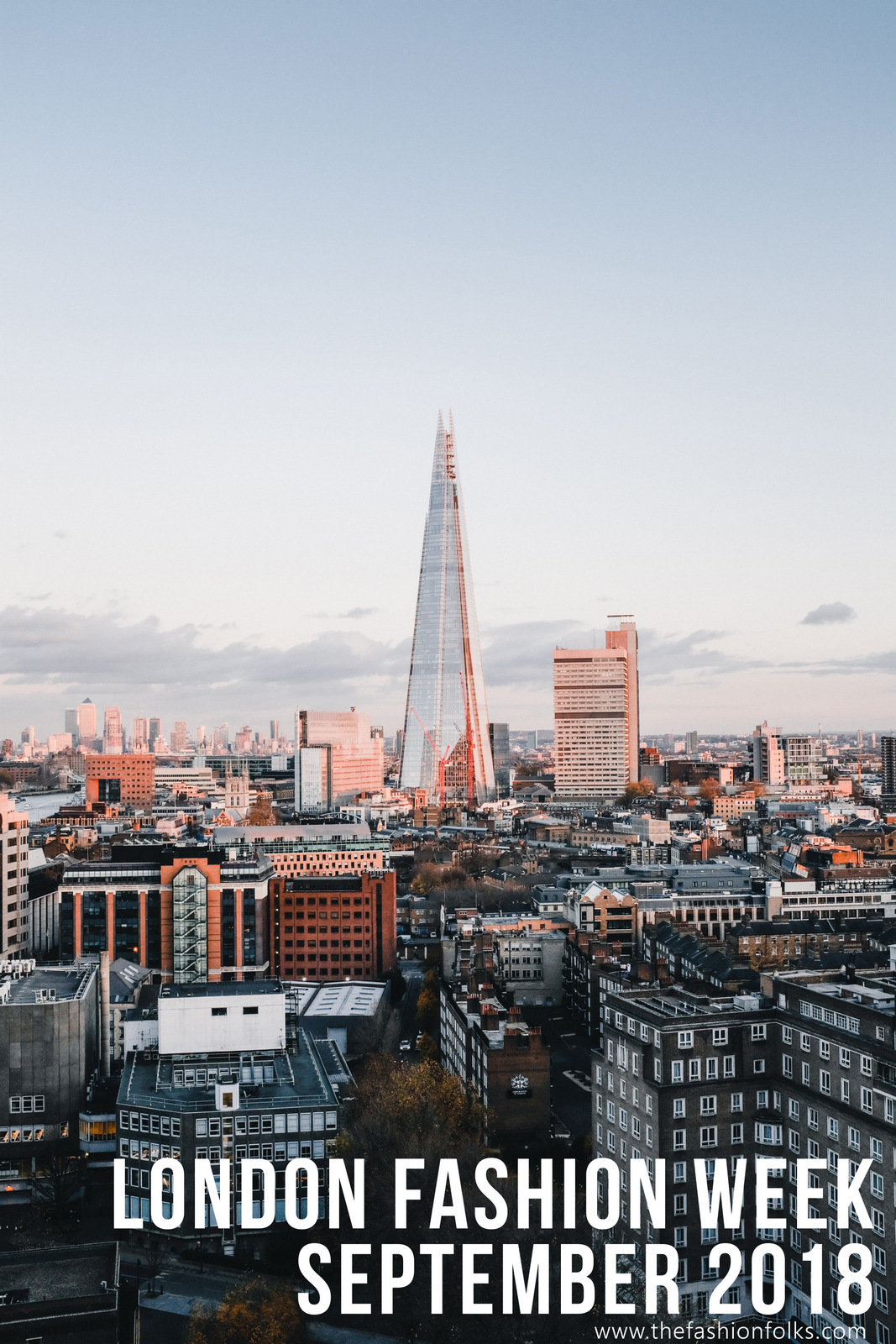 Photo by Aaron Gilmore on Unsplash
Highlights from LFW September 2018
Mary Katrantzou
Katrantzou has for long been a favorite designer of mine with her vivid prints, structured silhouettes and uniqueness in all her collections. For the past seasons though I feel like she's  been struggling with renewing the brand, yet staying true to its core. Though the past collections have still been okay, it feels like it wasn't until this season that she found the perfect balance of doing something new with her old style. This SS19 collection was playful, memorable, wearable and interesting to watch. I mean, the first look is just straight up perfection! See the full collection here.
Simone Rocha
To continue the review of Erdem SS19, Simone Rocha followed the same pathway of fashion history with this collection. It was dramatic florals, veils, dark colors, exaggerated sleeves and kind of a British version of D&G with that royal, pretentious and ladylike vibe over it. It was kind of all over the place too, struggling with some overstyled looks, much alike Erdem. I mean, this golden dress is brilliant with its simplicity, but the white cape (?) ruins the intensity of the color  which is what makes the dress that genius. I'd skip the cape, add a pair of sneakers instead and let the hair be a simple mid part low bun. Perhaps even throw on a cap to mix things up a bit. Anyways, I'm just rambling, the styling might not be perfected but many of the clothing pieces and elements are – see the full collection here!
Burberry
Ah, Burberry! The most iconic of British design. This season was extra special with Riccardo Tisci as new director, after Christopher Bailey signed out after over a decade. Tisci was the designer that brought Givenchy to the social media spotlight with his gothic, dark and dramatic looks. That's why many were interested in how the Italian designer would perform for the classic British label. And, and, and – I think he did quite alright. He brought back Burberry to its roots of the trench coat, beige colors and sophisticated silhouettes. I would've expected more sharp elements, typical of Tisci, rather than the full homage to Burberry's style. I fully understand that it's a process putting your own twist to a brand, especially when it's a brand with a distinct style and history, but it would've been interesting to see more of Tisci. I think a fusion of Burberry's heritage style and Tisci's love for black lace, leather and gothic can be a really interesting combination. I hope to see more of that. And to be frank about it, I probably wouldn't have mentioned this collection if it was same old (it's kind of forgettable from an esthetic point of view), but of course want to mention it as it's a big change in the British fashion industry.  See the full collection here.
Fashion Trends of LFW September 2018
Shiny Materials
I thought of just bringing up the silky materials as a trend of London fashion week, but there were some metallic elements and sequins too – so why not keep it all together in shiny materials? The shiny materials of LFW were all about the wearability. A sequin skirt with a simple top, a silk shirt for the office or some metallic embroidery. I think especially the silk trend is growing stronger and will go along perfectly with the rest of the spring fashion of delicate prints, pastel shades and lighter fabrics. Halpern, Christopher Kane, Markus Lupfer, Roksanda, Victoria Beckham and  Peter Pilotto  were some designers to work the trend!
Trendy Trench
Would this even be London fashion week if the trenchcoats weren't trending? Well, probably not! The timeless clothing piece will be done next year too. Both in its classic color of a warm beige but also done pastel, black, in print or a silky material. Emilia Wickstead, Alexa Chung, Burberry, Roksanda and Peter Pilotto all worked the trench coat. What's great about this item is that it works for fall fashion and spring fashion. It's elegant, it's simple to style and you can favorably layer with other materials.
Flamboyant Florals
The attitude of florals is growing bigger, as well as the florals themselves. Next year the floral print is loud, centered and all about that explosive it-factor. Some designers went for the historic 19th century look (like Erdem and Simone Rocha as mentioned above), whilst others have been bringing the extravagant floral prints of the 1980s. Richard Quinn, Pringle of Scotland, Ashley Williams and Emilia Wickstead were some designers that worked the statement-making florals.
Street Style
The street style of LFW September 2018 did deliver really well. I love the mix of pantsuits, awkward color combinations and layer of different prints. What I enjoy about the fashion trends atm, and as I've talked about before, is that it's okey to style it awkward and make it look a bit weird! It's kind of the foolproof way of doing fashion as you're allowed to make poor choices of color matching or materials. Just let it be comfy and express what you're feeling.
Thoughts On LFW
To summarize LFW September 2018, I think the week (or days to be accurate) were fun with a lot of different styles done really well. I do love that British fashion is exploring more and more of its history. A lot of the collections were really wearable (like Victoria Beckham, Burberry and Roksanda) whilst others were more of a dreamy idea (like Delpozo and Richard Quinn). Overall though, there's a lot of inspiration to be found in the wearability of LFW as it's easier to recreate and try yourself. It's easy to praise the evening gowns or artsy statements, when in reality, the majority of our fashion lives is centered around the everyday look – the wearability of fashion. What you can wear to work or when running errands. That's the unpretentious core of fashion that is easy to forget during MFW or PFW when it's about the extra touch. Don't get me wrong,  I love it artsy and exaggerated, but I do appreciate just simple collections designed for the everyday life and person. That's what LFW for most part communicated this season and I value that.
Folks! What are your thoughts on LFW September 2018? Which one was your favorite show? Let's chat in the comments, always love to hear your thoughts on the fashion weeks! Xx