Folks! Let's fill that dose of fashion inspiration with LFW February 2019 this weekend. As the tradition follows, I've summarized the fashion week with some highlights, trends and just general reflections of what I think – as usual. I must say that I have a major crush on many of the collections from LFW. It was a fun mix of bold color combinations, crazy prints and just an embracement of a more playful fashion. I've tried to pin down most of it below but make sure to check out this hashtag to get the most out of the fashion weeks february 2019. And don't miss my review on Emilia Wickstead Fall 2019 here!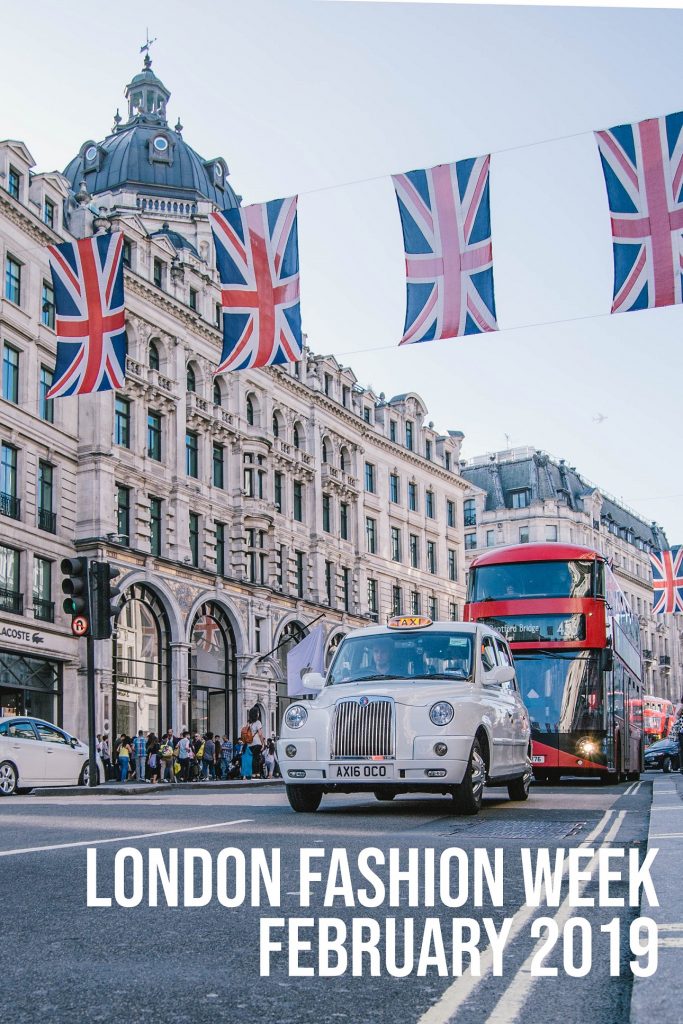 Highlights from LFW February 2019
Richard Quinn Fall 2019
If you're an avid reader of The Fashion Folks you might have reflected upon the fact that I often talk about collections being forgettable. Or if you switch perspective, I often wish collections were more memorable. Richard Quinn Fall 2019 is an example of a very memorable collection. It's loud, it's vibrant and it's full statement-making looks. If you're a fan of what Gucci has been producing the past seasons, I'm sure you'll find Richard Quinn pretty stylish too. Or just in general, if you're a fan of floral prints: Richard Quinn fall 2019 is unquestionably satisfying!

Roksanda Fall 2019
To all of you who love my color combinations ideas, this collection should be one you like. The match of colors in Roksanda's fall 2019 collection is really interesting. Or how about some camel and yellow with a very orange brown?. The colors themselves are pretty uncommon too, like this one. Although you might not be that creative with colors and fashion, I think it's a healthy thing for one's creativity to expose yourself to unexpected color combinations. Another thing with Roksanda fall 2019 is that it includes this dress, which is pretty magical if you ask me. Dramatic indeed, but oh so fun with the spacious statement!

Peter Pilotto
If you're a fan of the 1970s jetset life, this collection is for you! It's silky clothes, metallics and pantsuits. Pretty much everything you want from the 1970s jetset life in a more contemporary context.  I love the entire vibe surrounding this collection, with the silky clothes and fringe details adding a very glam touch. For example, look at this outfit or this one. I think it shows how only a few elements in combination can create a powerful vibe that would be completely different if the fringe was missing or if it was cotton instead of silk. That shows how delicate it can be to capture a specific mood but also the power in paying attention to the details (like the matchy shoes in this look).

Trends from LFW February 2019
Happy Yellow
I know, yellow isn't everyone's favorite color but it's undoubtedly an energetic and happy one. So perhaps that's why yellow was embraced quite a lot for LFW. It was mainly done in the darker and more intense shades of yellow, although pastel yellow was also spotted. I wouldn't say that the more bright and sunny shade of yellow is the most common one for fall fashion (mustard yellow is however), but that only makes it even more exciting as it's a bit of a clash with the other fall shades. Ashley Williams, Halpern, Richard Quinn, JW Anderson, Roksanda, Mary Katrantzou and Molly Goddard were some of the designers that embraced a happy yellow.

Rich Ruffles
I love when clothes are energetic and dynamic which makes it quite easy for me to enjoy the current fashion as it's full of energetic details. An example of a lively detail that's trendy atm are the ruffles. The layered detail might have been popular for some time, but it's used more boldly these days as it's done in combination of bold colors, prints and materials. I'd also say that the ruffles have been favorably used in combo with statement sleeves, enhancing the vibrancy of the outfit. Similar to ruffles, a lot of fringe, bows and asymmetrical cuts were used during LFW too – also creating energetic outfits. Some designers that worked the ruffles in one way or another includes: Erdem, Simone Rocha, Roksanda, Shrimps, Mary Katrantzou, Peter Pilotto and Huishan Zhang.

Maxi Layering
If you're struggling with layering outfits, you might not want to know that one of the trends from LFW February 2019 is not only layered outfits but layered statement outfits. I'm talking about layered outfits with elements that are heavily contrasted such as clashing prints, colors and fabrics. Going for a, what I call it, maxi layering. I'd say that this is trendy in general and not exclusive to LFW, mainly thanks to the "ugly" fashion that's trending right now. The designers during LFW centered the maxi layering around awkward colors and prints, often creating quite unwearable looks but still likable. A.W.A.K.E, Roland Mouret, Ashley Williams, House of Holland, Halpern, Burberry Prorsum, Victoria Beckham, Richard Quinn and Richard Malone are some of the designers that worked the maxi layering.

Thoughts on LFW February 2019
So as you might know by now, neither NYFW or LFW are my favorites. This is mainly due to the more safe, classic and street style fashion the two weeks normally shows. It's a highly subjective conclusion as I prefer the more refined, upbeat and maxi fashion MFW and PFW demonstrates. But, I must say that both NYFW last week and LFW this week have both been positive surprises. Not because they've taken the more casual fashion next level but that they've embraced a more maxi, refined fashion. It's prints clashing, more details added, weird colors and awkward elements all together. So it's not really fair to say that the quality of these fashion weeks has improved as it's more about, as I see it, a shift in what the designers are doing. I'm talking about Erdem, Mary Katrantzou, Richard Quinn, Roksanda and Shrimps – to mention some designers that are pushing the fashion boundaries at a high level. Fair enough that these brands have moved in these circles before, but I do think it's being embraced even more now. And I love it! It's ugly fashion at its best where it's not necessarily practical, but very entertaining. It's the show in fashion show if you ask me!

Folks! What are your thoughts on LFW February 2019? Let's chat in the comments! Xx