In honour of yesterday's passing of legendary fashion designer Sonia Rykiel we're re-posting our article on knitwear in her memory.
Name a piece of fabric that's comfy, cozy and chic at the same time? A piece of fabric that works for late summer evenings as well as early fall mornings? Yes folks, we're talking about the knitwear fabric!
A short
story of knitwear
The status of knitwear today, is a result of none other than Coco Chanel's use of it in 1916. She did a collection with knitted jersey and included clothes like jumpers, dresses and cardigans. Knitwear had already begun to be used for sportswear, but Chanel introduced it to daily womenswear. Fashion designers like Jean Patou (1887 – 1936) and Sonia Rykiel  (1930 – 2016) have since developed the fabric and made it a fashion fabric to count on. Especially Rykiel gave the fabric a higher status as she constantly returned to it and relaunched it in different shapes and patterns. Sonia Rykiel is also stated to be the queen of knitwear, a declaration we underline indeed! Her 2010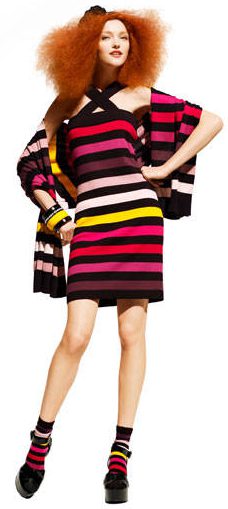 collection for popular brand H&M (see right) was a knitted, colorful, history with energy, youth and life in focus.
The nice thing of knitwear
Knitwear can be used for different clothes,  and others more favorably. Cardigans, sweaters and dresses are all common combos with the fabric. Perhaps even more common is the use of hats, scarves and gloves in knitted fabric, a safe and cozy go-to when the degrees hits colder temperatures. The nice thing about knitwear is that it's not exclusive to a certain style or socioeconomic background. A knitted sweater remains a knitted sweater to anyone who pulls them off, whilst suede or silk is both more pricey and comes with an exclusive touch. Knitwear is for everyone.
Pull of knitwear
Knitwear is rather easy to do as it's that natural to use. But we're leaving you with some styling tips however. As knitwear is rather heavy on the fabric it's a fun one to play with texture, we love the harsh contrast of the light silk and a heavy knitted piece. The fall buzz is a fact when knitwear is paired with faux fur or leather as it's a comfy and warm combo. As a piece can be knitted in different styles, is also fun to play with the different textures of different sorts of knitwear. A finely knitted sweater with a rough knitted vest adds an interesting texture.
Folks, that's our very short and quick post on knitwear! We don't know about you but we'll surely get comfy in the fabric this upcoming fall. And Sonia Rykiel? Hands down for you lady!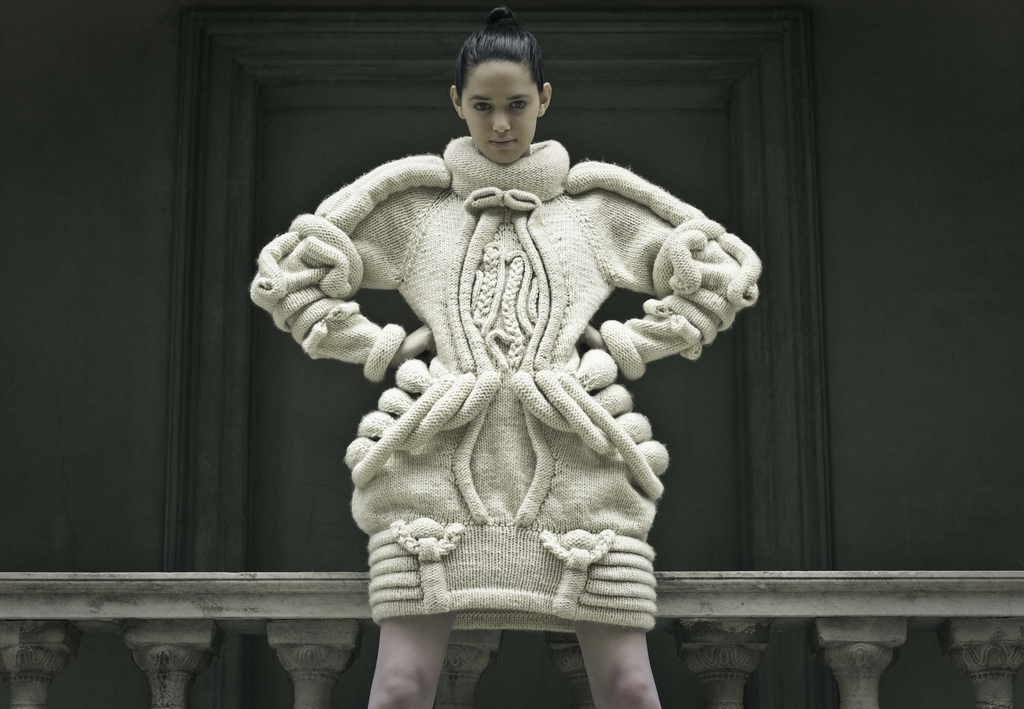 Source of picture above (creative commons)
can be found

here.