We know people! We said yesterday on Instagram that we'd do a review on Mulberry, and we had written it, but due to copyright issues we can't publish any photos here = not that fun to read about a collection without seeing it. But we've kept the British theme and wrote a review about J.W. Anderson's show yesterday! The ready-to-wear designer that takes it to the streets!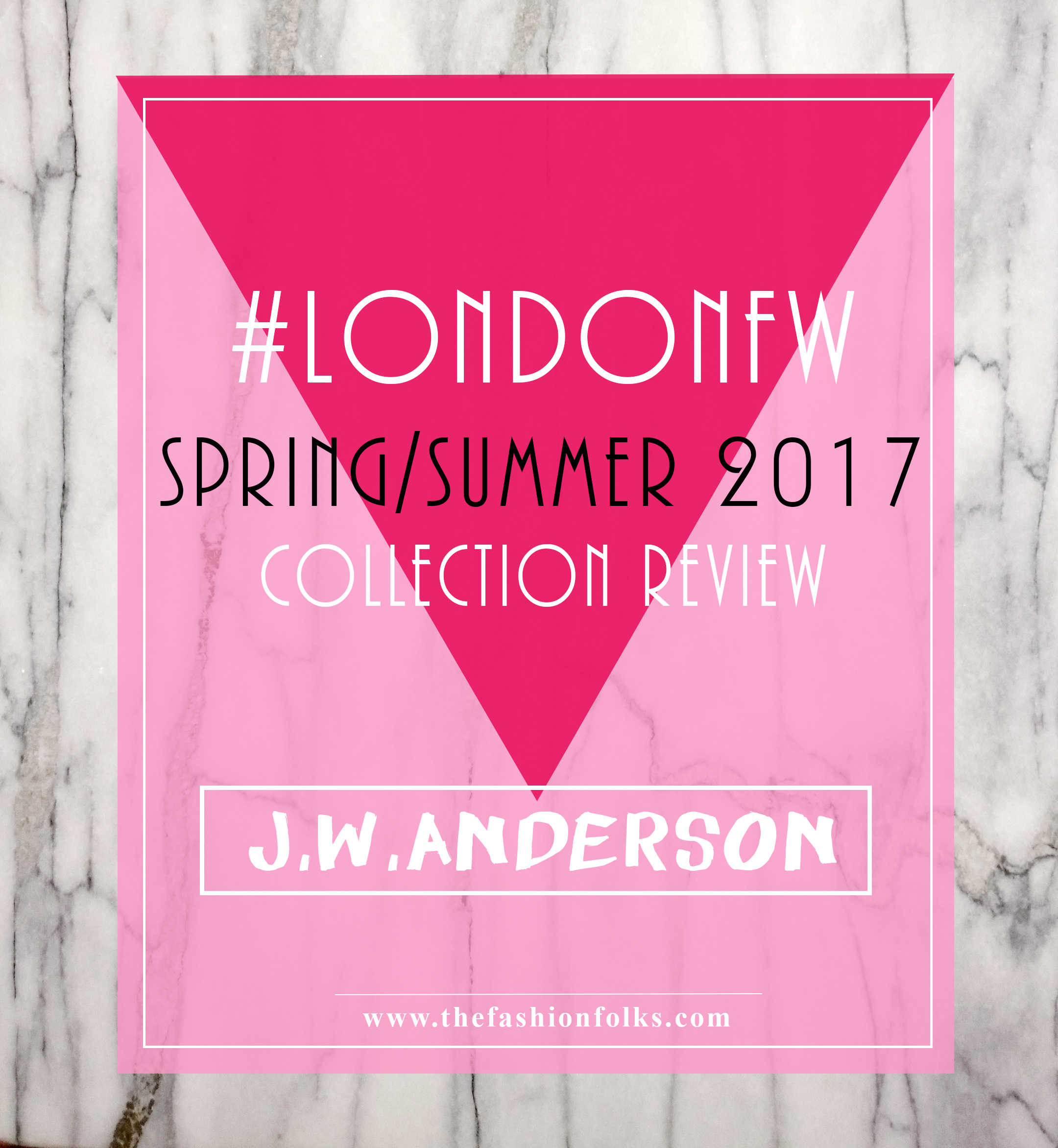 Background
J.W. Anderson or Jonathan Williams Anderson, launched his first collection in 2008 for menswear. In 2010 he also included womenswear in his design, which was critically acclaimed. He has since, dressed celebrities such as Rita Ora and Rihanna. Just as Christian Siriano last week, J.W. Anderson is considered to be a rising star in the fashion world.
J.W. Anderson Spring 2017
For spring 2017, Anderson kept his balance between casual and street style chic. Surprisingly (as he's stated that he doesn't like dresses), most of the collection consisted of dresses and skirts. He kept the color palette quite classic, but added colorful elements for spring as well. He kept the silhouette rather loose and the first impression of the clothes quite messy. With excessive pieces of fabrics here and there, volume and different layers, Anderson played with the center of edgy street style fashion. This was emphasized by the use of bomber jackets, lacing and statement shoes.
Thoughts On The Collection
Similar to Christian Siriano's collection, this was one of peaks and lows. Some pieces were superbly good in means of wearability and chicness, while other pieces: not so much. In fact, we'd pay to wear some of the pieces and we'd pay to not wear some of them (if we're going to be harsh in our judgement). Anderson hit a street style target by his oversized bomber jackets, as well as the statement boots that are crave-worthy. He also found a good balance between fashion and wearability in his midi dresses. And his white dress with the fabric playing with cuts and shapes, is insanely chic (see below). Not to forget, his playfulness with the classic sweater piece, as he added volume to the cuffs and hemlines. They might not be a home run, but close to it. Nevertheless are they welcome with their defying of normality!
As for the pieces we didn't like, they had a good intention, but ended up looking off in both color combo and styling. We're having a hard time seeing the combo of oversized top and skirt working as it's nowhere near flattering (and as he worked this for several looks, we weren't too happy). The look with the skeleton jacket and the jeans felt out of tune with the rest of the collection, and out of tune of 2016 (see below). We loved the top with the statement sleeves, but didn't like it with the asymmetrical skirt. We're not sure where the office dress came from, but doing a blazer as a dress with a balloon skirt has never been a good idea, and wasn't either (scroll in the slideshow below to see it).
Conclusive Thoughts
Even though the collection lacks in consistent quality of style, the individual pieces of the collection are the stars. As for the looks we didn't like, most of them came down to the styling and not the clothes themselves. We'd wish for Anderson to keep the focus on the raw street style fashion rather than mixing it with defined blazers and asymmetrical skirts. We loved the midi dresses and their wearability and the sweaters were fun indeed. He has a bit left to the top, but some of these pieces were too brilliant to ignore, and if he could keep that level coherent, I wouldn't want to be his competitor in fashion.
Folks, that was J.W. Anderson Spring 2017. I'd say yes to the white dress any day of the week, what about you?