Oh boy, this is a fun one folks! We're obsessed with ways on improving one's style. There's no such a thing as the fun quest on perfecting a style or an outfit. Even though perfection is pure nonsense, it's always exciting to at least reach for it. And frankly speaking, perfection in means of fashion can be quite the dull one. So I'm not exactly sure what I'm saying, but knowing how to improve your style is fun (… and I should really just get to the point). Well, here are 7  ways to improve your style and reach that a-level in your fashion game!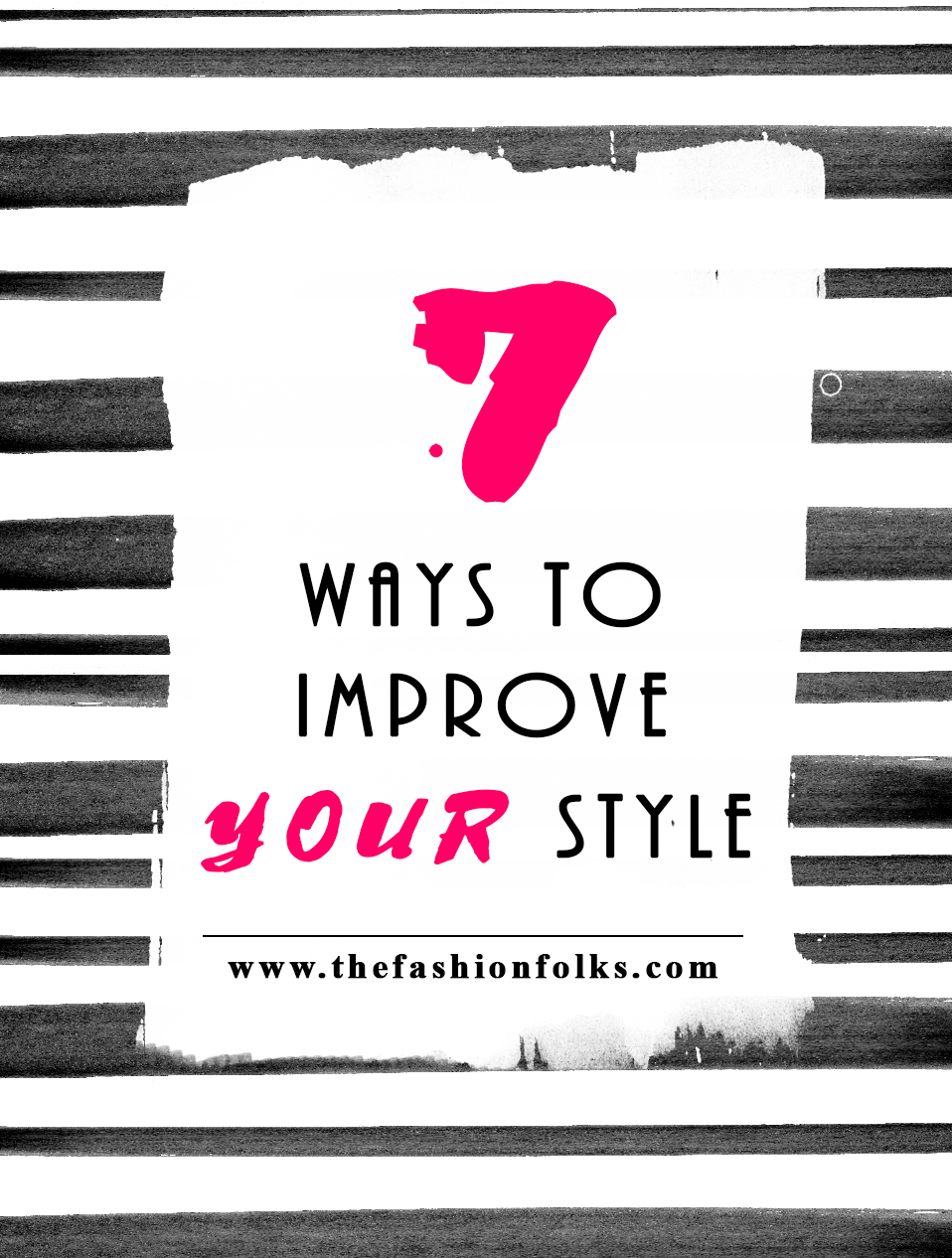 1. Get clothes from a new place
Now, this is a no-brainer. But how common isn't it to always stick to the same shops, online stores and fashion brands? Yup, we're guilty of this! As comfortable and reassuring it might be to stick to the same old, same gold, it's also an evil source of staying still in your fashion development. Because you always choose what the same labels offers. You never expand to try other brands, and you might be missing the opportunity of finding better ones. Discovering new fashion labels is a great way of improving your style!
2. Do the opposite
It's so easy to stick with go-to pieces. Quite painfully easy actually. And we're not ones to back down on this as we always talk about go-to pieces. BUT, they are the reason why your style remains the same. Because you always choose that maxi dress, that jumpsuit, or the color combination. So you'll, quite obviously, always end up looking like you always do. So here's the thing: do the opposite. That's right. Instead of picking a go-to piece, go for that one piece you never use but always love to wear. It'll be something different from the usual look, but still something that you love to wear and feel comfortable in. 
3. Take it one step further
Less is more is the worst sentence fashion has ever adopted. Less is not more, less is a bore (okey kind of, you get what we're saying). So when you're done with your outfit, take one extra look and ask yourself if there's something you can add. Something that can push the outfit a bit further? Can you change the regular cardigan to a colorful one? Can you add a pair of earrings? Why not accentuate your silhouette with a belt? Or throw on a hat? (Always throw on a hat)! You probably already know what you could do to make your outfit even better. So do it then. Pushing limits and discovering new elements are both a great way on how to improve your style. 
4. Find your color
We'll leave it to others to talk about the construction of skin tone and colors. It's a whole science that is quite the volume to grasp, but nevertheless fun to work. Knowing the exact colors that works for your skin tone and hair color might do the difference in your outfit. You might love to wear red, but perhaps red with cold undertones make you pop even more than a warmer red? Get where we're going? Perfect the choice of colors to get that little color detail stretch even longer. We'd suggest opting for Pinterest or Google for some investigation on the subject!
5. One Piece Different
Similar to picking clothes that are the opposite of the ones you're wearing, change something in your look. Instead of opting for the most natural piece, take some time and see if you can push the fashion boundaries even further.  Change the color, add the pattern or go for texture. We people tend to stick to what we know, but how about knowing more? Change the instinct and go for fun! This is also applicable to accessories. Do you always add a black scarf when heading out? Why not change to a blue or a grey one? It's a small difference, but hey, it's all in the details.
6. 80% style and 20%trend
I'm not even sure about writing this, but here we go: You know the idea of eating 80% regular food and 20% whatever you want? Well here's an idea for you: wear 80% of your style in your outfit but add 20% trend. We do value one's style above current trends, but that doesn't mean that we want to neglect what is hot and buzzing. We love the idea of having a "safe" base that you're comfortable with (that is your style), but experiment with the rest (that is trends). Opt for your regular style but add a trendy hat. Or go for your comfy jeans, but add the damn cute bell sleeves top we all love!
7. Watch the details
We've already brought up the importance of details in an outfit in our guide, but here's another one: watch the details. Don't only acknowledge their existence, or non-existence, but really look out for them. See where you can add a detail or where you can change it. Perhaps add a faux fur pom pom to your bag? Place your belt a bit higher than normally? Add a shirt under your sweater? Match your socks with your nail polish? (Okey just kidding, the last one is crazy detailed). But you get the point. Analyze your outfit on a detailed level, and see where it can take you.
Well, now that's quite the post huh? Hope you loved it too, if you have any ideas on ways to improve your style, be our guest and leave a comment! For more styling tips, check out these posts. Have the best weekend folks! Xx
Did you like this post? Hit the share buttons below!