There's been a lot posts about summer lately, quite logically! Summer is not everyone's season of flavour though, a lot of us prefer fall/winter (including myself). And now might not be the time where you want to know how to incorporate fall into your summer wardrobe, but to all fall lovers out there: here's how to work fall colors for summer!
Classic fall colors
First out though: a minor reminder of the classic fall colors that are in focus for this post. The most common fall colors are forest green, midnight blue, burgundy, mustard yellow and brown. Then there are, of course, relating colors that are similar to the main five colors. Examples of those are the jewel tones or/and relating shades as wine red, burned orange and camel. The thing about these classic fall colors are that they're all rather dark in their tone and lacks a bright color intensity. This makes them perfect to match with one another as well as darker shades as there's not much color to considerate and style. So how can one go for a summer vibe in these shades? Here's how:

Go Pastels
If you're not familiar with this fashion secret yet, you're friggin' welcome: Every basic fall color has a counterpart in the pastel shades. Quite naturally as a color comes in various shades. The simple styling hack is that you match the fall color with the bright pastel. That is: forest green with mint green, midnight blue with baby blue, burgundy with baby pink and mustard yellow with pastel yellow! And how about brown? Well, dark brown with a lighter brown (as camel) is definitely a chic one. If you want an even better styling tips for brown, keep on reading!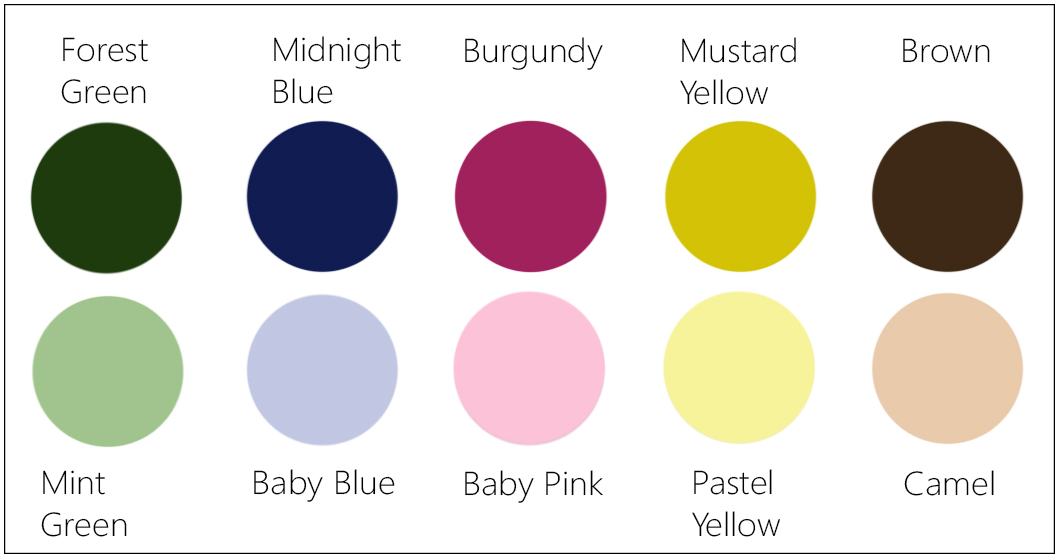 Keep them fresh
As already stated, the fall colors have a tendency to be rather dark. And how to meet darkness? Well, with light of course! Contrasting opposites is another styling trick that never grows old. Brighten up the fall colors with fresh shades that will give a more trendy touch. White is a great shade to do with forest green and midnight blue. Silver metallic is quite interesting with forest green, midnight blue, burgundy, brown and also mustard yellow. A tan color is chic with midnight blue, forest green and mustard yellow. Another shade that will brighten the outfit is grey. Grey works, thankfully, more or less to all fall colors as it's neutral and highlights the other colors. If you think white is too strong to match with your clothing piece, try grey instead.
Go Popping Colors
If you're not too keen on pastels but still wants to add the colorful life, you can always go for the popping colors. These shades will intensify and be highlighted themselves by the fall colors. Popping colors are defined somewhere between neon and the most intense shade of the color. Hot pink, neon yellow, bold red, bright orange, sunny yellow and Klein blue are all defined as popping shades. The best colors from the fall tones to do with the popping colors are undoubtedly forest green and midnight blue as they work to any shade. Brown is a fun and unexpected color that can complete the matching too. I'd avoid the warmer shades of burgundy and mustard yellow to do with popping as the different warm and intense tones will not do without some styling tricks. But that's for another post!
Folks! Are you planning on working fall colors for summer? How do you prefer to style them? Let's chat in the comments! Xx