As much as the check pattern is a neutral one (making it fairly easy to style), it can be quite tricky to take it to the next level. Today's article gives you tips on how to style it daily and also how to push the fashion boundaries. Here's everything you need to know about the check pattern fall 2018! (And oh, to specify, the check pattern comes in various styles, and today's post is mainly about the more preppy glen plaid look!).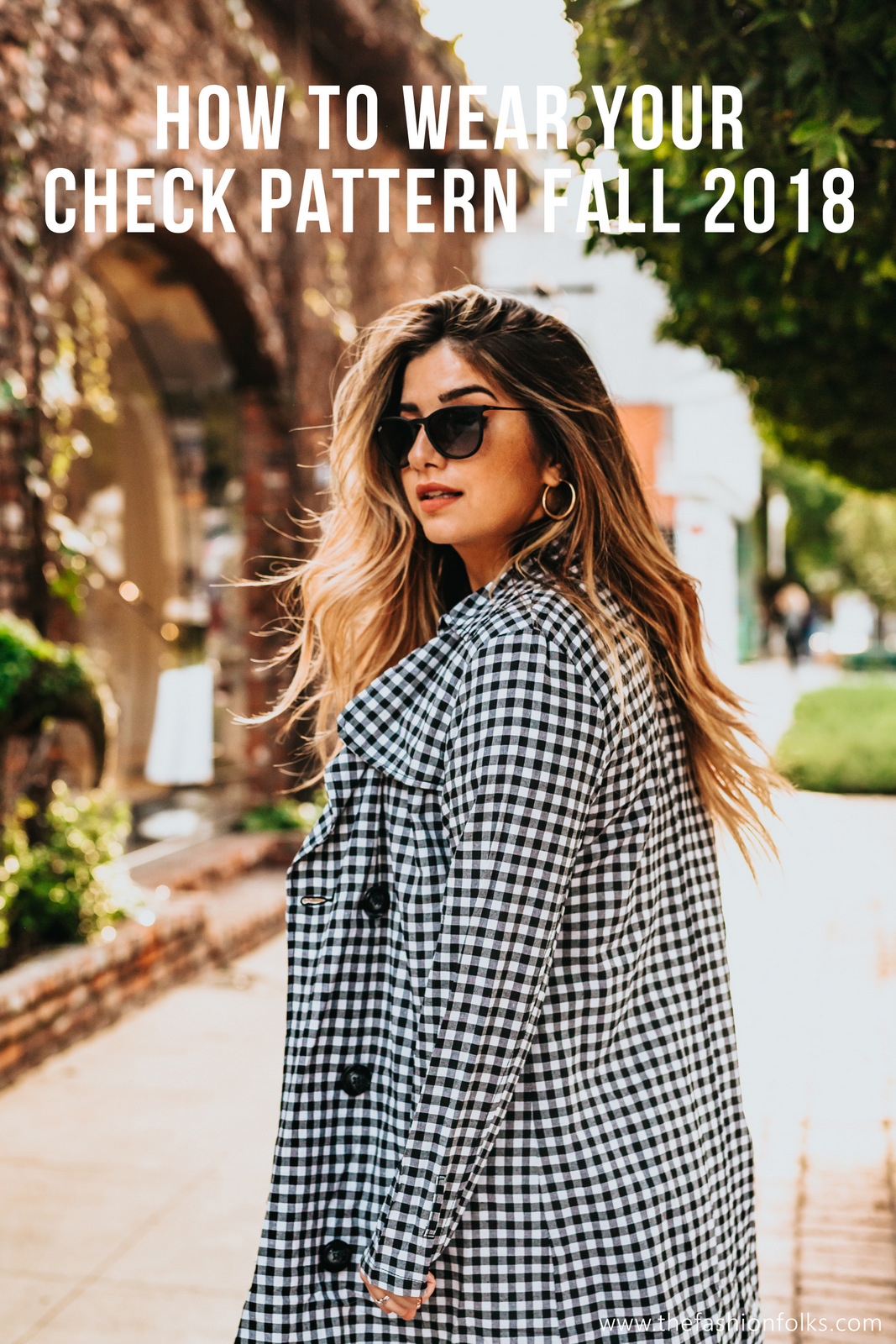 Photo by Tyler Nix on Unsplash
Check Pattern Fall 2018
With Fall Colors
The glen plaid is often done in shades of grey, navy blue and beige – with different shades of grey probably being the most common one. As all these colors are rather basic, they're easy to match with other colors as they balance with their neutrality. Grey, navy blue and beige also happens to be three colors that all work really well with the fall colors. I don't even think you have to specify what you can and can't match with when it comes to the fall colors, as mustard yellow, wine red, burgundy, forest green and copper are all lovely matches. If you want to add some color to your look, go for a warmer fall color and if you want to keep it classic, choose the darker shades. I also have to mention red as I think the color works really well with the glen paid, giving a timeless look. In some styles of the grey glen plaid pattern, red is commonly used, which makes it an obvious choice if you want to create a more cohesive look.
With More Prints
With its neutrality, the check pattern is also really fun to match with other prints. The simple lines of the glen plaid makes the pattern look pretty subtle and is therefore a nice match with other prints. It won't be much drama as the contrasts won't be as intense with a subtle pattern and a more statement one. I think the leo print, which also is trending, or other animal prints are an interesting match with the check pattern fall 2018. It's something with the office appearance of the print and more lively look of the animal prints that works really well. The floral pattern with its irregular look is also a nice alternative. As with all prints you work you can make the combination successful in these three ways: 1) choose prints in the same colors 2) choose prints that are complete opposites 3) choose prints that have a similar look. As for the glen plaid, this means that you let the color of your print decide the second print. You can also choose something completely different, like a leo print. Or you can choose a print that's more geometric, like gingham or stripes.
With Fall Clothes
One way to optimize the fall look of the check pattern is to work the pattern with other clothes that are typical of fall. I did a mini-guide a few weeks back, which you can read here. One thing to remember when it comes to styling is to know what look/feeling you're after and then know how to enhance it. As the vibe of the check pattern is a bit more preppy, structured and one for the colder months – it's a great opportunity to  pair it with clothes are embodies the same vibe. I'm talking about a turtleneck, OTK boots, a cape, a knitted sweater, faux leather/fur/suede etc. Simply about taking a fall look and making it look even more like fall. As I've already stated several times, the check pattern is neutral which makes it favorable to work with other styles and also layer with. Dare to mix up your outfit with different colors, textures and fall items – it will get you the perfect look for the check pattern fall 2018. Remember though that when you enhance a vibe, like fall in this situation, elevate the fashion level by adding one item that's completely random and opposing. Like a neon colored bag, a pair of sneakers or a colorful makeup look. It's all about the balance!
Folks! How are you working the check pattern fall 2018? Let me know in the comments! Xx