It's fully that you have been sleeping under a rock if you haven't noticed all the red that's around us. I'm talking red shoes, blazers, pantsuits, jackets, beanies, gloves and all things thinkable. We light up this fashion world with fierce and fire this fall. Here's how to wear red fall 2017: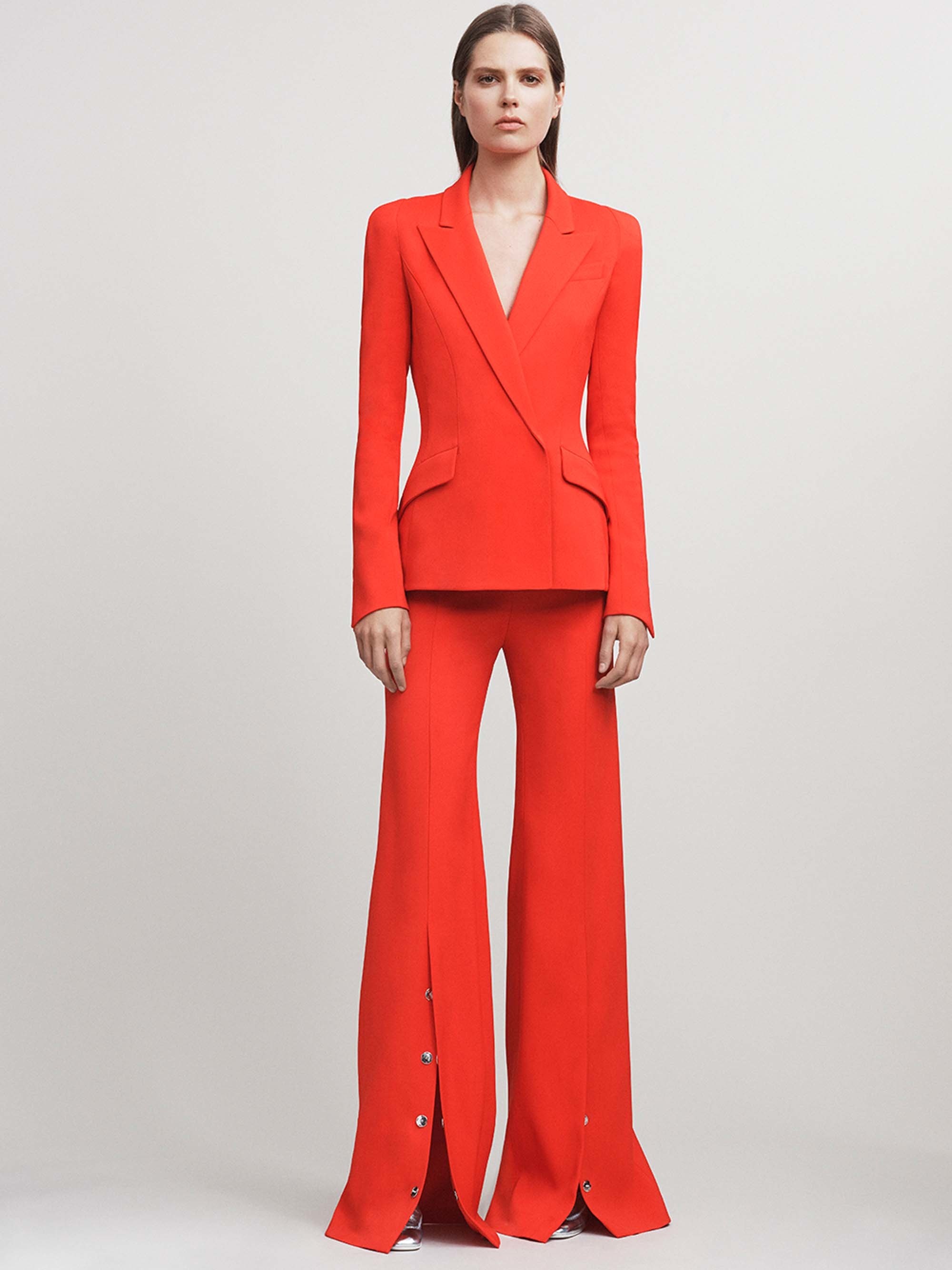 Courtsey of Mugler | Resort 2017
Wear Red Fall 2017
Red on Runway
If there was one color in specific that anyone could point out when watching the fall 2017 fashion shows, that color would be red. It feels like everyone more or less did the colors and many designers also went for a monochromatic look. When done monochromatic, the focus in the outfit was centered to different textures or silhouette to balance the homogenous style. Max Mara went all red, Fendi pulled of the color and so did Oscar De La Renta, Armani, Givenchy, Roksanda, Derek Lam and Marchesa. The trending shade is pending from oxblood red to a red orange but also candy apple red.
How To Pick Your Red
First of all, can anyone wear red? The answer is of course! As with all colors it comes down to the choice of shade and your styling of it. Red is probably the third most classic color after black and white, creating a high availability regarding clothes, styles and inspiration. That means it's quite likely that you'll find a style of red that suits you, compared to neon green or lavender purple or any other specific shade that's more rare. What it comes down to is choosing the color you love and take it from there. Do remember that red, like other shades, acts differently depending on which texture you choose to work. A oxblood red looks completely different compared to a simple cotton tee or a pair of faux leather pants.
A second thing to think about when working red is to stay aware of the fact that red is quite cemented in fashion and society. This means that red in combo with certain textures creates common associations. Red and lace is perhaps the very definition of love and flirting. Red velvet is the definition of the holidays and red leather is ultimate for the edgy street style look. With that in mind, you want to be specific with how you balances the outfits as the choice of red and texture already creates a statement.
How To Style Red Fall 2017
To the specific styling, red is quite favorable to style as it is that classic. If you follow the guidelines above, from choosing the right red shade, you can create a look more easily. A red that suits you is easier to style than a red that is off. One thing to decide upon is whether you want to go neutral with red or contrast it. Red is a dominating shade which means that when paired with neutrals it will take over the outfit. White and red is an example of that combo, but so is navy blue and red but also grey and red.
If you want to neutralize red you should actually pair it with other statement shades, to even out the intensity. Red and pink is an example of that combination, so is also red and orange. Shades that I'd avoid with red if you don't want to be stuck with the styling forever is blue, purple, green and the neon colors. I'm not saying that they don't work with red at all, because they do, but they are even more specific to style and require more effort.
Trend x Red Fall 2017
The trend touch to add 2017 is to go monochromatic with red, which is kind of a foolproof one. Go for red in different shades to create the ultimate trendy look. Oxblood and candy apple red are fun contrasting reds. Alike the designers, break it off by contrasting different textures. Another way you can go 2017 with red is to work red as accessories. The red pointy stiletto boots are very trendy at the moment and so are it-bags in any red shade. A classic way to work red is to go for red lips. I mentioned in this post that red lips to a white outfit might be the most classic combination ever.
A  Chic Outfit
Yes I know, this outfit is bold as it is a full on monochromatic red outfit. But it's fun though, isn't it?! There are several trends in one here, the color red, the monochromatic style, the midi coat and the silver metallic boots. The key styling principle is the statement texture the coat adds, which creates a more dynamic look. The defined pants and top combo is also well contrasted with the voluminous jacket. The pop of silver the boots adds is also a good one, which contrasts the red shade. Perhaps this is not an outfit for the everyday person, but a fun inspiration nevertheless. Right?!
Folks! Which one of these idea from how to work red fall 2017 is your favorite? Are you going classic or trendy in monochromatic? Drop a comment below! Xx